Summary
Krakatoa Resources Limitedhassignificantly expanded its Mt Clere Project to 1,780km2through new Exploration Licence Applications.
KTA's Mt Clereis prospective forrare earth elements, heavy mineral sands and intrusion hosted Ni-Cu-PGEs.
KTA has also issued25,000,000 ordinary shares via placement at an issue price of $0.085 per share to raise $2,125,000.
KTA is suitably funded to advance itsexploration strategy aligning with shareholder interests.

Aggressive exploration company Krakatoa Resources Limited (ASX:KTA)aims to transform into a prominent electrical energy, precious metal and critical elements producer and is committed to acquiring and developing high value as well as critical metals projects.
KTA Extends Rare Earth Acreage at Mt Clere
Recently, KTA has significantly extended the size and scope at its Mt Clere Project in the Gascoyne Region, Western Australia.
The fresh exploration licence applications include regions of structural complexity within dense rocks of the Narryer Terrane. These are believed to represent reworked remnants of greenstone sequences that are prospective for intrusion-hosted Ni-Cu-(Co)-(PGE's).
Interesting Read: Krakatoa Kraks On Hammer & Tong as it Goes for Gold in the Lachlan Fold
Initially, KTA applied for Mt Clereon the basis of the tenure comprising substantial Rare Earth Element (REE) geochemical anomalies that were originally defined by BHP Minerals. Subsequently, these anomalies were confirmed by Astro Mining in the 1990s.
As a result of the new tenement applications, KTA's total holdings over the prospective geology in the Gascoyne region have grown to around 1,780 km2.
The projectoffers substantial opportunityto the Company in terms of rare earth elements, especially through the widely present monazite sands focussed within drainage networks of the northern applications.
Interesting Read: Is KTA next to fire with Copper & Gold in the Lachlan Fold? Shallow Gold intercepts discovered
Prospectivity at the Project
Earlier, ample presence of monazitein pan concentrateswas confirmed by BHP and Astro Mining NL. These concentrates contained grades exceeding 50% in numerous samples, resulting in an anomaly outstripping 100km2.
Opportunistically, several extraordinarily high tenor thorium radiometric anomalies covering vast areaswere included in the Mt Clere applications. Moreover, there exist some anomalies correspondingto alluvial/colluvial/sheetwash areas, where Astro pan concentrates returned up to 48%(remarkably high percentages)of monazite.
While several thorium anomalies seem to be caused by substantial placer concentrations of monazite, others relate to the incised remnants of laterite widely preserved in the project area.
Further, in samples from the same area, past exploresrecovered other valuable heavy minerals such as ilmenite (to 29%), zircon (to 60%), and leucoxene.
Related: Jackpot! Will this be a turning point for Krakatoa Resources? Co Granted Historic Rand Gold Project
Discoveries in the Adjoining Area
The recent Ni-Cu-PGE Julimar discovery of Chalice Gold Mines Limited (ASX:CHN) has led to renewed exploration interest in the Narryer terrane, which is prospective for similar mineralisationstyles including Ni-Cu-PGE (e.g. Julimar) and orogenic style veining.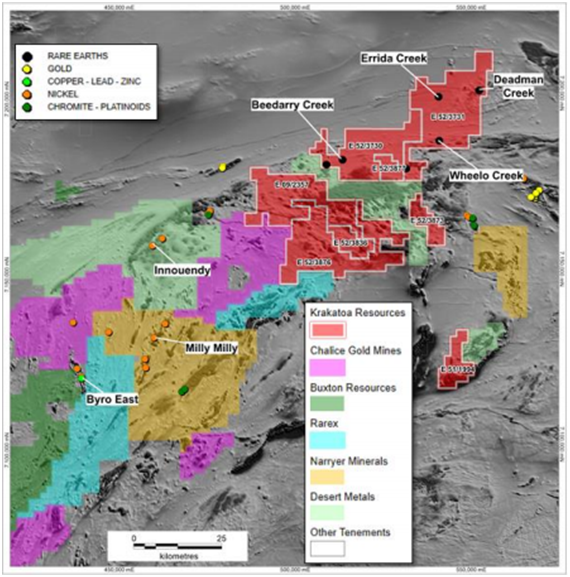 KTA Applications And Competitor Pegging Activity In Narryer Terrane (Source: ASX Announcement 09 October 2020)
This renewed interest has seen ASX listed companies such as Chalice, Rarex, and Buxton Resources peg near and adjacent to KTA's applications.
The Errabiddy Shear Zone is secured partly within KTA's applications, and these reworked craton margins are a favourable setting for several large-scale gold and base metal deposits. Notably, the Errabiddy Shear Zone and associated structural corridor may offerfurther significant gold exploration opportunities for KTA.
Related: Krakatoa Secures Historic High-Grade Gold Mines in the Lachlan Fold via Non-Dilutive Acquisition, Stock Hits Multi-Year Highs
Ever since KTA made the initial applications in 2019, it has been in discussion with respective Native Title Parties regarding heritage agreements. Presently, these discussions are inching closer to the conclusion, andKTA expects to commence field activities in thenearterm, subject to thesuccessful finalisation of the heritage agreements.
KTA Raises Funds for Advancing Exploration
Other than the Mt ClereProject, KTA is principally focused on gold exploration across three projects Belgravia, Turon and Rand in the globally renowned Lachlan Fold Belt, NSW.
More recently, KTA has raised funds for
Advancing its three gold projects in Lachlan Fold Belt
Advancing its Mt Clere project in the Narryer Terrane
Continuing project generation and evaluation activities
Working capital needs and costs related to the issueof shares
KTA has secured commitments to raise $2,125,000 from professional and sophisticated investors via a placement and looks forward to issuing 25,000,000 ordinary sharesat a per-share issue price of $0.085.
Subsequently, KTA is suitably funded to advance its exploration strategy and deliver on itscommitment to aggressivelyacquire and develop projects containing gold, copper,as well as critical elements, thereby, growing value for shareholders as well as stakeholders.
Related: Fuelled by a Recent Raise, Krakatoa Resources Steams Ahead Across its 3 Gold Projects
KTA share price quoted at $0.086with a market capitalisation of $22.62 million on 28 October 2020.