Highlights
Magellan Financial Group Limited has informed that it experienced slowed net outflows of approximately AU$1.1 billion from 11 March to 31 March (this year).
The net outflows comprised net retail outflows of AU$0.5 billion and net institutional outflows of AU$0.6 billion.
Post this announcement, Magellan shares were spotted trading 8.985% higher at AU$16.860 per share on ASX today
The share price of Magellan Financial Group Limited (ASX:MFG) traded in the green on Thursday (7 April 2022) after the company provided an update on Funds Under Management (FUM) as of 31 March 2022. Today, Magellan shares were spotted trading 8.985% higher at AU$16.860 per share on ASX at 10:17 AM AEST.
The company has informed that it experienced net outflows of approximately AU$1.1 billion from 11 March to 31, comprising net retail outflows of AU$0.5 billion and net institutional outflows of AU$0.6 billion.
Total FUM concluded the March quarter at AU$70 billion, compared to AU$69.1 billion as of 11 March 2022, this is mainly because of the depreciation of AUD against USD.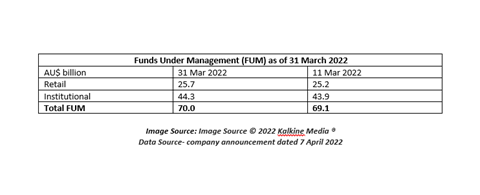 Earlier, on 14 March, the fund manager said that it experienced net outflows of approximately AU$5.0 billion since the most recent FUM update on 25 February 2022, split AU$4.7 billion from institutional and AU$0.3 billion from retail clients. As of 11 March 2022 (at the close of US market trading), Magellan had FUM of approximately AU$69.1 billion.
Magellan Financial Group Limited is an ASX-listed Australia-based investment management Company. The company has a market capitalisation of AU$2.87 billion. The share price of Magellan Financial Group Limited has fallen almost 60% in the last 12 months.
Read More: Lynas Rare Earths (ASX:LYC) shares reverse past week's gains
Financials of the company:
In February this year, in its H1 FY22 results, the company reported a net profit after tax (NPAT) of AU$251.6 million. The results encouraged Magellan to pay an interim dividend of 110.1 cents per share, up 13% to eligible shareholders.
During this period, the company also reported a 13% increase in management and services fees, in line with a 12% growth in average funds under management and a 16% growth in adjusted net profit after tax.
Read More: ASX 200 plunges at open as US Fed minutes weigh on Wall Street
While announcing the results, the company had also talked about its Intention to progress with a 1-for-8 bonus issue of options to Magellan shareholders and issue up to 10 million unlisted options to its staff.
Image Source: © Route66 | Megapixl.com
Magellan's Employee Options issue
Later on 31 March 2022, Magellan lodged a prospectus with ASIC regarding a proposed issue of up to 10 million options to Magellan employees. On the same date, the company also announced that the Board has resolved to proceed with a pro-rata non-renounceable bonus issue of options to eligible shareholders for nil consideration ("Bonus Issue"). The Options are likely to be issued to eligible shareholders on 14 April 2022.