Summary

Investors can have varying objectives yet require an efficient trading platform that is equipped with good features.
Online trading platforms have a lot to offer like low brokerage, increased speed of transaction and more control to trade all day, but many have met this price point by removing necessary features or reducing data
Marketech Focus is a modern-day cloud-based stock trading platform that allows users to access share trading services at an ultra-low rate of brokerage.
Unlike most trading platforms, Marketech offers a desktop as well as a mobile version with equal functionality and in the same format, for no additional cost
"Cash is King" goes the adage, but for a smart investor holding a large amount of cash is not a prudent call. Inflation takes a toll on the real-adjusted returns of unused cash. Moreover, in today's low yield environment, idle cash does not help the income-seeking investor.
Therefore, one can choose to invest some of his/her money to earn good returns. However, the strategy of a trader to invest varies depending upon their individual circumstances. These varying circumstances drive the individual investment strategy based on their goals, maintaining balance and portfolio diversification for risk tolerance, including long-term and short-term investing strategy.
Did you Watch? Introducing Marketech Limited
There is a significant difference between amateur traders and professional traders based on their level of understanding and scope of trading in various classes of assets. It is commonly seen that amateurs focus too much on capital gains in stocks while professional traders seek to make money through optimal cashflow strategies laced with a good risk management process.
Despite all the differences, every kind of trader looks for an effective and easy to use trading platformfor managing his/her trades. More often than not, retail investors do not have the same access to the market data that professionals use due to the cost, but all of this has changed with the release of Marketech Focus.
Modern-day online trading platforms have transformed ways of trading and managing trader's process. Importantly, online trading has increased the speed of transaction and has allowed more control in the hands of the trader to trade efficiently and the icing on the cake is that they get to transact at a low brokerage.
Some of the other benefits of online trading are discussed below:
Interactive Charts and Graphs- Some contemporary online trading platforms offer interactive charts and graphs to assist the users in doing technical analysis of stocks.
Price change alerts- Someonline trading platforms offer alerts for the users as soon as there is a movement in the price of the stock. This helps traders to keep a close watch on the price movements and find stocks that are breaking out and take advantage of the same.
Customised Watchlists- The users of online trading platforms can create a customised watchlist and save stocks of their choice for keeping a close track on price action and making an informed investment decision.
Live Pricing of Stocks-The pricing of live data is controlled by the ASX, and often low-cost brokers will limit the access to this data to keep the price low. , Not all online trading offers access to live price of the shares.
News and notifications- Along with live pricing of the stocks and historical charts, some online trading platforms also offer news headlines and notifications to keep the users updated with the developments in the market.
Interesting Read: Marketech Focus, A Modern-Day ASX Trading Platform Benefitting from Increased Traffic on Trading Platforms
Given this backdrop of the essential role that online trading platforms play for a trader, let us look at an ASX trading platform that is making news in the market.
Marketech Limited's Marketech Focus ("Marketech") is a modern-day cloud-based stock trading platform that allows users to access share trading services through an app or via desktop/laptop, empowering users to trade in the market.
Notably, Marketech provides live pricing services to retail clients through a low priced and a cost-effective platform, ensuring distinctive positioning of the platform in the highly competitive market. Another distinctive feature of Marketech is that it offers a similar layout and design while using the app or the desktop. Often, trading platforms offer different features with a very good desktop version and a poor mobile version, which strips the user's ability to build an intuitive feel for the platform.
An added advantage of this feature is that a user can access and trade from wherever he/she wants and at any time.
Some of the prominent features of Marketech are shown below: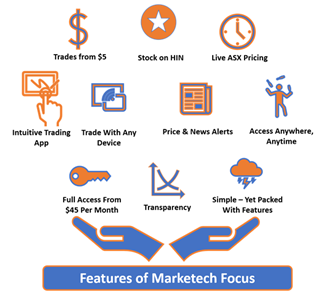 Kalkine Image (Data Source: Marketech Website)
Marketech offers a combination of the charting package and is designed to deliver easy methods to use and trade while having the freedom to customise various aspects like stocks to watch. Users can see their orders and holdings displayed on the charts, and trade directly from the chart with straight through order processing on orders up to $250,000 (individually and cumulatively intraday). This is particularly important if speed to market is part of your trading strategy.
Interesting Read: Staying Ahead of the Curve, Sorting A Trading Platform for Enhancing Your ASX Trading
Interestingly, Marketech ensures users access to ultra-low brokerage from $5 and full access from $45 per month with no hidden fees, no lock-in contracts and no interest scraping.
For more details visit: Marketech
All your stock is held on your own HIN, not pooled as is often the case in low cost options. Your cash is also held safely in your own Macquarie CMA (that is set up quickly during the online account opening process), and you can access your cash online at any time.
Marketech technology also allows you to connect multiple accounts, so you can link your own personal trading accounts, as well as trusts or self-managed superannuation accounts.
Overall, Marketech is suitably placed to capture benefits from the buoyant Australian stock market by allowing users to control and access their investments while enjoying less brokerage. This further helps in gaining an edge to wade through the ongoing, highly volatile market situation.
Related: Technology Takeover and the Need for a Fast and Sound Trading Platform; A Lens Over Marketech