Summary

Pandemic has shifted investor focus towards dividend-paying stocks, and income-seeking investors have grown in numbers.
Regular dividend stocks are being chased as an alternate source of regular income.
Investors seek to beat market volatility and earn on the post-pandemic capital appreciation.
Since the onset of the pandemic Covid-19 bourses around the world have seen a rise in income-seeking investors. With vaccine rollout, companies are getting back on track with revenues and profitability. Investors earlier in 2020 were looking for passive income streams but are now seeking to beat market volatility. Ergo, in 2021, investors are looking for stocks with better dividends.
Why is dividend yield important?
Dividend is that portion of profit earned which is distributed to shareholders. When expressed against the current stock price, it is called dividend yield. Investors benefit from investing in high dividend yield stocks since dividends become a steady income source for investors. When reinvested in the stock market, it can make more money. Dividend stocks provide dual benefits of profit via share price appreciation and a stable income from the dividend distributions received.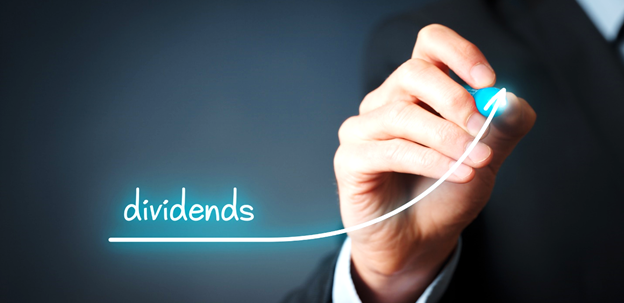 Image Source: © Jirsak | Megapixl.com
Here are 5 ASX listed stocks that currently provide a good dividend yield -
Fortescue Metals Group Ltd (ASX:FMG)
It is a West Australian Iron Ore company headquartered in Perth. It is one of the world's largest, low-cost iron ore producers. It supplies Iron mainly to China along with other International markets.
It paid AU$1.47 per share dividend for Half year ended December 2020. It has been relatively consistent with dividend payments.
As Iron ore prices are reaching its 52 week high, Its share price may see better days near term. On 21 June 2021, its shares closed at AU$21.810 on ASX with 11.01% Annual yield.
Also read: FMG reports strong iron ore shipment in Q3, keeps FY21 guidance unchanged
Image Source: © Designer491 | Megapixl.com
Cromwell Property Group (ASX:CMW)
It is a diversified Australian Real Estate Investment Trust and a property fund manager. It has a presence in Australia, New Zealand and Europe. The Cromwell group has AU$11.6 billion worth of property assets under management.
On 31 March 2021, it declared a dividend of AU$0.016 and has a dividend yield of above 8.01% as on 21 June 2021. It also has a significant market cap of AU$2.36 billion, with a global investor base. It is a penny stock, that closed at AU$0.910 on 21 June 2021.
Southern Cross Media Group Limited (ASX:SXL)
Southern Cross Media Group Limited is into the creation and broadcasting of content for radio, television (TV), and online media platforms. It owns more than 80 radio stations and broadcasts 86 free to air TV signals in Australia. It also runs the famous Nine network in Queensland, NSW and Victoria.
It last paid an AU$0.07 dividend on 16 April 2020 and has an annual yield of 13.54% as on 21 June 2021. It is on its way to re-commencing dividends from FY21. The related announcement for the current dividend is due in August 2021.
SXL stock closed at AU$2.020 on 21 June 2021, on ASX.
McPherson's Limited (ASX:MCP)
McPherson's is a leading supplier of health, beauty, consumer durables and household consumables in Australasia. It owns a diversified portfolio of market-leading brands like Manicare, Lady jane, Swisspers, etc. It has a large customer base, servicing approximately 10,000 retail outlets, supermarkets, pharmacies and housewares stores.
On 17 February 2021 it paid a half yearly dividend of AU$0.035. It has an annual dividend yield of 8.75% as on 21 June 2021. Recently, MCP announced in its ASX trading update, dated 29 April 2021, that it will retain its dividend payout policy for FY21.
Its shares were pegged at AU$1.190 on 21 June 2021.
AGL Energy Limited (ASX:AGL)
It is Australia's largest retail energy company and has 184 years of history in the energy sector. It delivers services to 4.2 million gas, electricity, and telecommunications consumers. It operates Australia's most extensive electricity generation portfolio, approximately 20% of the total generation capacity, of the National Electricity Market.
In February, it paid a dividend of AU$0.41 per share for the Half-year ending December 2020. Its annual dividend yield is around 9%. It has a market cap of AU$5.81 billion and its share, closed at AU$ 9.14 on 21 June 2021.
SUGGESTED READ: Is AGL Energy (ASX:AGL) undervalued?