Summary

ASX200 Utilities sector index, unlike other indices, has been unable to build on the recovery trend following March 2020 lows.
However, a few utilities sector players have outperformed their peers with their respective stocks providing substantial returns.
Amaysim, Meridian Energy, and Contact Energy shares have provided impressive returns to the investors on the back of strong operational results and robust strategic decisions.
ASX200 Utilities is one of the hardest hit sectors with the benchmark index tumbling from 7,969.15 points (as on 10 June 2020) to the present low of 6,348.66 (as on 21 January 2021), which marks a fall of ~20.33 per cent.
Like other benchmarks, the ASX 200 Utilities also posted a strong recovery from March to June 2020; however, unlike many others, which stayed the ground, utilities sector plunged right after demonstrating a price recovery of ~ 29.42 per cent from low in March to high in June 2020.
However, despite the below-par performance of the utilities sector index, many ASX-listed utilities stocks have successfully weathered the storm with returns blazing higher than the benchmark index and the benchmark index ASX200.
Three Utilities Stocks Which Sailed through the Storm
Over the last one-year, ASX 200 Utilities Index has delivered a total return of -23.21 per cent (as on 21 January 2020). However, the situation is not all gloomy with many stocks belonging to the sector outperforming the sector index and posting substantial gains for stakeholders.
Among these few players, the three stocks mentioned below have posted impressive gains.
Over the last year, AYS has posted a total return of 178.58 per cent post adjusting with the total returns delivered by the ASX 200 Utilities Index (-23.21) per cent. Similarly, CEN has posted a total return of 39.73 per cent while MEZ has posted a total return of 83.67 per cent.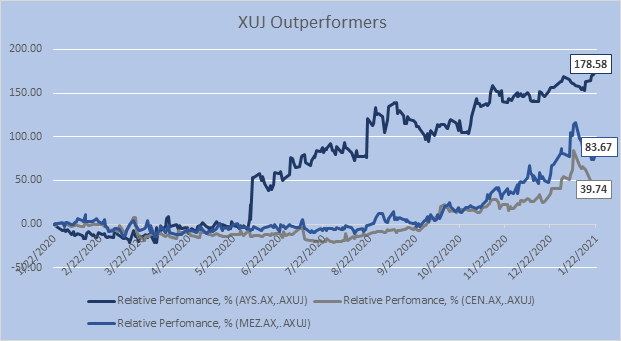 Image Source: Kalkine Group, Data Source: Refinitiv Eikon Thomson Reuters
Amaysim Australia Limited (ASX:AYS)
The AYS stock has been on an uptrend with prices continuously surging from $0.240 (intraday low on 13 March 2020) to the present high of $0.790 (intraday high on 13 November 2020), and finally consolidating around upper levels.
Recently, the Company held an Extraordinary General Meeting (EGM) in which the shareholders voted in favour of all resolutions, including a resolution to dispose of its main undertaking concerning the takeover offer from WAM Capital Limited (ASX:WAM).
Meridian Energy Limited (ASX:MEZ)
Just like AYS, Meridian is also witnessing an uptrend for quite a while with the stock showing a price rally from $3.52 (intraday low on 23 March 2020) to the peak of $9.33 (intraday low on 7 January 2021). However, the stock has witnessed a correction from its peak to $6.38 (intraday low on 20 January 2021) but is on the rise again, closing at $7.400 on 22 January.
Earlier in January, iron ore mining giant Rio Tinto Limited (ASX:RIO) accepted new contract terms offered by Meridian Energy concerning the operations at the NZAS Tiwai Point Aluminium Smelter, where operations would continue till December 2024.
Contact Energy Limited (ASX:CEN)
CEN also witnessed an uptrend in its share price from $4.32 (intraday low on 23 March 2020) to the present high of $10.56 (intraday high on 7 January 2021).
Like MEZ, the stock witnessed a correction over the past few trading sessions. However, the stock is moving up again, closing the day's trade 10.064% higher (on 22 January).
The Company's customer business recorded a mass-market electricity sales and gas sales of 286 gigawatt-hour for December 2020 with a netback of $98.67 per megawatt-hour compared to the previous netback of $89.89 per megawatt-hour seen for the same month last year.
NOTE: $ denotes Australian Dollar unless stated otherwise.