Summary

An ASX-listed consumer growth stock company, Pental Limited is a trusted manufacturer and distributor of personal, household, and commercial products across Australia, New Zealand, and Asia.
The Company continues to improve, innovate, and invest to keep its brands popular and relevant for today and tomorrow.
Pental envisions to be a leading supplier of shelf stable products to its chosen markets.
FY20 proved to be a very successful year with Pental focussing on its core brands, launching new products, driving further efficiencies in manufacturing, and growing the business significantly.
Pental expects to maintain FY20's impressive momentum in FY21.
"Producing quality products is our core focus", says Chairman of consumer powerhouse Pental Limited (ASX:PTL), Mark Hardgrave. The Company has well maintained a reputation of delivering quality, innovation, and sustainability to the satisfaction of customer needs while enhancing shareholder value. Having said so, Pental has grown through dedication to customer service, efficiency, and quality.
Pental products have undoubtedly been the trusted go-to means to combat the many threats of COVID-19. Evidently, sales have been soaring and production fast-tracked.
To acquaint with Pental's products that are consumer favourites especially amid the pandemic, CLICK HERE.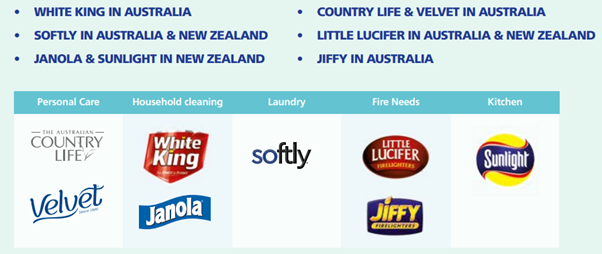 Pental's core brands (Source: PTL's Annual Report, 2020)
Now, let us cast an eye on Pental's strong financial stance- a key demonstrator of the Company's well-being-
Pental's Robust Financial Position
In FY20, the underlying profit after tax for FY20 was up 45.4% on last year. The statutory profit was up 161.3% from $1.921 million in FY19 to $5.019 million in FY20.
Other notable financial highlights from FY20 are underscored below-
Gross sales of $188.994 million were up 22.7% or $35.008 million on last year, driven by increases across owned brands and distributed brands.
Net sales revenue was up 25.9% which was driven by increase in gross sales as well as a 1.7% reduction in trade spend and rebates ratio to gross sales.
Exports to Asia grew by $0.392 million or 20.59% compared to prior year.
Reported EBIT (Earnings Before Interest and Tax) of $7.396 million was $2.382 million (or 47.51%) higher compared to underlying EBIT for last year.
Net cash by operating activities was $8.505 million (against 2019's $2.430 million) signifying a strong cash conversion of EBITDA at 71%.
Net working capital of $25.212 million was higher than last year by $1.835 million.
Capital investment of $2.079 million was marginally lower than prior year.
The Company's closing net cash position of $3.668 million was debt free.
The Company's agility, arising because of COVID-19, to be responsive to target changing market conditions resulted in strong growth in the second half of the financial year.
Besides, the Board declared a fully franked final dividend of 1.5 cents per share, which took total dividends for the year to 2.9 cents per share. Excluding a special dividend of 0.7 cents per share, this denotes a 10% increase on the prior year's dividend of 2.0 cents. Including the special dividend, it was a payout ratio of 78.7% of Net profit after tax.
Image: © Kalkine Image, Source: Pental's Annual Report 2020
A Bright Outlook?
In the days to come, Pental's five strategic priorities are- driving sales growth, developing new products, new sales channels, export markets and continuous manufacturing improvements.
Meanwhile, Pental brands continue to be used in all areas of the home – bathroom, kitchen, toilet, and laundry, making everyday life much easier and simpler.
Mr Hardgrave affirms that the Company is likely to maintain momentum in FY21. It is exploring partnership opportunities and supply to various markets, while enduring sustainable profitability from the strategic distribution partnership with Duracell.
Besides, Pental looks forward to exploring opportunities to introduce new products and witness successful launches. The Company is also working with major customers to expand its portfolio of products of Private Label.
On the export end, it is in the early stages of supply with a huge distributor in China that can offer more scale into the market where high-quality Australian brands are well regarded. Pental is also seeking to identify and evaluate potential acquisitions to fit within its business.
PTL traded at $0.410 on 1 December 2020.