Highlights

In November and December 2021, Australia is going to organise several festivals, giving people a chance to connect and business to improve their sales number.
In November 2021, Australia has two food and wine festivals.
EDV, TWE, and MTS are three stocks to watch this festive season.
Australia boasts some of the best and biggest events in the world throughout the year. It comprises sports, arts & crafts, culture, and food festivals. In November, Australia celebrates two big food and wine festival. These are Mudgee Wine and Food Festival and Effervescence Tasmania Sparkling wine festival.
Mudgee Wine and Food Festival is the longest-running wine and food festival in NSW and is organised for the entire month of November. The festival features several events like live music, tastings, lunches, dinners, and tours.
Effervescence Tasmania Sparkling wine festival serves as a celebration of world-class sparkling wine arising from the island state of Tasmania. The festival is defined as one of the most sparkling wine festivals globally.
In the backdrop, let us look at a few food stocks which might gain investors' attention this festive season.
INTERESTING READ:
Treasury Wine Estates Limited (ASX:TWE)
Treasury Wine Estates Limited is a global leader in wine and aims to become the most admired premium wine company globally.
In FY2021, TWE reported an improvement of 0.2% in the revenue numbers to AU$2,683.9 million. Net profit increased by 9.2% to AU$309.6 million. In FY2022, the Company aims to execute its next phase of the game plan.
Divisional priorities for FY22 include:
Penfolds: TWE would focus on attracting new customers, growing global distribution and availability.
Treasury Premium Brands: TWE would focus on expanding premium portfolio and accelerate in priority growth market. It would also implement fit for purpose cost and capital base.
Treasury Americas: The Company would focus on premiumisation and expand its premium portfolio. It would also bring asset, portfolio, and cost optimisation.
The festive season in November 2021 seems to bring an opportunity for the Company to initiate its step towards its priorities in FY2022.
TWE closed at AU$11.640, up 0.518% from the previous close, with a market capitalisation of AU$8.35 billion as on 4 November 2021.
DO WATCH: Hot Stocks: Newcrest Mining, Treasury Wines, Origin Energy
Endeavour Group Limited (ASX:EDV)
Endeavour Group is the leading retail drinks and hospitality business in Australia. In Q1 FY2022, the Company experienced a drop of 1.2% in the total sales to AU$2,936 million due to COVID-19 impact during the quarter. Major impact was on sales from its hotel division due to lockdown in key states of Victoria and New South Wales.
ALSO READ: What's happening with Endeavour (ASX:EDV) stock today?
EDV highlighted that with the ease in the COVID-19 restrictions, EDV is ready to welcome back its customers. It would focus on offering customers a sociable and safe hotel experience.
With the ease in the COVID-19 and travel restriction, one can expect to see some improvement in the sales numbers this festive season.
EDV closed at AU$7.100, up 2.305% from the previous close, with a market capitalisation of AU$12.42 billion as on 4 November 2021.
DO READ: Shares under the Spotlight: Zip Co, Suncorp, Endeavour, and Sezzle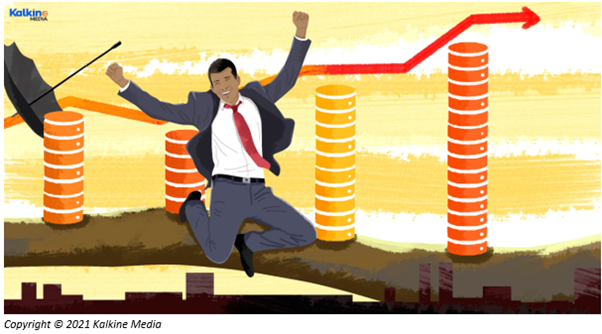 Metcash Limited (ASX:MTS)
Metcash is the top wholesale distribution and marketing company in Australia with more AU$16 billion sales achieved during FY2021. It is the largest supplier of independent supermarkets in Australia and the second-largest player in the liquor and hardware market. It supplies around 90% of the independent liquor store in Australia.
FY2021 was an exceptional year for the Company and it achieved strong growth in sales numbers. It noted a considerable increase in the earnings and record operating cashflow. All its pillars, i.e., food, liquor, and hardware performed strongly, with the Group continuing to effectively traverse substantial challenges and uncertainty linked with COVID-19.
Underlying profit of the Company increased ~27% compared to the previous corresponding period to AU$252.7 million. Shareholder dividends for FY2021 grew 40% to 17.5 AU cents.
MTS closed at AU$4.180, up 0.480% from the previous close, with a market capitalisation of AU$4.01 billion as on 4 November 2021.
RELATED READ: Why Metcash (ASX:MTS) shares are sparking interest among investors?
The Company expects to see an exceptional FY2022. It witnessed improved sales numbers in Q1 FY2022. In the coming days, the Company would drive further network competitiveness and sales growth in its food division. It would focus on customer retention and growth in its liquor division.
With the ease in the COVID-19 restrictions and the upcoming food and wine events in November 2021, there seems a possibility wherein the Company could step ahead in the direction of FY2022 objectives.
What Next?
The food and wine festival in November 2021 would not only bring together the loved ones but would allow many businesses from the food and beverage space to improve their topline numbers. Thus, it would be interesting to watch the above players during this festive season.