Summary

The Australian telecom industry is mature and highly competitive.
Because of its defensive nature, the growth of the Australian telecommunications industry is anticipated to remain steady.
Due to its defensive nature, the telecom sector in Australia is expected to witness steady growth.
Uniti Group, Macquarie Telecom Group, and Aussie Broadband were some of the best performing telecom stocks in FY2021.
The telecommunication industry comprises companies that make communication possible globally, whether wireless or wired, through the internet or phone, or airwaves or cables.
The Australian telecom market is one of the most competitive and mature worldwide. During COVID-19, the TMT (telecom, media, and technology) sector played a significant role and remained a strong pillar in response to the pandemic.
Copyright © 2021 Kalkine Media
ALSO READ: Which are the top five dividend-paying stocks in the telecom space?
Furthermore, the Australian telecommunications industry growth is anticipated to remain steady given its defensive nature amid the political uncertainties and an uncertain economic outlook because of the pandemic.
With this backdrop, let us discuss 5 ASX-listed telecom players-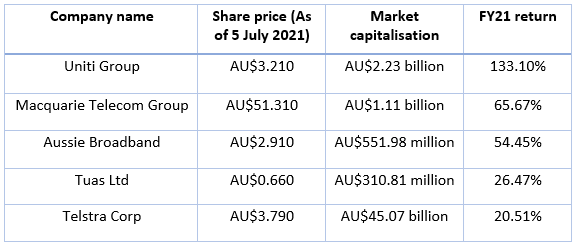 Copyright © 2021 Kalkine Media (Data source: ASX)
MUST READ: All you need to know about 5G technology in Australia
Uniti Group Ltd (ASX:UWL)
A diversified provider of telecommunications services, Uniti Group, is working with three pillars of strategic growth including Consumer & Business (C&B), Wholesale & Infrastructure (W&I) and CPaaS (Communications Platform as a Service). UWL is committed to delivering high-speed and high-quality communications networks as well as associated services to its customers.
On 11 June 2021, Uniti Group was notified of its admission to the S&P/ASX 200 index (ASX 200), scheduled for 21 June 2021. Admission to the ASX 200 Index is a substantial milestone for an ASX-listed firm that completed its Initial Public Offering (IPO) just over two years ago.
Uniti Chairman, Graeme Barclay, commented on this listing-
Macquarie Telecom Group Ltd (ASX:MAQ)
ASX-listed datacentre, cloud, cybersecurity and telecom company Macquarie Telecom Group offers its services to mid-large business and government customers.
In February 2021, the Group updated the market with its half-year FY21 report. Notably, this was Macquarie's thirteenth consecutive halve of revenue and EBITDA growth. In the first half, all business units of the Group grew revenue, with particularly robust performance in Cloud Services and Government in 1H FY21 vs 2H FY20.
In FY21, the EBITDA of MAQ is anticipated in the AU$72 - AU$75 million range. Furthermore, continued demand from Federal Government Agencies for cybersecurity and secure cloud gives great confidence for future growth in the Government Business.
DO READ: Glance at three ASX communication stocks amid the evolving telecom trends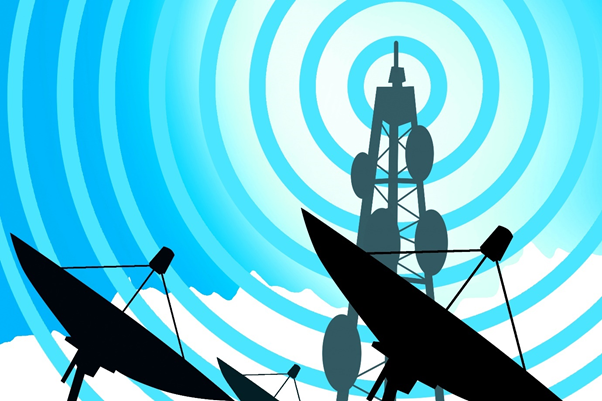 Copyright © 2021 Kalkine Media
Aussie Broadband Ltd (ASX:ABB)
Australian owned and operated telecommunications company Aussie Broadband mainly focuses on NBN subscription plans and bundles to residential homes, small businesses, not-for-profits, corporate/enterprise, and managed service providers.
On 29 May 2021, the Company updated the market with its full-year EBITDA forecast. ABB anticipated that the upgraded full-year EBITDA would be between AU$17 million and AU$20 million, excluding IPO costs.
The increased EBITDA forecast was driven by strong retail ARPU growth, customer growth in the business segment, careful CVC management, and NBN promotional rebates.
Tuas Ltd (ASX:TUA)
Tuas was incorporated in March 2020 as part of the TPG Telecom Limited (ASX:TPG) group of companies. The Company was listed on the ASX on 30 June 2020.
TPG Telecom is a wholly owned subsidiary of Tuas and the owner and operator of a national 4G mobile network in Singapore. The Company anticipates providing its report for the financial year ending 31 July 2021 on 28 September 2021.
Source: © F11photo | Megapixl.com
Telstra Corp Ltd (ASX:TLS)
Telstra Corporation offers telecommunications and information services, including mobiles, internet, and pay television.
On 30 June 2021, Telstra announced a consortium comprising the Future Fund, Commonwealth Superannuation Corporation, and Sunsuper to become a strategic partner in Telstra InfraCo Towers after agreeing to acquire a 49% interest. The Completion of the transaction is anticipated in the first quarter of FY22. Besides, Telstra intends to return ~50% of net proceeds to shareholders in FY22.
Furthermore, CEO Andrew Penn stated that this announcement was a significant T22 milestone and an acceleration of the Company's strategy to unlock value in these assets.
ALSO READ: Looking to diversify your portfolio? Here are two ASX communication stocks