Summary

Leading global mobile data provider FLEXIROAM has introduced eSIM support for iPhone on its network.
Award-winning telecommunications service provider Vonex transitioned its Oper8tor project to commercialisation.
Uniti Group's SPP Offer, announced on 16 December, was oversubscribed and funds received will provide additional working capital for the Company.
Australia has one of the most stable and competitive telecommunications industries all over the world. The telecommunications industry has revolutionised the way people in Australia interact by offering improved and better connectivity. The telecommunications services sector is expected to be moderately affected by the impact of COVID-19 pandemic.
Telecommunications networks depend more on technology, rather than labour. This is shielding the sector from the negative impact of COVID-19 restrictions, including lower productivity due to social distancing restriction. Telecommunications sector players mainly operate, maintain, or provide their services to transmit data, sound, text, video and voice over cable, satellite, wire, and wireless networks.
DO WATCH: How are Australian telecom giants placed to leverage 5G Boom?
With this backdrop, let us discuss what's latest with three ASX-listed telecom players:
FLEXIROAM launches eSIM support for iPhone
ASX-listed leading global mobile data provider FLEXIROAM Limited (ASX:FRX) serves as a super-connector for machines and people requiring continuous links to learn, leverage, and live. The Company offers connectivity across any communication device, for any application in any part of the world. The Company provides its connectivity solutions in more than 200 nations and territories.
On 22 January 2020, FLEXIROAM announced that the Company had introduced eSIM support for iPhone on its network. Now, iPhone users can activate an additional cellular plan on the new iPhone SE, the complete iPhone 12 line-up, iPhone 11 models, iPhone XS, iPhone XS Max, and iPhone XR. This is making it simple to operate on two different phone numbers or distinct voice and data plans on a single device.
Source: FRX Website
Moreover, global eSIM support for iPhone allows FLEXIROAM customers to become early adopters of this exciting technology.
Jef Ong, CEO of FLEXIROAM, commented:

FLEXIROAM stated that the launch of eSIM is a significant first step in rapidly developing eSIM market of the Company.
Stock Information: On 22 January 2021, FRX shares last traded at A$0.025, up by 8.695%. The market capitalisation of the Company stood at A$11.51 million.
Vonex Limited to commercialise Oper8tor
Award-winning telecommunications service provider Vonex Limited (ASX:VN8) is engaged in selling internet, mobile, traditional fixed lines, and hosted PBX & VoIP services. The Company also offers its wholesale consumers access to the core Vonex PBX along with call termination services.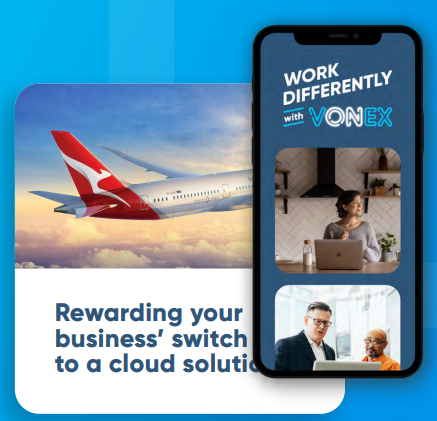 Source: VN8 AGM Presentation (27 November 2020)
On 31 December 2020, Vonex provided an update on its Oper8tor project progress. The Company stated that it had developed Oper8tor as a multi-platform voice, messaging and social media app to allow users to connect with social media contacts.
In terms of the advances in Oper8tor, Vonex has now resolved the transition of Oper8tor from R&D, to focus on guiding further development as well as commercialisation of Oper8tor.
Notably, the Company stated that it would maintain good standing to all IP (intellectual property), websites, and internationally granted patents relating to Oper8tor. However, at this time, Vonex does not expect committing additional development capital to the project.
Moreover, the Company has also identified the growing opportunity of application as it can act as a cost-saving communication tool in real-time for the workforce.
From 31 December 2020 onwards, Vonex Chief Technology Officer Christo Da Silva was supposed to oversee the Oper8tor project.
Outlook FY21
In the financial year 2021, the Company will focus on the below-mentioned areas-
Continue to speed up the organic growth in both retail as well as wholesale businesses.
Work closely with Optus as one of the major partners chosen to launch 5G.
Continual expansion of direct NBN POI's.
Growth and development via strategic acquisitions.
Stock Information: On 22 January 2020, VN8 shares last traded at A$0.25, down by 1.961%. The market capitalisation of the Company stood at A$47.81 million.
Uniti Group's oversubscribed SPP Increases to A$20 million
A diversified provider of telecommunications services Uniti Group Limited (ASX:UWL) offers its services with three strategic growth pillars: consumer & business enablement, specialty services and wholesale & infrastructure.
On 22 January 2021, Uniti Group announced that the SPP Offer, disclosed on 16 December 2020, was oversubscribed (more than seven times) compared to the initially announced SPP Offer value of A$10 million.
The board ensured that Uniti retail shareholders could buy shares on similar terms as was applied for the institutional share placement announced in December 2020. Moreover, the board has agreed to raise the total offer pool to A$20 million.
The oversubscribed SPP Offer will offer the Company's retail shareholders with a bigger portion of Uniti shares.
The institutional placement that was announced in December 2020 to fund the Telstra Velocity® acquisition was also substantially oversubscribed.
The Company disclosed that after a pro-rata scale-back, each retail shareholder would get an allocation of ~3% of shares.
The additional funds obtained from the SPP Offer will offer extra working capital for Uniti.
Uniti Group will further decrease its net leverage, to almost two times FY21 proforma EBITDA of A$116 million with these funds.
Stock Information: On 22 January 2021, UWL shares closed the day's trade at A$1.865, down by 2.865%. Uniti Group's market capitalisation stood at A$1.27 billion.