Summary

New advances and developments in medicinal cannabis technology are anticipated to boost the acceptance of medical cannabis in the Australian market.
With the legislation shift in Australia, TGA approved low-dose CBD containing products earlier this year. CBD oil has been available over the counter (OTC) since February 2021.
IDT Australia, Incannex Healthcare, and Little Green Pharma are among the top ASX-listed cannabis players.
The cannabis industry is trending at present, grabbing considerable attention from the market participants. Several ASX-listed cannabis players performed remarkably last year, backed by their innovative products and robust pipeline. Furthermore, the industry witnessed a major milestone in Australia as CBD oil became available as over the counter (OTC) medicine for the first time in February 2021.
MUST READ: All you need to know about Australia's burgeoning medicinal cannabis industry
While the Therapeutic Goods Administration (TGA) has not approved cannabis-based products for sale in the country, the legislation shift is a positive indication for the several ASX-listed players in the cannabis industry.
Source: Copyright © 2020 Kalkine Media
With this backdrop, let us discuss 5 ASX-listed cannabis stocks-
A pharmaceutical manufacturing company, IDT Australia has extensive experience in developing and producing high potency and high containment pharmaceutical products.
On 22 June 2021, IDT disclosed that it had received the first commercial shipment of medicinal cannabis flowers through a commercial partnership with Clever Leaves Holding Inc (NASDAQ: CLVR, CLVRW). With this commercial partnership, Clever Leaves will supply two varieties of bulk GACP1 certified medicinal cannabis flower to IDT from its Portugal facility.
Source: Copyright © 2021 Kalkine Media
Clever Leaves has made its first commercial shipment of its high-THC dried flower to IDT Australia as part of this partnership. Besides, IDT will package the flower in its cGMP certified facility, which will then undergo stability assessment.
MUST READ: Looking to sweeten the pot? Here are 3 Australian cannabis stocks in focus
David Sparling, CEO of IDT, commented-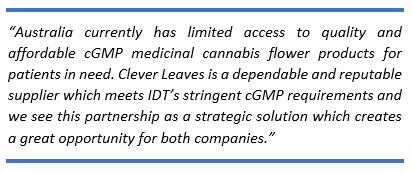 IDT also disclosed that the Company is progressing discussions with the Victorian Government and mRNA Victoria, along with Monash Institute of Pharmaceutical Sciences, to provide IDT cGMP manufacturing services to develop the first local mRNA COVID-19 vaccine candidate of Australia.
On 1 July 2021, IDT shares closed at AU$0.325, in line with the previous close. The stock has generated 71% return in the last six months.
ALSO READ: Australia to produce Pfizer and Moderna's mRNA COVID-19 vaccine with government funding
Incannex Healthcare Ltd (ASX:IHL)
Clinical stage pharmaceutical development company Incannex Healthcare is developing IHL-216A to treat traumatic brain injury (TBI).
On 21 June 2021, the Company announced that it had engaged Vectura Limited to develop the specific formulation for IHL-216A required for clinical trials. As part of the assignment, Vectura will perform formulation screening experiments, stability assessments on the lead compounds and produce a lab-scale batch of IHL-216A to support toxicology studies.
Source: Copyright © 2021 Kalkine Media
The appointment of Vectura for the development of IHL-216A formulation in parallel with the in vivo study will ensure that Incannex is readied with the specific formulation and delivery mechanism required for the advancement of pivotal clinical trials once the in vivo study is finalised.
On 1 July 2021, IHL shares closed at AU$0.260, up by 4.0%. In the last six months, the stock has generated a return of 64%.
ALSO READ: Keen on cannabis stocks? Three ASX shares worth a look
MGC Pharmaceuticals Ltd (ASX:MXC)
European based bio-pharma firm MGC Pharmaceuticals is into the development of affordable standardised phytocannabinoid derived treatment for patients all over the world.
On 15 June 2021, MGC Pharmaceuticals announced that its cannabis-derived epilepsy Investigational Medicinal Product (IMP), CannEpil® had been added to the Primary Care Reimbursement Service and will be free for Irish patients under treatment given by the MCAP.
Interestingly, the Company has delivered record sales of its core phytocannabinoid derived medicine products in May 2021, with its highest monthly revenue of over AU$360,000, excluding ArtemiCTM sales.
On 1 July 2021, MXC shares lats traded at AU$0.038, up 2.702%.
Little Green Pharma Ltd (ASX:LGP)
ASX listed cannabis player Little Green Pharma operates across the entire medicinal cannabis supply chain, including cultivation, manufacturing, product innovation, and sales & distribution. The Company has a track record of sales growth with a clear pathway to increasing margins and driving significant revenue growth in Australia and offshore markets.
On 22 June, LGP disclosed that the Company had acquired cannabis GACP cultivation and GMP licensed (EU-recognised) cannabis manufacturing facility situated in Denmark. In addition, Little Green Pharma disclosed that the acquisition of the GACP cultivation facility positions the Company as a prominent international medicinal cannabis producer and owner of one of the largest cannabis manufacturing assets in Europe.
On 1 July 2021, LGP shares ended at AU$0.930, up 5.681%. In the last six months, the stock has generated a return of 54%.
Bod Australia Limited (ASX:BDA)
ASX-listed cannabis-centric healthcare player Bod Australia is working with a global focus and a mission to innovate and transform the way of living and experiencing life. It is noteworthy to mention that Bod continues to achieve a solid upward trajectory through its medicinal cannabis operations on both a quarter-on-quarter and a year-on-year basis.
On 1 July 2021, Bod Australia advised that it has achieved record medicinal cannabis sales growth during FY21.
During the period, Bod dispensed 12,187 products, which marks a 212% increase on the previous corresponding period.
BDA has achieved 17% quarter on quarter growth during Q4 FY21 with 4,441 medicinal cannabis product units sold.
The Company has retained a 46% market share of the total Australian market for entire plant high CBD products during FY21.
On 1 July 2021, BDA shares closed at AU$0.355, up 5.970%.