Summary

The cannabis industry is catching considerable attention from the market participants, driven by some new advances and developments witnessed in the sector.
Despite the global medical uncertainty that has been ongoing for over one year now, a few players from the Australian cannabis industry have delivered excellent performances.
AusCann Group, Althea, BOD Australia, Incannex Healthcare, and Little Green Pharma are some of the key players in the Australian cannabis industry.
New technological developments in medicinal cannabis are anticipated to enhance the acceptance of therapeutic cannabis in the Australian market. Moreover, with the legislation shift in Australia, low dose cannabidiol (CBD) containing formulations were approved by the Therapeutic Goods Administration (TGA) earlier this year. CBD oil has been available over-the-counter (OTC) since the approval in February.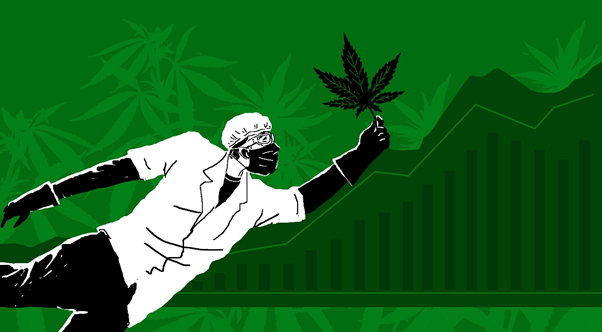 Source: Copyright © 2021 Kalkine Media
GOOD READ: Five exciting ASX-listed cannabis stocks for FY2022
This article will walk you through 15 ASX-listed cannabis shares.
1. AusCann Group Holdings (ASX:AC8)
AusCann Group Holdings focuses on developing and commercialising cannabinoid-derived therapeutic products to address the unmet medical needs of humans as well as animals.
On 1 July 2021, AusCann signed an agreement to allow for the supply of pre-packaged pharmaceutical cannabis products for the Tasmanian Department of Health.
Commenting on this, Layton Mills, CEO of AusCann, said-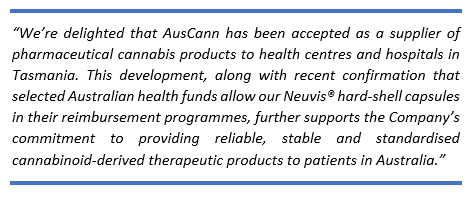 ALSO READ: Keen on cannabis stocks? Three ASX shares worth a look
2. Althea Group (ASX:AGH)
Althea Group Holdings is involved in the manufacturing, sales, and supply of medicinal cannabis products. On 23 June, Althea updated entered into the US$667 million South African cannabis market. The Company has already completed the first shipment of its medicinal cannabis formulations to its South African local partner Africann (Pty) Ltd.
AGH CEO Joshua Fegan stated: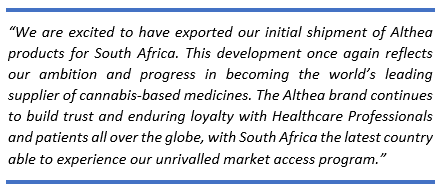 3. BOD Australia Limited (ASX:BDA)
Cannabis-centric healthcare company Bod Australia delivers premium medicinal cannabis products for both the consumer markets and medical markets.
BDA advised that during FY21, the Company achieved record medicinal cannabis sales growth. BDA dispensed 12,187 products during the year, a massive 212% rise compared to the prior corresponding period (pcp).
Source: Copyright © 2021 Kalkine Media
GOOD READ: Two Cannabis players expanding their product portfolio - AGH & BDA
4. Cann Group (ASX:CAN)
Australian medicinal cannabis player Cann Group is focused on breeding, cultivating, manufacturing, and supplying medicinal cannabis.
Cann has revised its revenue guidance for FY21 and now forecasts total revenue between AU$4 to AU$5 million. Besides, the Company continues to work with its customers and relevant authorities to expedite regulatory authorisations and clearances as required.
5. Cann Global Limited (ASX:CGB)
Cann Global is a driving force in the hemp food as well as therapeutic cannabis sector. On 5 July 2021, CGB disclosed that the unique CBD 12.5mg and CBD 25mg pharmaceutical grade hard pill formulations have arrived in Australia.
6. Botanix Pharmaceuticals (ASX:BOT)
Dermatology-focused player Botanix Pharmaceuticals is committed to the development of cannabis-based pharmaceutical products. On 17 May 2021, the Company disclosed promising outcomes from a small pilot study of BTX 1204A in canines with atopic dermatitis. Besides, Botanix intends to advance BTX 1204A to a fully-funded proof of concept canine study in the second quarter of CY21.
7. Ecofibre Limited (ASX:EOF)
ASX-listed company Ecofibre provides hemp products in the US and Australia. On 6 July, the Company provided an interim update on sales of its Ananda Professional CBD products and mentioned that in June, the core Ananda Professional business totalled its previous highest monthly revenues for FY21.
Source: Copyright © 2020 Kalkine Media
8. Elixinol Wellness Limited (ASX:EXL)
A global leader in the hemp industry Elixinol Wellness is engaged in innovating, marketing, and selling hemp-derived products. In addition, Elixinol is working with the ambition to become a global, hemp-centric wellness consumer products company.
The Company updated that it was about to participate in the ShareCafe Small Cap "Hidden Gems" webinar from 2 July 2021.
9. Epsilon Healthcare Limited (ASX:EPN)
Epsilon Healthcare is a diversified global healthcare and pharmaceuticals player. In June 2021, the Company announced that it is now supplying a clinical study to treat severe behavioural problems in youth with intellectual disabilities using cannabidiol medicines. Epsilon highlighted that the study drug is a berry flavoured CBD100 product (30ml) and matching placebo.
10. Incannex Healthcare Limited (ASX:IHL)
ASX-listed clinical-stage drug development firm Incannex Healthcare is developing IHL-216A to treat traumatic brain injury (TBI).
On 21 June, Incannex updated that the Company has engaged Vectura Limited to develop the specific formulation for IHL-216A, which is required for clinical studies. In addition, Vectura can also provide support services for navigating the regulatory process involving the approval of IHL-216A as well as its inhalation delivery mechanism.
MUST READ: Which are the 10 hottest biotech stocks on the ASX?
11. Little Green Pharma (ASX:LGP)
ASX-listed cannabis player Little Green Pharma operates across the entire medicinal cannabis supply chain, including cultivation, manufacturing, product innovation, and sales & distribution.
On 22 June, LGP disclosed that the Company had acquired a cannabis GACP cultivation and GMP licensed (EU-recognised) cannabis manufacturing facility situated in Denmark, the largest cannabis manufacturing in Europe.
DO READ: All you need to know about Australia's burgeoning medicinal cannabis industry
Source: Copyright © 2021 Kalkine Media
12. MGC Pharmaceuticals (ASX:MXC)
European based bio-pharma company MGC Pharmaceuticals is engaged in developing and supplying affordable standardised phytocannabinoid derived medicines to patients all over the world.
On 15 June, the Company updated that its cannabis-derived epilepsy Investigational Medicinal Product (IMP), CannEpil® has been included in the Primary Care Reimbursement Service (PCRS) and will be available free for Irish patients under medication provided by the MCAP.
13. Zelira Therapeutics Limited (ASX:ZLD)
A leading global biopharmaceutical company, Zelira Therapeutics, is engaged in manufacturing as well marketing of cannabinoid-based therapies. The Company owns a portfolio of proprietary revenue-generating formulations and a product pipeline of candidates undergoing clinical development.
14. IDT Australia Ltd (ASX:IDT)
Australian pharmaceutical manufacturing firm IDT Australia has immense experience developing and producing high potency and high containment pharmaceutical products.
On 22 June 2021, the Company received the first commercial shipment of medicinal cannabis flowers through a commercial partnership with Clever Leaves Holding Inc (NASDAQ: CLVR, CLVRW).
MUST READ: Looking to sweeten the pot? Here are 3 Australian cannabis stocks in focus
15. Neurotech International Limited (ASX:NTI)
Medicinal cannabis company Neurotech International is conducting clinical trials for assessing the neuroprotective, anti-inflammatory and neuro-modulatory activities of its proprietary cannabis leads - DOLCE/NTI.
On 7 July, the Company disclosed further success of its in-vitro studies using human brain cells to assess and validate the anti-inflammatory and neuro-modulatory properties of its proprietary cannabis leads.