Summary

S&P/ASX200 index ended the trading session in red, falling 0.83% to 5859.4 on 11 September and posted its lowest close since 29 June 2020.
Rio Tinto share price fell 0.587% to $99.86 on 11 September as its CEO, and 2 senior executives stepped down due to mounting criticism from investors due to restricted response of the Company over the destruction of 2 significant Aboriginal rock shelters by Rio.
CSL share price gained 0.532% to end the day $283.5 on 11 September. Recently, the Company signed 2 HoA with the Australian government and AstraZeneca to manufacture 2 separate coronavirus vaccines should the clinical trials be successful.
Last month, Telstra posted positive results for FY20 in line with guidance, but Telstra share price has been under lens as its NPAT, EPS and revenue shrank in FY20 due to COVID-19's negative impact.
The Australian Stock Exchange Limited posted its fourth successive weekly fall, which had last occurred during the February-March collapse of ASX. The benchmark S&P/ASX 200 index was down 0.83% and closed at 5859.4 and recorded an 11-week low of 5836.2 on the day.
A day before, on 10 September, the Australian benchmark index ended with a 0.5% lead, adding 29.9 points, and closing at 5908.5. S&P/ASX 200 index started strong, on Thursday but lost steam due to softening US futures market. However, by the end of the day, the index managed to recoup some of the losses through gains from S&P/ASX 200 Information Technology index, after a big tech round that led Wall Street to elevate as well.
Did You Read; What made the ASX Tech Index go green on 10 September 2020?
Speaking of 11 September 2020, the banking, mining, and consumer giants were on a decline, health and property sectors showed some gains on ASX.
Amid such market conditions, are ASX listed blue chip stocks able to pull investors towards them?
Also, let's find out what are blue chip stocks all about.
Blue chip stocks are big, well established, and economically sound companies that have an outstanding reputation, reliant earnings and have been operating for many years. These stocks have market capitalisation in billions and give high returns in good market conditions.
ALSO READ: Lens on ASX 200 listed Blue Chip companies CSL and Wesfarmers share price
Let's have a look at how ASX 200 listed Blue chip stocks have been performing.
Rio Tinto Limited
The share price of Rio Tinto Limited (ASX:RIO) gained 1.38% and ended the session at $100.45 on 10 September. However, Rio Tinto share price fell by 0.58% on 11 September, settling the day at $99.86 following the news of the departure of its CEO.
Rio Tinto is a producer of iron ore and aluminium utilised for steel and cars along with smart phones, respectively. It also produces another metal copper for wind turbines and titanium for domestic goods.
As per Rio Tinto's update on 11 September, it announced changes in executive committee with CEO and senior executives resigning from the Company.
In May, the iron ore miner destroyed 2 ancient caves in Pilbara, Western Australia. Rio Tinto destroyed the Juukan Gorge caves, 46,000-year-old holy indigenous site on 24 May in spite of a 7-year battle with aboriginal traditional owners.
Though the Company accepted that it did not fulfil its own standards in terms of accountable management and cultural heritage security, but it did not sack any of its executives.
This non-firing of the Company's executives had sparked widespread criticism amongst investors who accused Rio Tinto of not taking the full accountability for the destruction of caves.
DO READ: Rio Tinto Under Community Backlash After Blasting Indigenous Site
Following the criticism, Jean Sebastien Jacques resigned and will be stepping down from his designation by 31 March 2021 due to growing pressure from investors. Two other executives, namely Chris Salisbury, head of the iron ore business and Simone Niven, Group Executive for corporate relations will also be departing.
ALSO READ: Rio Tinto Identifies Shortfall in Internal Heritage Management
On 10 September, Rio Tinto notified on its intention to raise up to $500 million via further lending to develop its Oyu Tolgoi (Rio Tinto's biggest copper growth project) copper mine in Mongolia.
Rio Tinto and Turquoise Hill Resources will together follow the debt reprofiling procedure under existing project finance arrangements to better align the timing, cash flows and the revised plan. Any funding that remains will be met through Turquoise Hill equity offering.
CSL Limited
The share price of CSL Limited (ASX:CSL) gained 0.356% and ended the session at $282 on 10 September. Further, CSL share price gained 0.532%, and ended the day at $283.5 on 11 September.
Change of Director's Interest
On 11 September, CSL announced that one of its directors, Robert Andrew Cuthbertson disposed 11,195 Performance Rights (exercise of Performance Rights) effective 9 September. Post change, the director now holds 89, 182 Ordinary Shares (direct), and 17,397 Ordinary Shares (indirect) and 13,010 Performance Share Unites (indirect).
CSL is an international bio-technology entity that creates and provide advanced biotherapies and influenza vaccines, which prevents people from dying and aid patients with fatal illnesses continue living full lives.
As per the Company's trading update dated 7 September, CSL signed a Heads of Agreement (HA) with the Federal government to supply 51 million doses of Queensland University's COVID-19 vaccine candidate named V451 and a distinct Heads of Agreement with the UK entity AstraZeneca to create Oxford University's candidate namely AZD1222.
Must Read; AstraZeneca Suspends COVID-19 Vaccine Trial on Safety Concern
Some of the highlights of the vaccine deal include the following:
First doses are expected to be available by mid-2021, and the total number of vaccines ordered by the government is based on a 2 dose per person regime.
CSL has invested substantial resources in the growth, as well as large-scale manufacturing of UQ-CSL V451 with HoA between CSL's influenza vaccines entity Seqirus (who will hold regulatory accountability) and the Australian government.
CSL has consented to produce about 30 million dosages of AZD1222 vaccine candidate with AstraZeneca.
The Australian government give funding to help CSL's inclination to produce AZD1222.
Telstra Corporation Limited
The share price of ASX 200 listed Telstra Corporation Limited (ASX:TLS) gained 0.69% on 10 September and ended the trading session at $2.88. However, Telstra share price fell by 1.042% on 11 September, ending the trading session at $2.85.
Telstra Corporation is an Australian publicly listed entity that offers telecommunication and information services domestically and globally.
ALSO READ: Telstra share price under pressure, what is majorly hurting the Telco?
Recently, Telstra posted positive annual results ended 30 June, which was in line with its guidance for FY20.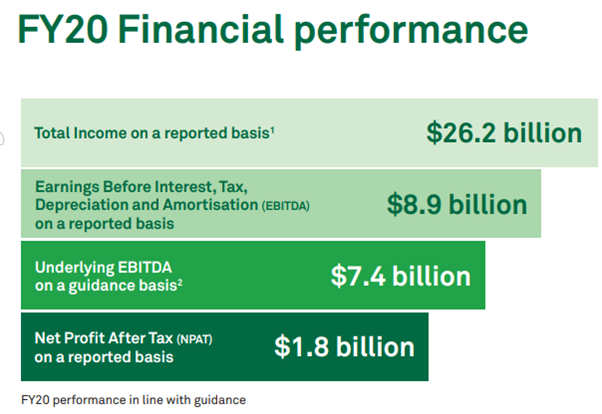 Source: CSL Annual Report, ASX
Some of the highlights of Telstra's FY20 results are as follows:
The net profit after tax (NPAT) fell by 14.4% to $1.8 billion while the total income falling by 5.9% to $26.2 billion for FY20.
Underlying EBIDTA sank by 9.7% to stand at $7.4 billion on a guidance basis, which was affected by the shift to NBN but without the in-year NBN, underlying EBIDTA grew by about $40 million.
By the end of June, about one third of the population was covered under the 5G network of Telstra. Also, its mobile division strengthened due to rise in customers, but the overall mobile revenue fell $461 million.
The Company's fully franked final dividend of 8 cents per share (cps) will be paid by 24 September, making the total dividend to stand at 16 cps for FY20.
Telstra announced a reduction in costs as a big part of its T22 strategy. Telstra lowered underlying fixed costs by $615 million or 9.2% in FY20.
Nonetheless, the Company decided to retain T22 productivity role cutbacks on hold for permanent Telstra employees due to COVID-19 impact in Australia and globally until February 2021.
Further, FY21 earnings guidance of the underlying EBIDTA presumes a negative coronavirus effect of about $400 million.
(NOTE: Currency is reported in Australian Dollar unless stated otherwise)