Highlights

ZOLEO has been one of the most popular and widely accepted global messaging solutions.
The sales and subscriptions of ZOLEO have been a large contributor to the strong top-line growth of Beam.
Beam has received orders for more than 163K ZOLEO units since its launch in early 2020.
The device is set to hit the European market in H2.
Beam Communications Holdings Ltd (ASX:BCC) is a prominent name in the space of innovative satellite communications, thanks to its world-renowned products. The Company has achieved a successful and established track record in designing, manufacturing, and distributing leading-edge satellite, cellular and dual-mode solutions over the years.
While the ASX-listed company has developed several world-first innovations, ZOLEO has been one of the most popular and widely accepted products. The global messaging solution continues to gain traction in a largely untapped global marketplace.
The global satellite communicator lets you connect with the world even when you're outside of mobile coverage. The device has been designed to transmit SMS, chat messages and emails over the Iridium satellite network, mobile or Wi-Fi.
Also read: Unsure of cellular coverage? Meet ZOLEOTM, a device that can save your life
ZOLEO subscriber base ramping up
There has been a sharp rise in sales of ZOLEO units to Beam's joint venture entity in the recent times, making ZOLEO Inc. a large contributor to the strong top-line growth of the firm.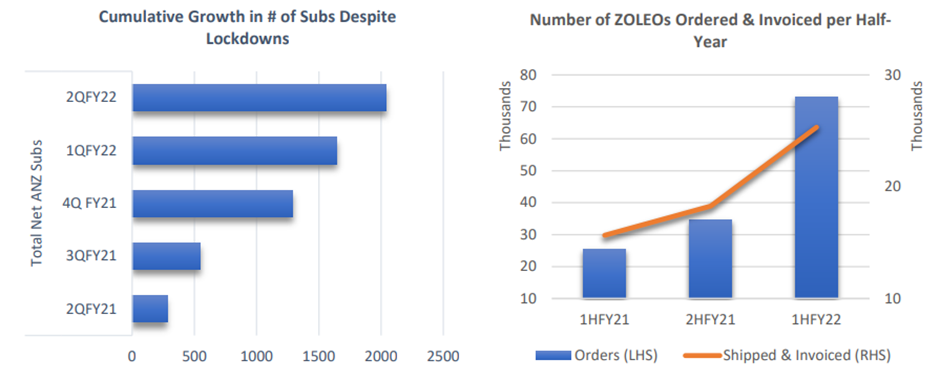 Image source: BCC update, 25 February 2022
Beam Communications' group earnings before interest, tax, depreciation, and amortisation (EBITDA) improved by 6.3% year on year to AU$1.1 million in the six months to 31 December 2021.
For Beam, ZOLEO subscriptions have been a more important factor than sales of the device as the former drives long-term profit for the company. The number of ZOLEO subscribers in Beam's territories of Australia and New Zealand has been soaring rapidly.
In H1 FY22, there was a substantial surge in the number of subscribers for ZOLEO. As of 31 December 2021, the Company recorded more than 2,000 subscribers.
Beam expects this growth momentum to continue into the second half of FY22.
Do Read: Tonga Tsunami disaster reminds us how Beam's ZOLEO can save lives
Huge growth runway for ZOLEO
The rise in the number of orders for the seamless global satellite solution reflects its growing global reach.
In the December 2021 quarter alone, Beam received orders for 38,960 ZOLEO devices, the highest in any quarter and 212% ahead of the pcp in 2020. Also, additional orders for 20,824 units were placed in February 2022.
In total, Beam has received orders for more than 163k ZOLEO units since its launch in early 2020.

Image source: ZOLEO website

Also Read: Beam Communications' ZOLEO to hit Bapcor's Autobarn outlets in February
Growing retailer base
The total number of Australian retail outlets selling ZOLEO has surpassed 400. Recently, the Company has partnered with new retailers to sell ZOLEO, such as:
Bapcor Limited's (ASX: BAP) Autobarn chain, a top-grade, full-service auto accessory retailer
Leisure-Tec, a leading recreational vehicle (RV) and outdoor equipment group and part of German company Truma Gerätetechnik GmbH & Co. KG
FWR Brands, the owner of prominent outdoor retail websites Caravanrvcamping.com.au and MyGenerator.com.au
Trade Me, a leading online auction and classifieds website in New Zealand
In addition to these, Beam is slated to sign on more key retailers and distributors in Australia and New Zealand in the near future.
ZOLEO eyes European markets in H2
Beam Communications is mapping out expansion of the multi-award winning ZOLEO device in the European market. Most likely, the messaging solution will be launched in Europe by April 2022. Initially, the product launch is expected in five markets comprising the United Kingdom, Denmark, Norway, Finland and Sweden.
The focus is also being directed towards developing more features and upgrading ZOLEO units.
Stock information: BCC shares traded at AU$0.325 on 16 March 2022, up 4.838% from the last close. The Company has a market capitalisation of AU$26.79 million.
To know more about Beam Communications, click here.