Summary

Zenith Minerals' partner has kicked off a major drill program at the Earaheedy Zinc-Lead Project.
A regional-scale DD and RC drill program is set to commence over the coming months across a strike in exploration tenement E69/3464.
Assays from the Phase 1 RC Drilling Program are expected shortly.
Exploration endeavours at the Earaheedy Zinc-Lead Project in Western Australia are going from strength to strength for Zenith Minerals Limited (ASX:ZNC) and its partner Rumble Resources Limited (ASX:RTR).
Rumble is about to kick off a 30,000m diamond (DD) and reverse circulation (RC) drilling campaign at the Earaheedy project. Rumble owns 75% of the exploration tenement (E69/3464) with Zenith holding the remaining 25%.
The campaign is focused on the recent major zinc-lead discovery at the Chinook prospect. With this campaign, RTR aims to understand the mineralisation style, scope out the discovery, and make further, new discoveries.
For the Phase 2 drill program, contracts have been awarded for one diamond and three RC rigs.
INTERESTING READ: A Sneak Peek at Zenith Minerals' (ASX: ZNC) New Gold Project in NSW
Regional Geology and Prospect Locations at Earaheedy Project (Source: ZNC Announcement 25/05/2021)
Assays for Phase 1 RC Drilling Expected Shortly
In April, RTR unveiled a significant zinc-lead discovery at the Chinook prospect, subsequent to expediting two holes for assay that validated a major discovery. However, RTR is yet to receive the remaining assays, including multi-element.
Of the total 26 holes, assays are pending for 24 holes at the Chinook Prospect. The company is also waiting for assays from seven holes at the Magazine Prospect.
VIDEO INTERVIEW: Expert Talks With Kalkine || Mr Peter Bird, Executive Chairman of Zenith Minerals
Diamond and RC Drill Program at Chinook Prospect
A diamond drill rig has commenced operations at the project site. The 3,000m diamond drilling part of the campaign will include twinning RC drill holes to offer metallurgical samples for testwork, RC drill-hole reconciliation and a better understanding of the geological system.
Designed to scope out the mineralisation along strike, a 27,000m RC drill program is planned to be launched soon, for which drill contracts have been awarded.
An RC rig is scheduled to be mobilised to the site in the current week, while second and third RC rigs are expected to move over the coming weeks, subject to overruns from prior jobs.
ZNC's partner Rumble Resources remains well-financed after the recent AU$40 million capital raising. Consequently, it intends to fast-track the scoping out of the significant zinc-lead discovery at the Chinook prospect and other regional prospects.
PREVIOUS UPDATE: Zenith Minerals initiates aircore drilling program at Split Rocks Gold Project
Regional Drill Program and Tenement Under Application
A regional-level RC drill program is anticipated to commence along the highly prospective, less than 12km of a strike in exploration tenement E69/3464 in the future. The program would aim at new discoveries across the Earaheedy Project.
Moreover, the 30kms of a prospective strike in the adjacent and contiguous E69/3787 is still under application. The company is progressing on the process for grant, expected to take 6 months.
DID YOU READ: Zenith Minerals (ASX:ZNC) Uncovers Another High-Grade Gold Results at Red Mountain
Gravity Program Commenced
Additionally, a gravity program has kicked off across the Chinook prospect, which is expected to offer support in improving drill target generation. This would further tie in with the passive seismic and airborne magnetics that have been finalised in advance.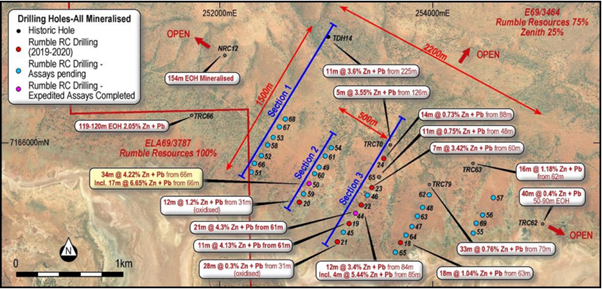 Location Plan with Drill Hole Status and Intersections at Chinook Prospect (Source: ZNC Announcement 25 May 2021)
ZNC stock traded at AUD0.290 on 27 May (AEST 2:04 PM).