Source: Monica Priscilla, Shutterstock
Summary

The prices of the red metal are on fire. The supply side deficit of the commodity unveils a huge opportunity.
Zenith Minerals operates wholly owned copper projects in Queensland, Develin Creek and Flanagans.
Exploration activities across these projects have returned encouraging results, laying the foundation for upcoming programs.
ZNC has scheduled major exploration programs at the copper projects for the first half of 2021.
The stock of Australian exploration company Zenith Minerals Limited (ASX:ZNC) rocketed on 10 March 2021 after the release of an upbeat copper exploration update, highlighting the company's strategic position in the bullish copper market.
The copper prices are on fire, having crossed a nine-year high in February 2021 on the back of strong demand from China and rising economic activities globally. Currently, copper consumption stands at approximately 22-23 mtpa, with the volume growing at a compound level of approximately 2% per annum for a number of years. The traditional areas of pipe fabrication and electrical wire manufacturing are the major copper consumers.
Executive Chairman Peter Bird has highlighted copper as the most underfunded green energy input commodity in the supply chain. He added that to meet the supply side deficit of an estimated 5.4Mt by 2028, a forward capital commitment of circa US$106bn is required. This highlights the favourable scenario for the supply side in the supply-demand equation for copper, stated Mr Bird.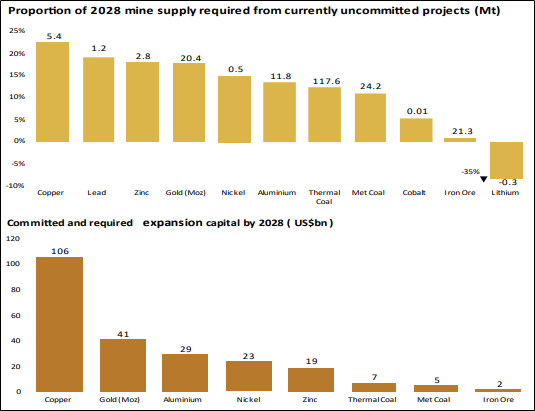 Source: ZNC ASX Announcement, 10 March 2021
Zenith Minerals Boasting High-Potential Copper Projects
Zenith Minerals is focused on establishing a gold and base metals business with fully owned copper projects located across Queensland, Develin Creek and Flanagans. Having concluded several key activities across these projects, Zenith Minerals continues to march ahead with a slew of significant activities on the agenda for the upcoming period.
Source: ASX Announcement 10 March 2021
Develin Creek Project - The very high-order VMS style copper-base metals project is believed to offer a great opportunity for the Company. Additionally, the JORC-compliant Inferred Mineral Resource of 2.57Mt @ 1.76% copper, 2.01% zinc, 0.24g/t gold and 9.6g/t silver (2.62% CuEq) makes for a strong foundation to build upon.
In late-2020, ZNC successfully concluded a seven-hole initial RC drill program at the new greenfields Snook copper prospect. Notably, this campaign confirmed the prospective cluster model.
At the Snook prospect, the maiden drill program tested only a small area that delivered highly encouraging initial pass drill results. Moreover, the recent detailed geological mapping has confirmed that the most prospective part of the Snook Prospect remains open, necessitating immediate follow-up work.
DID YOU READ: Zenith Minerals (ASX:ZNC) eyes an exciting 2021 with three projects in progress
ZNC believes that the commercial-sized VMS copper systems can be very discrete in their size. Moreover, extension of the lease holding that hosts the current Sulphide City resource over 50km, offers an excellent working area for evaluation.
The figure below indicates that while it is a very early stage at Develin Creek, major known copper–base metal VMS systems can occur in a favourable stratigraphy over a strike length of up to 10 km.
Source: ASX Announcement 10 March 2021
Flanagans Copper-Gold Project - Comprising several high-grade copper and gold prospect areas, the Flanagans copper-gold project is located in the tier 1 region of Queensland.
2020 exploration endeavours have confirmed historic sampling results. However, the company is yet to define a strong drill target at the Flanagans or Blackall copper prospects.
In mid-2021, the company plans to undertake confirmatory surface geochemical mapping and sampling on additional copper and gold prospect areas - Inverted Pig and Quartz Ridge.
The best results returned by historic surface sampling in the 1980s at Inverted Pig include 1.04 g/t Au and 1.44% copper, while previous rock chip sampling returned gold results of 12g/t Au at Quartz Ridge.
Planned Programs across Develin Creek and Flanagans
ZNC is set to undertake soil sampling, geological mapping as well as rock chip sampling of the copper and gold targets at the Flanagans Copper-Gold project during April 2021.
At the Develin Creek Project, ZNC has scheduled the following activities:
Sulphide City mineral resource diamond drill hole twin program in mid to late-March 2021: The campaign is aimed at the assessment of potential grade "under-call" related to historic open hole percussion drilling. It is anticipated to generate higher mineral resource grades upon successful completion.
RC Drilling: The program would test the near resource geophysical (EM)-geological-geochemical targets.
Follow-up drilling at the Snook prospect to commence in April 2021: Detailed geological and structural mapping at the 2km x 3km area of the Snook prospect has confirmed that the massive sulphide copper mineralisation remains open and untested down–dip to the north, east as well as south-east.
Airborne aeromagnetic and ground-based (IP) geophysical surveys: ZNC has planned to finalise these surveys by end-March over the same 2km x 3km area and expects the results to assist in drill targeting when combined with the field mapping work concluded earlier.
Systematic regional geochemical soil sampling: As part of the project-wide screening program, ZNC is currently progressing with systematic regional geochemical soil sampling. The company looks forward to collecting additional ~1600 samples in 2021.
INTERESTING READ: Meet the Stalwarts at the Helm of Zenith Minerals
Triggered by the company's exploration update, ZNC stock witnessed an uptick of 9.090% and traded at $0.120 on 10 March 2021.