Source: Inc, Shutterstock
Summary

Zenith Minerals has received encouraging results from the second phase RC drilling program at the Split Rocks gold project.
Several very large current and previously operated gold mines are located north and south along strike from the project area.
ZNC is planning additional follow-up RC drilling. It is also focused on advancing its fully permitted 100-hole drill program.
Aggressive exploration company Zenith Minerals Limited (ASX:ZNC) has reported exciting assay drill results from the second phase RC drilling program at the Split Rocks gold project in Western Australia. The initial results are from the 32-hole RC program, designed to test six key areas focused around the Dulcie area.
Located within the Forrestania greenstone belt, the project area is adjacent to numerous large existing as well as previously operated gold mines.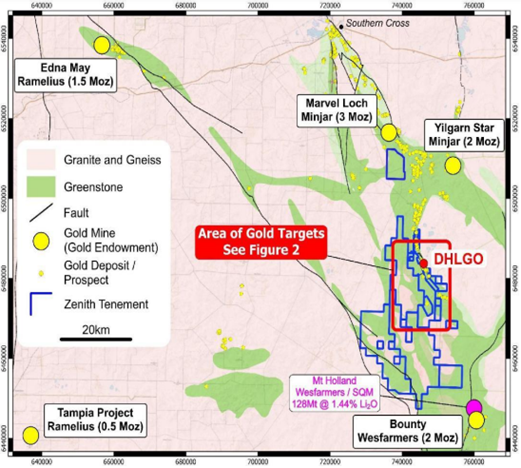 Split Rocks Project Location Map Showing Zenith tenements (Source: ASX Announcement 11 March 2021)
Gold Mineralisation Confirmed at Multiple Prospects
The new preliminary 4m composite assay results have confirmed robust gold mineralisation at several prospects.
The results successfully extend gold mineralisation at Dulcie Laterite Pit Extension to a further 500m south with cumulative gold mineralised strike now exceeding 2000m.
New results include the following:
4m @ 9.3 g/t Au
4m @ 2.8 g/t Au
15m @ 1.0 g/t Au incl 3m @ 2.4 g/t Au
Higher-grade gold zones such as 12m @ 2.5 g/t Au incl 4m @ 5.6 g/t Au and 16m @ 1.1 g/t Au including 4m @ 2.3 g/t Au were intersected through holes at the Dulcie Laterite Pit Infill (7 holes).
PREVIOUS UPDATE: Zenith Minerals' (ASX:ZNC) Shares Zoom Up on Copper Exploration Update
Furthermore, follow-up testing of near-surface high-grade gold zone intersected in previous ZNC drilling confirms near surface mineralised zone and remains open at depth and in both directions at the Dulcie North.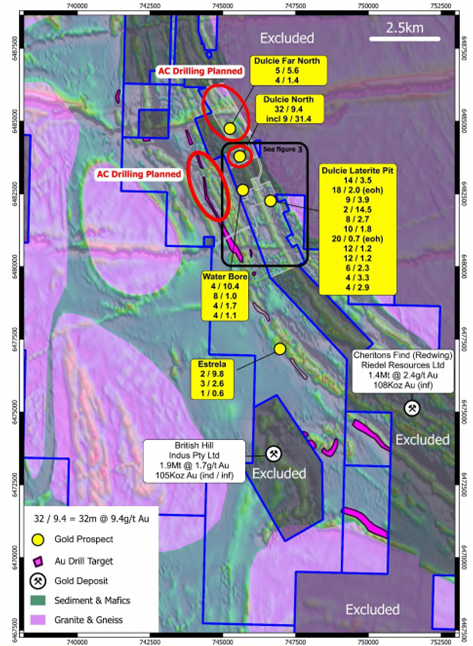 Split Rocks Project Gold Targets and Significant RC - Aircore Drill Results (Source: ASX Announcement 11 March 2021)
At Water Bore (6 holes), water exploration holes drilled by the Dulcie laterite gold operators identified follow up testing of gold mineralisation along with the identification of a new near-surface west-dipping gold zone. The new zone comprises 4m @ 10.4 g/t Au, 8m @ 1.0 g/t Au, incl 4m @ 1.2 g/t Au and 4m @ 1.7 g/t Au.

Additionally, drilling tested the Zenith Dulcie Target, comprising a hole that assessed the western down-dip extension of gold mineralisation previously identified, while drilling at Target 3 focused on completing two holes to follow-up near-surface gold mineralisation.
DID YOU READ: Zenith Minerals (ASX:ZNC) eyes an exciting 2021 with three projects in progress
Current and Planned Operations
Zenith retains an option to gold rights below 6m from the surface at the Dulcie Heap Leach Gold Operation, where its partner is currently progressing with mining and heap leaching surface gold laterite ore.
ZNC is now prioritising the re-sampling of these new 4m composite gold mineralised intersections at 1m intervals, and the results are anticipated by the end of the current month. Furthermore, ZNC is progressing with the planning to undertake additional follow-up RC drilling.
Simultaneously, ZNC is looking to obtain an aircore rig for its fully permitted 100-hole drill program that is aimed at testing new gold targets along 18km of a potential strike.
First Pass Drill Testing of Additional Targets
Initially, ZNC had identified 12 high-quality gold drill targets at the project under a major exercise by its geological team. This further expanded to 18 targets in the north-eastern sector of ZNC's fully owned tenure.
INTERESTING READ: Meet the Stalwarts at the Helm of Zenith Minerals
Moreover, additional 8 of the 18 targets generated have not undergone first pass drill testing, which the Company is planning to execute through aircore along with the follow-up work on the significant near-surface gold results at the four Dulcie targets (Dulcie Laterite Pit, Dulcie North, Dulcie Far North and Water Bore).
Subsequent to the announcement, the ZNC stock gained as much as 12.500%, trading at $0.135 on 11 March 2021.