Summary

Zenith Minerals witnessed a bevy of developments across its Australian project portfolio during the March 2021 quarter.
The company encountered major discoveries and received encouraging results that warrant further activities across various prospects.
Zenith Minerals Limited (ASX:ZNC) manages an extensive portfolio of gold and base metal projects across Australia. The company made notable progress at its core Australian gold and copper projects in the three-month period ended 31 March 2021.
Extensive visible gold and strong gold grades at Red Mountain
Continuing exploration work at the company's fully owned Red Mountain gold project has been delivering encouraging high-grade gold drill assay results. The drilling to date has delineated a high-grade gold zone to a vertical depth of 200m which remains open at depth.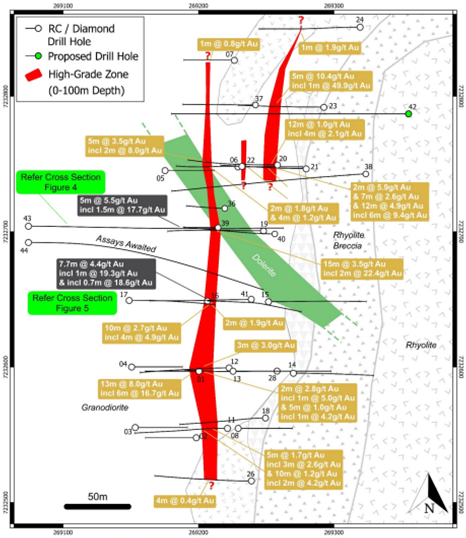 Red Mountain Plan Showing High-Grade Gold Zone (Source: ZNC Announcement 29/04/21)
The most recent two holes delivered:
ZRMDD041 - 7.7m @ 4.4 g/t Au incl. 1.0m @ 19.3 gram per tonne Au & 0.7m @ 18.6 g/t Au
ZRMDD043 - 5m @ 5.5 g/t Au incl. 1.5m @ 17.7 g/t Au
Gold mineralisation at depth remains open and will be the focus of additional planned step-out drilling.
The validation of large visible gold and solid gold grades in the upper levels of a breccia pipe system is expected to drive ZNC to undertake a drilling program to explore beneath 200 vertical metre level.
INTERESTING READ: Latest Assay Results Widen Zenith Minerals' Golden Footprint at Red Mountain
High Priority Targets at Split Rocks Project
During the quarter, ZNC confirmed the extension of large-scale gold-bearing bedrock shear zone at the Dulcie Laterite Pit area to over 2km in strike. Moreover, this remains open down-dip with a thickness varying from 4m to 40m.
The latest drill results include 3m @ 17.9 g/t Au, 19m @ 1.6 g/t Au and 8m @ 4.8 g/t Au. The drilling is anticipated to continue in the current year with an intent to delineate a resource.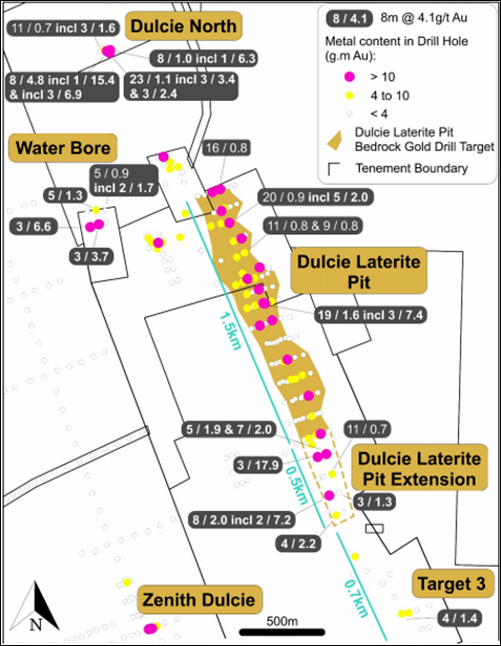 Split Rocks Gold Project Dulcie Area Drill Results and Target Areas (Source: ZNC Announcement 29/04/21)
ZNC has been evaluating the Dulcie Laterite Pit area along with three other high-priority targets at the project including
Dulcie Far North with an intersection of 5m @ 5.6 g/t Au;
Dulcie North with intersections of 32m @ 9.4 g/t Au, incl 9m @ 31.4 g/t Au;
Recently identified Water Bore zone with intersections of 3m @ 6.6 g/t Au and 3m @ 3.7 g/t Au open at depth and along strike to the south
Preliminary 4m Composite Assay Results: Zenith Minerals' (ASX:ZNC) Shares Rocket After Drilling Confirms New Gold Zones at Split Rocks
Finest base metal interval to date at Develin Creek Copper-Zinc
ZNC received very encouraging results from a 7-hole maiden RC drill program at the new "greenfields" Snook copper prospect, located within the Develin Creek Project.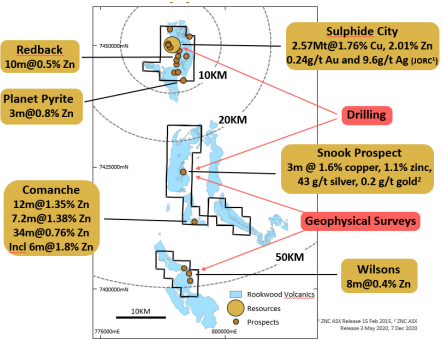 Develin Creek Prospects and Geochemical Anomalies (Source: ZNC Announcement 29/04/21)
The results comprised 3m of massive and semi-massive sulphides at 20m depth in the northernmost drill hole, and results included:
3m @ 1.57% Cu, 1.07% Zn, 0.37% Pb, 43 g/t Ag and 0.2g/t Au, including 2m of massive sulphide grading: 1.95% Cu, 1.34% Zn, 0.48% Pb, 55 g/t Ag and 0.3g/t Au
within a broader interval of 12m @ 0.81% Cu, 0.56% Zn. 0.19% Pb, 22g/t Ag & 0.1g/t Au
ZNC believes that the result from the greenfields prospect are the most substantial huge sulphide intersection and finest base metal interval documented to date within the project area.
DID YOU READ: Zenith Minerals (ASX:ZNC) registers fresh 52-weeks high on the back of upbeat results
Drilling to commence at Jackadgery Gold project in 2021
The Jackadgery gold project comprises a walk-up drill target while the historic surface trench sampling (1983-85) returned 160m @ 1.2 g/t Au, with higher-grade intervals, including 5m @ 18.0 g/t Au and 5m @ 7.1 g/t Au.
ZNC has concluded geological mapping and ground magnetics with no prior drilling carried out across the property.
The Company looks forward to commencing drilling in mid-2021 as the land access agreement has been signed and drill permits have been submitted.
RELATED: Zenith Minerals (ASX:ZNC) eyes an exciting 2021 with three projects in progress
Additional work planned for Flanagans Gold project
High-grade gold, silver and copper at the surface was confirmed through initial reconnaissance sampling by ZNC at the Flanagans prospect and neighbouring Great Blackall copper prospect with rock sample results for gold to 5.3 g/t, silver to 100 g/t & copper to 8.0% (Flanagans).
The historical high tenor of gold, silver and copper mineralisation was confirmed through surface sampling, but a clear drill target is yet to be defined.
Moreover, the Company has planned more work for the 1st half of CY2021, involving sampling, geological mapping at additional targets identified within the Flanagans project area.
Earaheedy Zinc Discovery To Be Fast-Tracked
Earaheedy zinc project in Western Australia uncovered zinc-lead mineralisation in two prospects- Chinook and Magazine. ZNC now plans to expedite the Earaheedy zinc discovery through an extensive accelerated exploration program that includes various drilling in order to test the scale and scope of the substantial discovery.
This program is planned to be financed by ZNC's project partner Rumble Resources Limited (ASX:RTR).
MORE AT: Zenith Minerals (ASX:ZNC) Eager To Fast-Track Earaheedy Exploration Program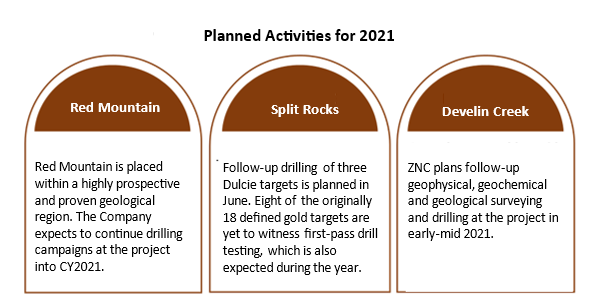 Source: ZNC Announcement 29/04/21
All in all, ZNC remains actively engaged in assessing potential new projects to add to the present strong pipeline, with a focus on gold and base metals, especially copper.
ZNC traded at AU$0.280 on 4 May 2021.