Highlights

Altech Chemicals has raised AU$10.3 million to support its construction of a 10,000tpa battery material plant in Germany.

The R&D team at ATC made a major breakthrough in Li-ion battery technology that can boost the energy capacity by 30%.

The Company signed MOUs with Europe-based feedstock suppliers for supplying graphite and silicon for its proposed plant.

The proposed battery material plant in Germany was accredited the green status by CICERO.

Altech is progressing its work on the pilot plant and appointed a German engineering firm to undertake engineering works.
Altech Chemicals Limited (ASX:ATC|FRA:A3Y) achieved substantial progress on the development of its high purity alumina (HPA) battery materials-coating technology as well as its German pilot facility during the half-year ending 31 December 2021. In addition, the Company made progress on its project financing to complete the construction of its HPA plant in Johor, Malaysia.
Latest update: Altech Chemicals (ASX:ATC) advances green bond offering for HPA plant
Altech raised AU$10.3M in 1H of FY22
Altech, via a placement of Shares as well as Share Purchase Plan (SPP), raised a total of AU$10.3 million during the reporting period. The Company led the oversubscribed placement offer @AU$0.107, which raised funds of AU$8.1 million.
Following the successful placement offer, the Company provided its existing shareholders with an opportunity to apply for new shares worth up to AU$30,000 at the same price. The investors rushed for the Share Purchase Plan and brought new shares, which generated AU$2.1 million for the Company.
These funds will go towards the completion of a preliminary feasibility study (PFS) for the construction of a 10,000tpa battery materials-coating plant in Germany, and have already been applied to the acquisition of land in Saxony, Germany, to house both the pilot plant and full plant. Funds will also be applied towards the definitive feasibility study (DFS) for the plant's construction.
Recent update: Altech Chemicals (ASX:ATC) partners with Germany's Küttner for pilot plant development
Breaking the Silicon barrier
In November 2021, Altech's team at its R&D facility in Perth, Western Australia, announced a significant breakthrough in lithium-ion battery technology. Altech has successfully "cracked the silicon barrier" and manufactured and tested a variety of lithium-ion battery anode materials with a 30% more energy retention capacity than conventional lithium-ion battery anode materials.
The Company achieved this tremendous feat after a series of experiments and focused hard work over a period of 12 months. To achieve this breakthrough, the R&D team combined silicon particles treated using its proprietary HPA battery material coating technology with ordinary battery-grade graphite, to create a lithium-ion battery electrode with a composite graphite/silicon anode.
Impact of adding silicon in lithium battery (Image source: Company update, 30 July 2021)
The materials were then put through a variety of battery tests, including charge and discharge cycles over a period of time.
Related read: Altech Chemicals (ASX:ATC) unveils pilot plant design for battery anode materials
Altech has stated that the breakthrough is significant for the lithium battery industry. Tesla Motors on its Battery Day event has pointed out that the addition of silicon could change the battery industry and enhance the performance significantly.
The problem associated with silicon is it could swell on charging, leading to battery damage. Also, it has a prohibitive first-cycle-capacity loss of up to 50%. Altech found solutions to all these problems by applying a nano film of high purity alumina (HPA) on battery anode material for the successful inclusion of silicon in the battery.
In the case of electric vehicles, a 30% higher energy capacity of the lithium-ion batteries would result in significant cost savings as well as a massive improvement in range. In Phase 2 of the planned research and development program, the Company will try to improve on the 30% energy boost obtained in Phase 1.
Altech's 75%-owned subsidiary Altech Industries Germany GmbH, has already commenced work on commercialising the technology. The German subsidiary is currently undertaking a pre-feasibility study for the construction of a 10,000tpa battery materials plant in Saxony to cater to the burgeoning European lithium-ion battery market.
Related read: Opportunities galore at Altech Chemicals (ASX:ATC) in 2022
MOUs with European feedstock supplier
Altech ended 2021 on a high note with the signing of two Memorandum of Understanding (MoUs) for the future supply of materials to its planned battery material plant. To secure the supply of graphite and silicon, two major components of lithium battery anode, Altech inked two MoUs, one with SGL Carbon GmbH for graphite and the other with Ferroglobe for the supply of silicon.
Related read: Altech Chemicals (ASX:ATC) signs MOUs with European feedstock suppliers
CICERO awards 'Medium Green' rating to Altech
During the reporting period, Altech was accredited the 'Medium Green' rating by the Centre of International Climate and Environmental Research (CICERO), a Norway-based independent green rating agency.
CICERO, in its findings, stated that Altech's coating technology could reduce the carbon footprint in the range of 19% to 52%. This could have a large impact on the burgeoning EV industry. The green rating by the agency makes the project eligible to get green bond financing.
Significant events post reporting period
Subsequent to the half-year, Altech announced the finalisation of the preliminary design of a pilot plant for the manufacturing of high purity alumina (HPA) coated battery anode material. The pilot plant will pave the way for the 10,000tpa capacity plant that the Company is planning to construct in Germany.
Altech has appointed German engineering firm Küttner GmbH & Co. KG to undertake final engineering works for the pilot plant.
Moving one step further on its HPA-coated battery material product, Altech registered trademark Silumina AnodesTM. The Company will use the trademark for the composite silicon/graphite anode material.
Land acquisition for 10,000tpa plant complete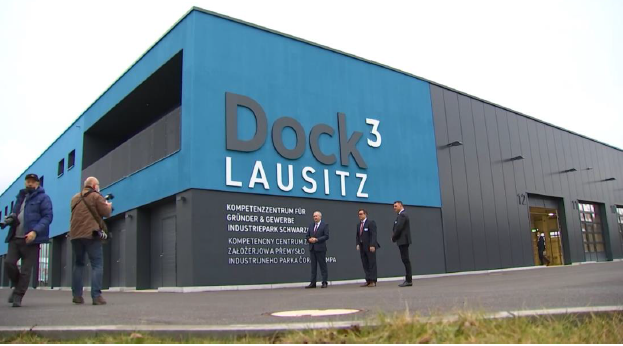 Saxony State Minister with Altech's MD (Image source: ATC update, 20 January 2022)
Related read: Altech Chemicals (ASX:ATC) acquires land for European battery material plant
In January 2022, the Company announced that it had purchased 14 hectares of an industrial site for its proposed battery material plant in Saxony, Germany. The land handover event marked the presence of several dignitaries from industrial and political fields.