Image source: Company presentation, Dec 2020
Summary

Greenland Minerals Limited (ASX:GGG) owns the globally unique Kvanefjeld Rare Earth (RE) Project in Southern Greenland.
With developments fostering well, Greenland Minerals is well positioned to become an integrated global RE supplier.
Unprecedented demand growth for magnet REs, transition to EVs, renewable energy, are further making Kvanefjeld an ideal upcoming RE project.
Greenland Minerals Limited's (ASX:GGG) Kvanefjeld RE Project is likely to be a step change in global RE supply. Enriched in both critical light (Nd, Pr) and heavy (Tb, Dy) REs, with the recovery of Uranium and Zinc by-products, the Project has a competitive cost structure.
As icing on the cake, international RE specialists Shenghe Resources is Greenland Minerals' largest shareholder and offers strong technical support and value chain connectivity.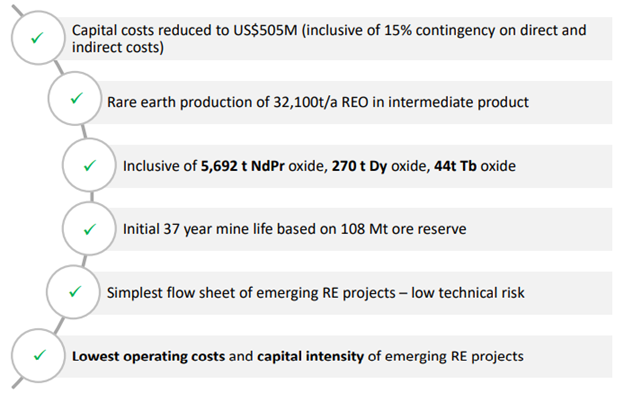 Kvanefjeld's strengths, Source: Company presentation, Dec 2020
The Company has been operating in Greenland for more than 12 years and is advancing Kvanefjeld's developments at an impressive pace. Currently, the public consultation process is ongoing and was extended until 1 June 2021.
A series of official public meetings is being conducted, an important part of the stakeholder engagement process to discuss and explain the outcomes of the environmental and social impact assessments of Kvanefjeld.
GET DETAILS HERE: How the public consultation process of Greenland Minerals' Kvanefjeld Project faring?
Why Kvanefjeld is an ideal rare earths project?
First things first, the price of critical magnet REs neodymium, praseodymium, terbium, and dysprosium have continued to rise in 2021 as well. These four REs are the main value drivers for Kvanefjeld.
The Project is underpinned by a JORC code-compliant resource of over 1 billion tonnes and an ore reserve estimate of 108 million tonnes to sustain an initial 37-year mine life. There is strong scope to expand production as well as extend Kvanefjeld's mine life.
GOOD READ: Greenland Minerals (ASX:GGG) finished 2020 in a strong position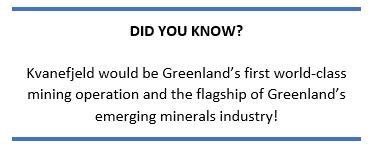 Moreover, it offers a new, simpler path to RE production than traditional refractory sources.
Coming to location advantages, Kvanefjeld is located near the southern tip of Greenland, in proximity to the existing infrastructure (an international airport along with year-round direct shipping access).
A key advantage to Kvanefjeld is the unique RE as well as the uranium-bearing minerals. These can be efficiently beneficiated into a high-value concentrate with low-mass. They can then be leached with conventional acidic solutions (under atmospheric conditions) to attain high extraction levels of REs.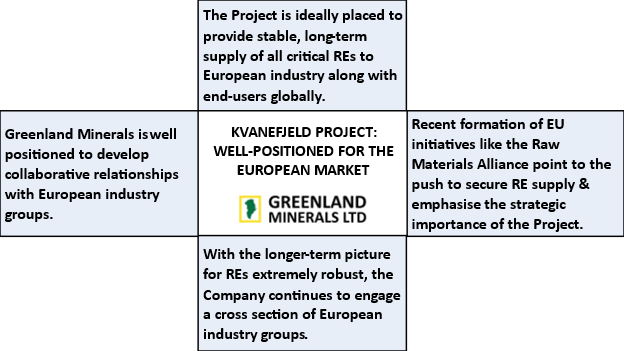 Copyright © 2021 Kalkine Media Pty Ltd, Source: Company announcements
All in all, Kvanefjeld is one of the world's most significant emerging RE projects. It is well positioned to see Greenland become a globally significant supplier of materials- key to an energy-efficient, and environmentally sustainable future.
MUST READ: Here's what may lead to Greenland Minerals' (ASX:GGG) progress in 2021
GGG traded at $0.175 on 31 March 2021 with a volume of over 2.42 million shares. The market capitalisation stood at $234.67 million.