Summary

Platina Resources is focused on unlocking value from its wholly-owned scandium project amid the growing demand for lightweight aluminium-scandium.
The Company is seeking offtake agreements to advance the project.
The Platina Scandium Project hosts an extremely promising scandium deposit with platinum, cobalt and nickel credits.
The prevailing scenario dominated by increasing electric vehicles take-up and expected favourable winds for the scandium market appears to sharpen the focus of Platina Resources Limited (ASX: PGM) on unlocking the value of its scandium project.
In a significant market update, the Company has unveiled its plans concerning the wholly owned Platina Scandium Project (PSP) in central New South Wales.
Post the announcement, PGM traded 28.85% higher to AUD 0.067 on 25 January 2021 at AEDT: 03:16 PM.
PSP is Well-Placed to Capitalise on the Emerging Trends
The Platina Scandium Project hosts one of the world's leading undeveloped, highest-grade scandium deposits.
The 2018 Definitive Feasibility Study (DFS) has unveiled Stage 1 annual production of 20 tonnes and an estimate of initial capital expenditure of USD 50 million. The study highlighted the project's economic and technical viability and the opportunity to build long-term shareholder value at a manageable capital cost.
The Company has planned to update the study earlier produced for the DFS to evaluate new market opportunities and identify new players interested in investment and offtake.
PGM lodged a mining lease application last year and it will continue to work towards possible project funding options in Asia, Australia, US and Europe. Meanwhile, it will also work with Traxys Europe S.A. for evaluating its scandium product and market development.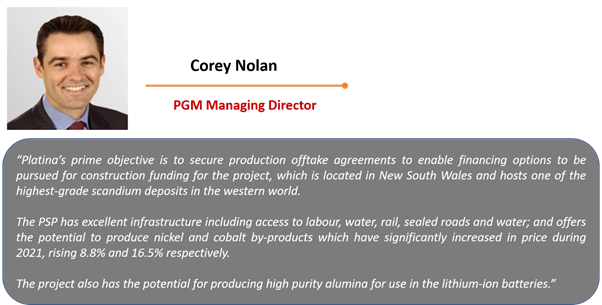 Scandium is expected to witness a favourable and expanding market situation, courtesy the growing demand for a lightweight, high strength alloy for EVs and other applications. Moreover, the recent announcement from global mining giant Rio Tinto Limited (ASX:RIO) has served as an icing on the cake, bringing more value to the growing market. RIO is all set to build a commercial scandium oxide demonstration facility at its titanium dioxide feedstock plant in Quebec.
In the recent years, the solid oxide fuel cell industry has been the main scandium consumer. However, the greatest value of the metal lies as an aluminium alloy for the automobile, aerospace, military, and marine industries, stated Mr Nolan.
The metal can produce weldable aluminium products that are more robust and heat tolerant. This kind of aluminium is being used in EV applications and in stringent fuel efficiency requirements.
Platina Scandium Project in Tier 1 Location
The project sits in the well-established mining district of New South Wales, hosting several world-class mining operations. The project is one of the world's top-grade scandium resources, 350km west of Sydney. It has the potential to become the pioneer scandium producer in Australia with nickel, cobalt and platinum credits.
Also read: Platina Resources to Look Closer for Platinum and Copper Potential at Scandium Project
Based on a mine life of 30 years, the DFS has suggested the project presents an after-tax net present value in real terms at AUD 234 million with an 8% discount rate, after-tax IRR of 29% and a payback period of 5.3 years. The DFS assumes an average scandium oxide cost of USD 1550/kg.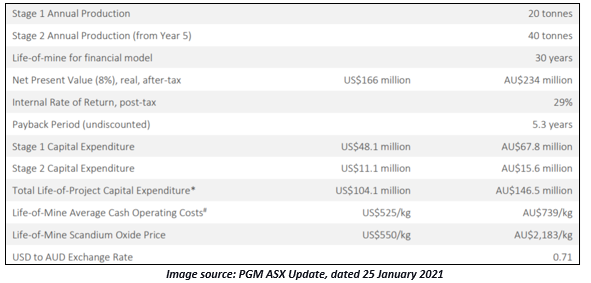 The initial study was based on a plant designed to produce 20 tonnes per annum of scandium oxide, at a capital cost of AUD 67.8 million. As the demand for lightweight aluminium-scandium continues to heat up, the capacity could be doubled at a low additional cost of AUD 15.6 million.
The mineral resources and ore reserves are well-defined with over 48,000 metres of drilling. The ores will be extracted using a traditional high-pressure acid leach technique for the production of high-purity scandium oxide (99.99%).
Must read: Platina Recognises New, Cost-Effective Extraction Technology Promising to Unlock Scandium Deals