Summary

Southern Africa is confronting an energy crisis with growing shortages of electricity hindering industry and investment.
Invictus Energy Limited (ASX:IVZ) is focused on oil and gas in Sub Saharan Africa, developing the Cabora Bassa Project in northern Zimbabwe.
Securing the best acreage, best terms, and most lucrative markets, Invictus can yield massive rewards from the Project's elephant scale potential.
South Africa is currently facing a severe energy crisis. The increasing shortages of electricity have been hampering industry and investment. The old coal-fired power plants are unfortunately being retired. Consequently, Gas to Power has become increasingly important to regional power needs.
Upstream E&P company Invictus Energy Limited (ASX:IVZ) aims to be a significant energy supplier in Southern Africa. The Company is 80% owner and operator of the Cabora Bassa Project in northern Zimbabwe. Notably, the Project contains SG 4571 exploration licence in the Cabora Bassa Basin.
Invictus' focus is on low cost conventional onshore or shallow water exploration that can be quickly commercialised, safely and at low cost.
EXCLUSIVE WATCH: In an exclusive conversation with Scott Macmillan, MD of Invictus
Let us understand why Invictus' Project can prove to be supportive in healing Zimbabwe's energy crisis-
#1- Lucrative Asset
Firstly, it should be noted that the SG 4571 licence comprises possibly the biggest, seismically defined, undrilled structure onshore Africa. So much so, 8.2 Tcf + 249 million bbls# of conventional gas-condensate is present in the Mzarabani Prospect alone.
Invictus' licence area covers 250,000 acres in most prospective part of the basin. Besides, the licence has been renewed to 2023.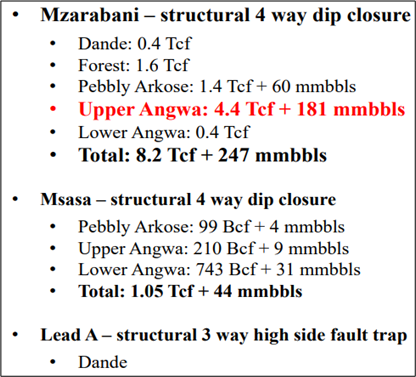 SG 4571 Prospects and Leads Volumetrics (Source: Investor Presentation, Dec 2020)
The Company acknowledges the elephant scale potential to tap one of the last undrilled rift basins in Africa, which lies on the doorstep of a vast market.
ALSO READ: Invictus Energy (ASX:IVZ) Ending 2020 with a Slew of Milestones
#2- Market Opportunity
Invictus states that currently, it is the only oil and gas operator in the country. Owing to its early entry and first-mover advantage, the Company is in a unique position to leverage its basin master position.
If Invictus' exploration program is successful, the existing energy demand in the country can be fulfilled. The market opportunity is huge, and so are the monetisation routes.
Besides, the Company is examining the market for value accretive assets.
RELATED READ: Lens Through Invictus Energy's Lucrative Market Opportunity In South Africa
#3- Healthy Relationships
A third reason why Invictus' Project is ideal for Zimbabwe's energy crisis is the fact that project progress seems to be transpiring well. Quality industry partners like Sable Chemicals, Mangwana Opportunities Fund and One Gas Resources are bound to underpin development and monetisation of even a modest discovery.
Besides, the Zimbabwe Government is pro-business and has been promoting foreign investment while implementing investor-friendly reforms.
ALSO READ: Invictus Energy's (ASX:IVZ) 2020 Progress Well Supported by Prominent Parties
The Company has major activities planned in FY21. It aspires to advance its lucrative Project for the benefit of both the country and community.
To know about the 2021 plans, READ HERE- What's in Store for Invictus Energy (ASX:IVZ) in 2021?
IVZ traded up by 5.79% at $0.073 on 25 January 2021.