Highlights

Beam Communications registered record performance in FY21, and growth momentum is continuing into FY22.
The Company plans to fast-track the launch of ZOLEO into large new markets around the world.
Beam expects a strong increase in ZOLEO subscription revenue, fast-tracking of growth plans and organic growth in other parts of the business during FY22.
Leading the world in innovative satellite communications, Beam Communications Holdings Ltd (ASX:BCC) is on a persistent move to expand and grow in domestic as well as international markets for strategic growth in its recurring revenues.
With record FY21 performance, Beam is fuelled for further growth in FY22. The Company is resilient to pick on upcoming growth opportunities and expanding market penetration with new products amid rising demand for satcom devices.
Moreover, the Company has a strong balance sheet and capital position, enabling Beam to tap strategic growth opportunities.
Read More: Beam Communications' capital raising of up to $6M to fire up international growth agenda
Beam fast-tracks its growth into FY22
High-powered performance across all its key divisions during the fiscal year 2021 has placed Beam in a strong capital position for the year ahead. The Company registered an all-time high full-year revenue and profit before tax in FY21.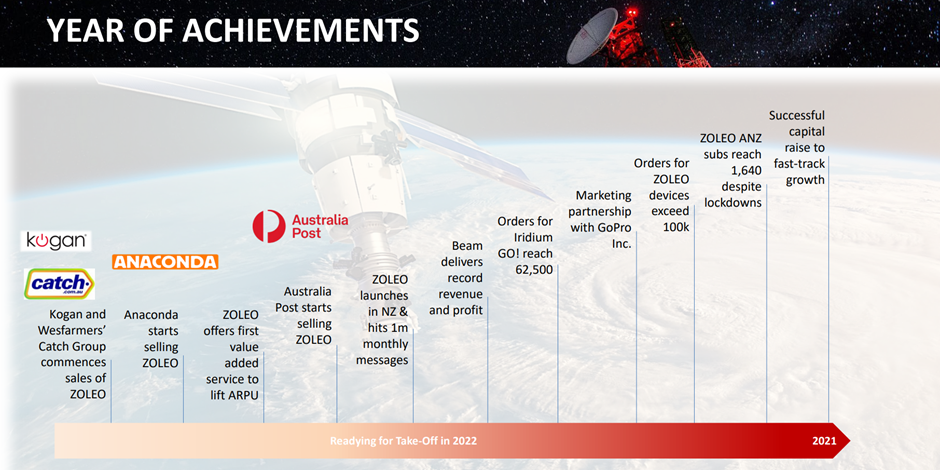 Image source: BCC Presentation, 30 November 2021

ZOLEO: Beam recorded a jump of 28% QoQ in the number of Australian and New Zealand (ANZ) ZOLEO subscribers. The number soared to 1,640 in the first quarter of FY22.
Also, the number of ZOLEO units shipped and invoiced to ZOLEO Inc. in 1QFY22 stood at 9,550, representing an increase of 161% on the same period a year ago and more than that recorded for the entire FY20.
Also Read: Unsure of cellular coverage? Meet ZOLEOTM , a device that can save your life
Beam's ZOLEO ANZ retail footprint also saw a rise of more than 60% in about six months to approximately 350 locations across over 70 dealers.
The ZOLEO Australia website hits increased by 215% over the last 12 months, while the number of messages sent via ZOLEO in 1QFY22 hit record 3.8 million with 1.4 million messages in the month of September.
Overall, Beam has received orders for more than 115,000 ZOLEO devices and delivered or invoiced over 50,000, since its launch.
Detailed Discussion at: Beam Communications (ASX:BCC) rolls out messaging device ZOLEO in NZ
Iridium Certus®: There is a huge opportunity in prospect for Beam to offer value-added services for its Certus® device to generate new recurring income stream. Moreover, Beam is planning to develop additional Certus® devices.
Personal Comms Device (PCD) segment growth is expected at around 29% CAGR (2021-2025), as per Iridium Communications Inc.
SatPhone Shop (SPS): A wholly owned subsidiary of Beam and Telstra's largest satellite dealer in Australia, SatPhone Shop recorded an increase of 27.5% in FY21 revenue.
The subsidiary is experiencing strong growth in FY22, with demand from government and medium-sized enterprise customers.
Iridium GO!: FY21 brought in mega orders for Iridium GO!. Over 50,000 units were ordered during the year.
With additional orders received in the current financial year, total number of units zoomed in to 62,5000.
Know More: Beam Communications (ASX:BCC) clocks record revenue in FY21
Image source: BCC Presentation, 30 November 2021

Bottom Line
The growth momentum is continuing into FY22. Also, subscriptions for Beam's devices are expected to register a striking hike with the impending holiday season and unlocking of several major cities across Australia, such as New South Wales and Victoria.
Must Read: Beam Communications (ASX:BCC) trading at 1X sales, is it a misunderstood stock?
BCC shares were trading at AU$0.420 at AEDT 03:07 PM on 30 November 2021, with market capitalisation of AU$30.39 million.