Summary

Crude oil prices have appreciated more than 100% since October last year. The demand for crude oil is expected to remain stronger in the second half of 2021.
Saunders International is a service company catering to the Australian industries with specialised and innovative solutions.
The Company holds more than 70 years of experience in delivering engineering, procurement, maintenance, and specialised services to the oil & gas, defence, mining, and other sectors.
With its innovative and low-cost business solutions, Saunders has been able to retain several clients since 1951.
The crude oil market is witnessing a strong consumer demand, pushing the prices up to US$75/bbl. The WTI July Futures contract traded at US$74.2 on 13 July 2021.
The decision of OPEC+ nations to curb production and keep the market from oversupply is finally showing positive impacts on crude oil prices. The commodity has gained more than 100% since October last year.
Good read: Saunders International (ASX:SND) at vantage point amid robust infrastructure spending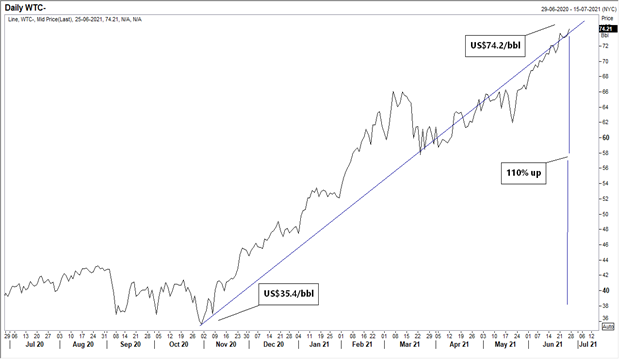 Crude oil price movement in last one year (Chart source: Refinitiv, analysis: Kalkine Media)
Booming prospects for oil & gas market players
The oil & gas sector, which experienced a gloomy period in 2020, is expected to continue its bull run, as demand is anticipated to grow stronger in the second half of 2021. Also, the US stockpile is likely to drop significantly in the coming weeks, thereby driving the prices in the short term.
Strong crude oil prices will also drive the prices of natural gas, including liquefied natural gas. The projects that were delayed or abandoned due to low crude oil prices may fire up their engines again. The oil industry is ready to soak in more investments and provide great returns.
The companies engaged in providing specialised services to oil & gas operators will also witness a boom in their businesses. More money will be spent on developing the related facilities and infrastructure to support the surge in production of hydrocarbons.
On that note, let us discuss Saunders International Limited, which is a reputable, multi-disciplinary company providing diversified service offerings to a wide range of industrial and infrastructure clients.
Also read: What's on Saunders International's (ASX:SND) Agenda for 2021? A Look at Key Priorities
Role of Saunders International in oil & gas sector
Saunders International Limited (ASX:SND), a seven-decade-old established and experienced company, is actively supporting the growth of the Australian industry through its specialised and innovative services.
Its client list, featuring big names like BP, Shell, Mobil, and Caltex since the 1950s, substantiates Saunders' reputation as a business delivering project excellence.
The Company provides cost-effective solutions for the upstream, downstream, storage and distribution of the refined products. Construction of import and distribution terminals and associated civil, structural, mechanical, and piping works are the Company's areas of expertise.
Saunders in action with varied services
Source: SND Website
Read here: What's on Saunders International's (ASX:SND) Agenda for 2021? A Look at Key Priorities
Saunders boasts more than seven decades of experience in the oil & gas sector. It has experience in managing greenfield as well as brownfield projects. The Company engages in long-term service agreements that maintain the productive capacity of its customers.
Share price performance
The shares of SND traded at AU$0.8 as on 12 July 2021. In the last one year, SND stock has given an impressive return of 33% to its shareholders. The Company has a market cap of AU$84.24 million.