Summary

Renegade Exploration has been looking to secure approval for the acquisition of JV interest in the CJV from Sovereign Metals.
RNX has concluded various exploration programs across its Yandal East project, while the Yukon project is presently subject to an option agreement to sell.
RNX remains optimistic about the acquisition of the JV interest that comprises various prospects, especially at Mongoose Prospect.
Mineral exploration and development company Renegade Exploration Limited (ASX:RNX) owns a set of prospective land assets located in the prolific regions of Australia. The Company's core project, the Yandal East Project, is located in the well-endowed gold region called the Yandal Greenstone Belt in Western Australia.
The flagship Yandal project represents a significant opportunity for RNX and has witnessed significant exploration work across various prospects, especially the Riches' and Baxters' Prospects.
Moreover, RNX is looking to secure rigs for the upcoming phase of the work on the recently generated targets.
MARCH QUARTER UPDATE: Substantial exploration and acquisition fuel growth of Renegade Exploration (ASX:RNX)
Besides this, RNX owns a 90% interest in the Yukon Base Metal Project, which is placed outside Australia in the highly prospective Selwyn Basin of the Yukon region in Canada.
Acquisition of CJV interest
Off late, the Company has acquired 23.03% interest in the Carpentaria Joint Venture (CJV) which MIM Limited majorly owns.
According to the current terms of the JV, MIM shall continue to be the manager of the CJV, and both partners contribute to the JVA as per their respective JV percentage interest.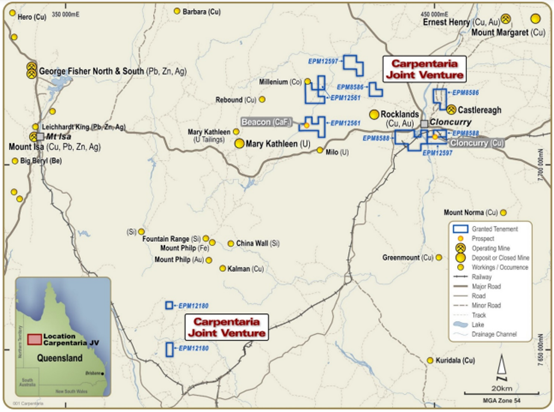 Location of the Carpentaria JV Permits (Source: RNX Announcement 29/04/21)
PREVIOUS UPDATE: Renegade Exploration (ASX:RNX) gets green signal for CJV interest acquisition
RNX has acquired the JV interest from Sovereign Metals Limited (ASX:SVM) for consideration of AUD 100,000 in two instalments each and AUD 150,000 as the last instalment. At present, RNX has made its initial contribution to the CJV to maintain its 23.03% interest.
Significance of the CJV deal
The Carpentaria JVA includes the Mt Marathon (EPM 8586), Mt Avarice (EPM 8588), St Andrews Extended (EPM 12180), Fountain Range (EPM 12561) and Corella River (EPM 12597) permits.
DID YOU READ: Back to Back Acquisition Agreements Fuelling ASX:RNX's Evolution Into Mid-Tier Resource Company
RNX had been engaged in a careful review of the CJV database and advanced discussions to develop some smaller projects within the CJV, particularly the Mongoose Prospect.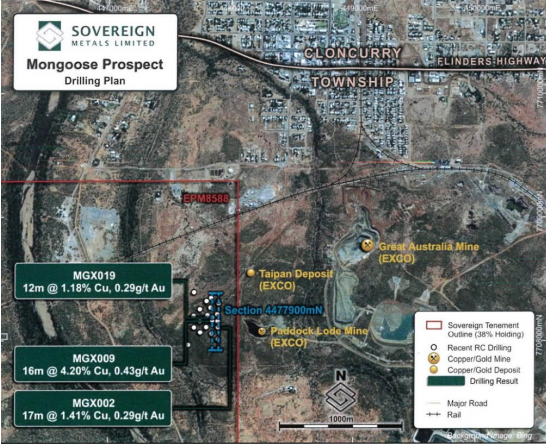 Source: RNX Announcement 03/052021
This prolific prospect is a host to calc-silicates and quartzites in various small locations and is located immediately close to the Taipan deposit and the Paddock Lode Mine.
Overall, RNX remains optimistic that the Company is adding another great state of Australian jurisdiction and a great partner in Glencore through this acquisition.
IMPORTANT UPDATE: Renegade Exploration (ASX:RNX) looking to advance activities across projects in 2021
The RNX stock closed at AUD 0.007 on 21 May 2021.