Summary

Calima Energy Limited (ASX:CE1) has reached a binding agreement to acquire conventional oil & gas producer in Canada, Blackspur Oil Corp.
The company will raise A$34 million through equity placement to fund the acquisition.
The acquisition will provide Calima with a quality portfolio of Canadian oil & gas projects, adding Brooks and Thorsby to its existing assets - Calima Lands and Tommy Lakes.
Oil & gas major Calima Energy Limited (ASX:CE1) recently agreed to acquire a 100 per cent stake in Blackspur Oil Corp, a conventional oil & gas producer in Alberta, Canada. With the acquisition of Blackspur, Calima intends to boost exposure to rising oil & gas prices and low-cost production to generate cash flow.
More specifically, the Company's successful merger with Blackspur will transform it into a high-margin oil & gas producer leveraged to WTI (West Texas Intermediate) pricing & targeting more than 5,500 boe/d by YE 2022. Additionally, the merger will provide Calima with exposure to growing natural gas prices via its strategic holdings in the Montney Formation.
Equity Raising
To fund the acquisition, Calima has planned to undertake an equity placement raising A$34 million at A$0.007 per new share. Post the equity placement, combined market capitalisation will reach A$66 million.
Must Read: Calima Energy (ASX:CE1) Announces Transformative Merger with Blackspur Oil Corp.
The Company will undertake a Conditional Placement to raise A$29 million subject to a shareholder vote to be held at a general meeting on or around 19 April 2021. Besides, the equity raising includes a firm commitment for A$5 million as part of the retail offer, which will close on or around 15 April 2021. The capital raising will result in the issue of about 53 per cent of new ordinary shares.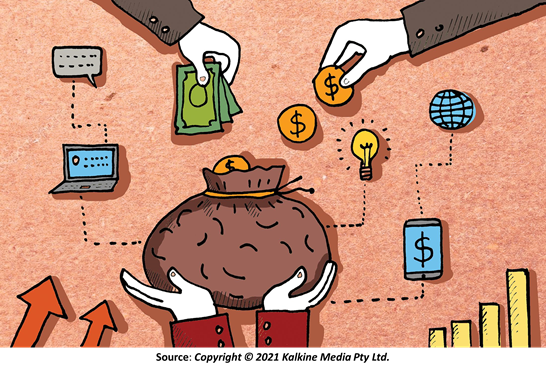 Proceeds from the placement will be utilised to fund the purchase of Blackspur, working capital for future growth, reduce debt, and transaction costs related to the placement.
Transaction Rationale
The Blackspur merger will strengthen Calima's exposure in the tier one jurisdiction of Canada, which is an established energy market with a supportive energy policy. Canada's strong market fundamentals are enhanced by three world-class LNG projects in the region – LNG Canada (under-construction), Kitimat LNG (proposed) and Woodfibre LNG (proposed).
The acquisition will provide the Company with large resource endowment across three high-quality assets near key pipeline infrastructure. Besides, the merger offers significant scalability with low technical risk and low base decline rates of 22 per cent for CY2022.
Furthermore, Calima has announced Blackspur acquisition at appealing metrics in comparison to its ASX and TSX peers with analogous oil weighting and production volumes, as stated below:
EV/2P: C$2.66/boe, reflecting an approximate 50 per cent discount to the average TSX and ASX peer group.
EV/Production: C$23,077/boe, representing a discount of nearly 40 per cent to the average TSX and ASX peer group.
Equates to 30 per cent of the amount spent by Blackspur to date in drilling wells, acquiring leases, and developing infrastructure.
Attractive Project Portfolio
The acquisition will provide Calima with a quality portfolio of Canadian oil & gas projects, enabling it to fill a void of ASX-listed oil production companies.
With owned and operated infrastructure, Blackspur holds consolidated land positions at Thorsby (~100 net sections) and Brooks (~83 net sections). Blackspur's large inventory set in Canada offers significant growth potential to the Company:
89 (28 net booked) Sparky as well as 12 Nisku locations at Thorsby.
147 (35 net booked) Sunburst as well as Glauconitic locations at Brooks.
The drilling of six Sunburst and three Sparky wells is expected to result in 2021 production of 3,000 boe/d and an exit production rate of 3,400 boe/d. Blackspur's small strategic acquisitions and incremental development further offer a promising opportunity:
Potential to augment offsetting ~49 net sections via Crown plus freehold leasing, contributing an incremental 152 net locations.
Potential to augment offsetting ~22 net sections via Crown plus freehold leasing, contributing an additional 45 net locations.
For Calima, the Montney Formation remains a strategic source for oil & gas for the US market and East Canada, as evidenced with the latest wave of corporate activity, including:
Seven Generations Energy and ARC Resources C$8.1 billion merger.
Canadian Natural Resources purchase of Painted Pony for C$461 million.
ConocoPhillips purchase of Kelt for C$550 million.
Tourmaline's purchase of exclusive acreage from Polar Star, Chinook and Painted Pony for C$85 million.
Calima's strategy is to make the Montney asset ready for future development while unlocking short-term value through partnerships, joint ventures or a corporate transaction.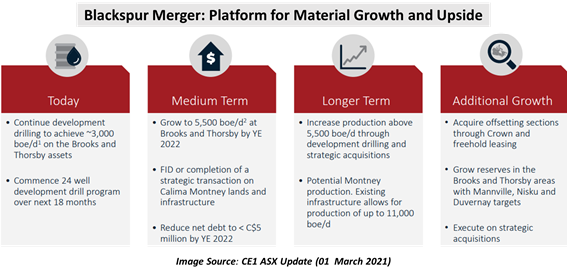 Calima shares last traded at A$0.01 on 3 March 2021.