Summary

Saunders International Limited (ASX:SND) returned to profitability in FY20 and pro-actively managed work amid COVID-19.
Saunders' new projects outlook is positive with businesses and clients likely to increase their capex over the coming years.
The financial position remains strong and continued focus on working capital may ensure that the business has the flexibility to continue its growth strategy.
Saunders International Limited (ASX:SND) is a construction, maintenance, and engineering service provider with in-house expertise to deliver a comprehensive range of projects. Since its establishment in 1951, the Company has actively contributed to the development of Australian industries. It has emerged as a reputable, multi-disciplinary company with a wide range of industrial and infrastructure clients.
So much so, Saunders is still working closely with many of the original oil majors including Mobil, BP, Shell, and Caltex since the 1960s.
MUST READ: Saunders Kickstarts FY21 With A Bang
Unveiling Pockets Of Opportunities
Chairman Timothy Burnett opines that the new projects outlook for Saunders is positive. Notably, many business sectors and clients that are relevant to the Company are expected to increase their capital expenditure over the coming years.
With these pockets of opportunities showing immense promise, Saunders' financial position remains strong, with no interest-bearing debt except for financial leases. Besides, the Company's continued focus on working capital is likely to ensure the flexibility to continue its growth strategy.
Notably, Saunders has started FY21 with an order book of $110 million. This comprises substantial contracts from various sectors- defence, water, road, rail, mineral processing, and oil and gas.
The Company further informs that the FY21 budget revenue would increase by ~ 50% over the prior year.
RELATED READ: Saunders FY21 Objectives
Flashback To The Year Of Challenges- 2020
Saunders' operational and financial performance in FY20 showed progress in its growth strategies, establishing a strong foundation for sustained growth in FY21 and beyond. While the Company returned to profitability, resilience throughout the COVID-19 outbreak ensured that the business continuity plan remains intact.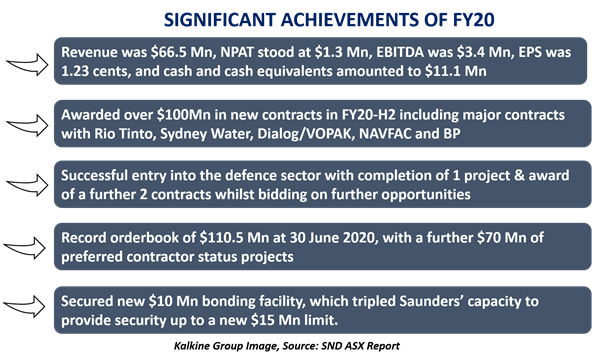 Also Read: Saunders International (ASX:SND) Keeps Up The Good Work, Flaunts New Project Wins
Entering 2021 On A Good Note
Saunders has completed the FIX phase of its strategy. The key focus for FY20 & 21 is to execute the GROW phase, which is well validated by over $100 million of new work awarded in H2 FY20. Additionally, the Company secured new work valued at $36 million in FY21.
As we enter a new year full of hope, it will be interesting to observe if Saunders continues to demonstrate its ability to grow revenue and profitability in a sustainable way going forward.
SND last traded at $ 0.60 on 8 January 2021.
Interesting Read: Principal Drivers Behind Saunders International's Solid Growth Outlook