Highlights

Renovator Store has emerged as Australia's fastest growing online building fixtures store, helping Aussies upgrade their dream home.
Do not pay showroom prices – this online store offers a wide range of renovation fixtures and fittings for bathrooms, kitchens, storage, lighting without the traditional retail margin.
Renovator Store warehouses its products in Australia and avoids the traditional retail costs of showrooms, salespeople and agents, resulting in much fairer pricing for Australian homeowners.
Sourcing renovation products online is now safe and easy with their local customer service team, fast Australia-wide delivery, and easy returns under their 100% money back guarantee.
The frenzy for renovating houses is reaching new highs with a spectacular range of home renovating products available in the market today. But are they all worth buying? Certainly not. However, there are some stores which stand out in the market for their fine quality products and attractive prices.
So if you are intending to add a little pizzazz to your home sweet home, one such store you can turn to is Renovator Store (RenovatorStore.com.au). This one-stop shop has been in business for 10 years and offers a wide range of home fixtures and fittings, allowing people to renovate and adorn their homes without burning a hole in the pocket.
What makes Renovator Store so appealing?
Renovator Store has emerged as Australia's fastest growing online building fixtures store for homeowners and renovators far and wide. The online reviews say it all – customers applaud the products, the fair pricing, the fast dispatch, easy returns, and free shipping on most items.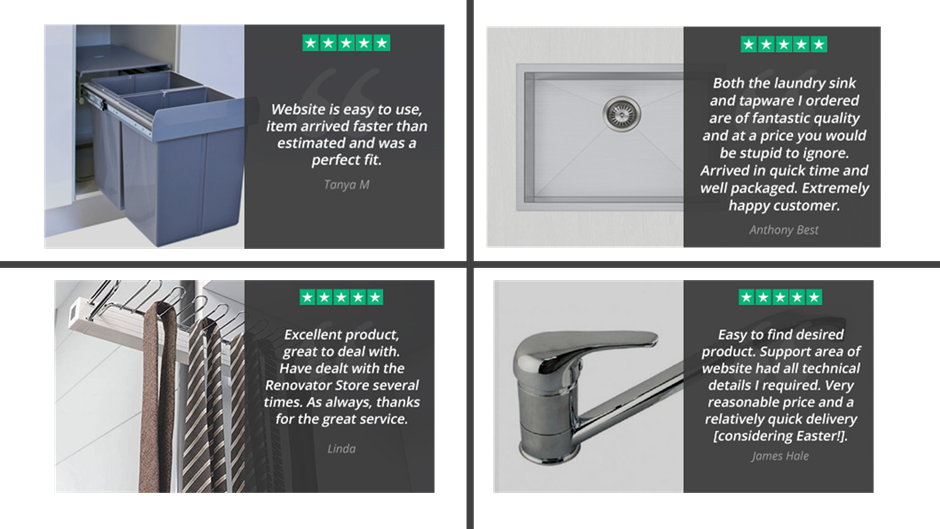 Customer Reviews (Image source: Renovator Store)
Moreover, the store eliminates the need of visiting showrooms or retail outlets because it operates via an online platform. "How do I touch and feel that kitchen sink I want" you ask? Renovator Store's website provides detailed product images, descriptions, specifications and comparisons.
You can shop on your couch and touch and feel it in your own home when it is delivered – and if it's not what you expect then simply return it with the return label. With the significantly lower prices you will want to source from Renovator Store – many bricks and mortar retailers do not hold stock anymore so sourcing online is not only cheaper – but often faster too.
How can prices be significantly less? It is well understood that online merchants have a much lower cost of doing business than bricks and mortar merchants. This allows them to sell the same products at much lower prices as they do not need to pay showroom rent, salesperson salaries, and agent commissions – the winner is the smart renovator that sources online.
Want to upgrade your home fitout? Shop at Renovator Store
Renovator Store was launched with an aim to help Australians build the homes of their dreams. Since its establishment in 2012, Renovator Store has been dedicated to offering high-grade renovation products at the most reasonable prices.
The latest styles and trends in bathware, kitchenware, innovative storage, lighting and more are simply a click away and then they are on your doorstep ready to give to your installer. The wide range of brands and products are stocked in Australia, and all have local customer support and warranties.

Some products at Renovator Store (Image source: Renovator Store)
According to Renovator Store, some of its most favoured products lately are kitchen storage items like pull-out pantries and integrated pull-out bins.
Whilst the website is a default source for many builders and interior designers across bathroom, kitchen, floorboards and lighting, the recent DIY trend is seeing many homeowners upgrade their kitchen cabinet storage themselves. Pantry units that pull out and swivel for complete access turn a traditional cabinet into a dream pantry. Integrated pull-out bins hide waste away to provide that minimalist kitchen you always wanted.
For kitchen renovation, homeowners can explore a large range of kitchen sinks and taps, sink accessories, pantries, waste bins, water filters, drawer organisers, pull-out organisers, dish racks – in many different styles and sizes.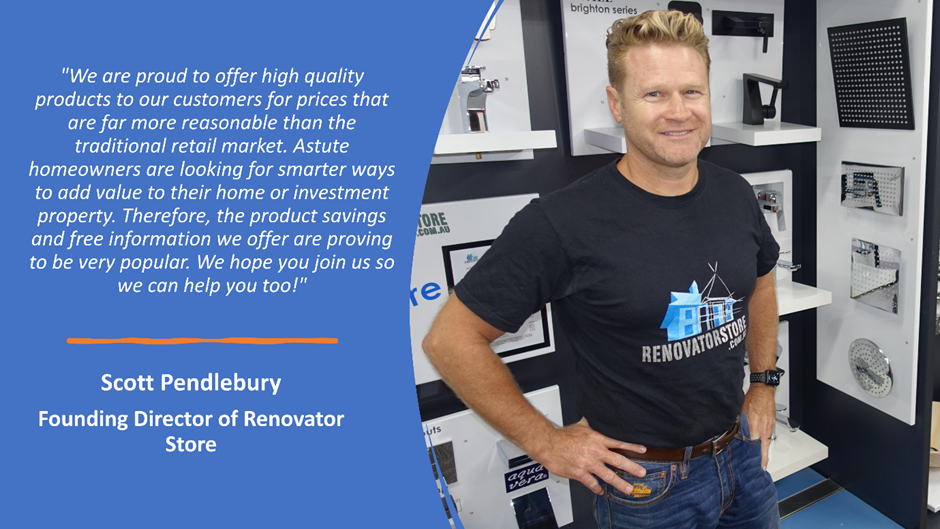 Renovator Store has been gaining popularity among people for its amazing product range, lower prices, fast and free shipping, easy return and refund, as well as dedicated customer service. It aims to further expand its reach and make more people live their dream of living in a beautiful and well-equipped home.