Summary

Variscan Mines Limited has recently reported high-grade zinc mineralisation discovery at the San Jose Mine.
The results are validated through key intersections received from various holes and drilling that suggests positive visible zinc mineralisation.
The mine remains largely untested, and VAR is yet to receive results from several diamond drill holes completed.
Growth-focused explorer and developer of strategic mineral deposits Variscan Mines Limited (ASX:VAR) holds an assortment of high-impact base metals projects across Spain, Chile and Australia.
VAR has a market capitalisation of AU$13.20 million and has been actively undertaking key exploration programs across the prospective portfolio while receiving encouraging results.
High-grade zinc mineralisation intersected
Lately, VAR has made a significant discovery at the Central Zone of the San Jose Mine. The Company has discovered zinc-rich mineralised lenses beneath the areas of recognised mining work in two distinct north-south trends.
High-grade zinc mineralisation was intersected over and beneath the mine stopes at the Central Zone of the mine through underground drilling.
Furthermore, several horizons with mineralisation occurring as a series of vertically stacked, flat-lying lenses, consistent with the normally stratiform-stratabound feature of sulphide orebodies in MVT Pb-Zn districts, have been identified.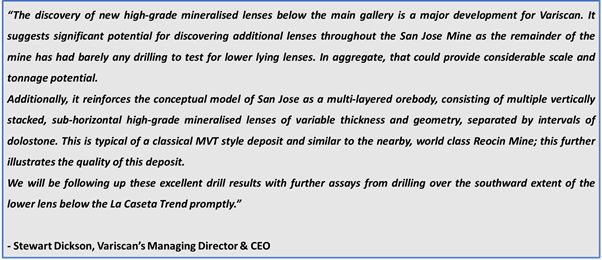 DID YOU READ: Variscan Mines Strikes High-Grade Zinc Mineralisation in Continuing Drilling Programme
Key discoveries and activities
VAR has undertaken drill-testing at the La Caseta Trend towards the southward extension, where core logging offered several indications of visual high-grade zinc mineralisation. Additional core samples from 20 drillholes have been submitted to ALS for assay testing and the Company is yet to receive these results.

Source: VAR Announcement 25/05/2021
At the La Caseta Trend, the key findings include the discovery of a new laterally broad, high-quality mineralised lens beneath the main gallery level 16.9m @ 12.5% Zn + 2.0% Pb from DDH NOVDD027 and 15.6m @ 3.2% Zn + 0.3% Pb from DDH NOVDD028.
Diamond Drill Core from NOVDD027 Source: VAR Announcement 25/05/2021
VAR discovered high-grade mineralisation above gallery level with 7.0m @ 8.3% Zn + 0.1% Pb from DDH NOVDD025.
A new mineralised lens below main gallery level was also discovered at the 168-177 Trend, as indicated through 5.0m @ 14.2% Zn + 4.3% Pb from DDH NOVDD017 and 5.0m @ 11.4% Zn + 2.8% Pb from DDH NOVDD015.
DDH NOVDD018 and NOVDD014 intersected 5.0m @ 16.5% Zn + 1.7% Pb and 4.2m @ 15.4% Zn + 5.0% Pb indicating high-grade mineralisation above gallery level.
The Company has concluded diamond drilling in the Central Zone and has also concluded drilling in South West Zone while assays are pending. VAR has drilled a total of 73 drillholes for 2,087 metres during this campaign to date.
Do Not Miss: Variscan Mines (ASX:VAR) Embarks on ~2,000m Drilling Programme at San-Jose Novales Mine
Potential and further exploration activities
VAR believes that there is potential for high-grade mineralisation extending beneath the former producing mine. This further exposes VAR to an excellent scale opportunity, as a large part of the mine has not witnessed drill-testing at depth.
A system of steeply dipping north-south and east-west oriented feeder faults hold strong structural control on the zinc-dominant mineralisation.
VAR's immediate focus is on continuing with the various key activities across the project, including the following:
Securing and interpreting the pending assay results from drilling at the Central Zone.
Assay results from drilling at the South West Zone of the mine to be tendered.
Surface drill targets across the Buenahora licence area to be mapped and sampled.
Surface drilling permitting application pending.
Surface drilling anticipated to kick off in second or third quarter of 2021.
Mapping and sampling of targets over the Guajaraz Project in Castilla La Mancha.
All in all, a major part of the mine remains untested at depth and offers possibility for further discoveries of high-grade mineralised lenses, the proximity of which helps in expanding cumulative tonnage.
Also Read: Variscan Mines (ASX:VAR) Hits Strong Zn Mineralisation at San Jose-Novales
The VAR stock closed the day's trade at AU$0.062 with a market cap of AU$13.20 million.