Source: Sergei Afanasev, Shutterstock
Summary

Vanadium Resources Ltd ("VR8") is set to acquire an integrated ESG technology aimed at processing ore from its World Class Vanadium Project to produce green metals and hydrogen.
VR8 has received funds from investors to raise $2.0 million to fund the technology acquisition through formation of a JV, for working capital and to commence its DFS (post completion of PFS).
Technology to allow the production of battery grade Vanadium Pentoxide and other high end products, which has the potential to increase the total profitability of the project.
Vanadium Resources will have a right to earn up to 74% in the JV and will also exercise the right to provide the integrated technology licence to other parties on a royalty basis.
South Africa focused Vanadium Resources Limited (ASX:VR8) is poised to form a JV with TCM Research Limited (TCM) and to capitalise on its innovative technology of vanadium processing to produce battery-grade and high-end vanadium products.
Vanadium Resources and TCM have reached an agreement where the intellectual property (IP) of the technology will be transferred to the JV. As per agreement, VR8 holds an option to acquire 74% in that JV. The newly formed JV will license the technology to VR8 providing it exclusive rights.
To acquire the 74% interest in the JV, VR8 has raised $2.0 million through a placement.
Project location map (Image source: 29 March 2021)
Project Roadmap
Vanadium Resources operates one of the world's largest and highest grade vanadium deposits in the prolific Bushveld Complex in South Africa. The ongoing Pre-Feasibility Study at its flagship Steelpoortdrift Project, started in January 2021, is to further evaluate production of high-grade V2O5 through conventional salt roast technology. The PFS is expected to complete in Q2 2021 and will continue unaffected by this new acquisition. Likewise on completion of the PFS, VR8 will proceed with the DFS utilizing the conventional Salt Roast process. Studies to earn into the new ESG technology will be run separately, given the technology diversity allows possibly replacing existing processing methods and/or allowing concurrent processing and/or enabling further refinement of products produced by conventional methods.
VR8 is zeroing in on acquiring the integrated ESG processing technology in an attempt to reduce its carbon emission footprint, as well as, explore the provision of power generation through the production of hydrogen, which could also become a saleable product. The technology will further enable VR8 to produce additional products like titanium, silicon, and aluminium from its Steelpoortdrift Project, which is otherwise not possible using the conventional Salt Roast process. During the studies conducted, VR8 will also investigate to treat waste from the Salt Roast process and remediate waste from other vanadium tailings storage facilities globally. For this, the Company has been in negotiations for nearly eight months with a technology pioneer company TCM Research Limited.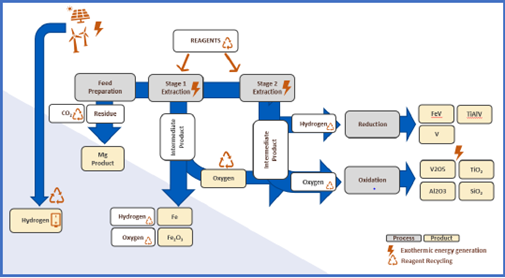 Illustration of TCM Technology (Image source: Company update, 1 April 2021)
The JV agreement
Vanadium Resources and TCM intend to develop an energy and carbon-efficient process for extraction of metals from the Steelpoortdrift Project through the JV.
According to the terms of the agreement, TCM will transfer all its IPs, copyrights, source code and proprietary rights to the newly formed JV Company.
VR8 will earn a 50% interest in the JV if it meets any one of these two conditions - either the completion of the PFS at the Steelpoortdrift project or an expenditure of $650,000 on the project, whichever occurs first. Further expenditure in the PFS will be shared by both companies in the ratio of VR8 75% and TCM 25%.
Copyright © 2021 Kalkine Media Pty Ltd. Data source: Company update, 1 April 2021
The company's ability to extend its stake to 74% will hinge on the Detailed Feasibility Study (DFS) of the project. VR8 will earn a 74% interest in the JV either by completing the DFS or by spending a further $1.85 million on the project, whichever occurs first.
Any further expenses will be borne by the respective companies on their percentage equity basis.

Copyright © 2021 Kalkine Media Pty Ltd. Data source: Company update, 1 April 2021
Sharing his view on the JV and Placement, Mr Eugene Nel, CEO of Vanadium Resources, commented:

Copyright © 2021 Kalkine Media Pty Ltd. Data source: Company update, 1 April 2021
Placement and Fund Raising
To fund the acquisition of the processing technology, VR8 has raised $2 million through the Placement of nearly 41.67 million shares at an issue price of $0.048. The issue price was fixed at a 5.25% premium on 15 days VWAP price from the share price of 29 March 2021.
The share price of VR8 was trading at $0.054 on 16 April 2021 (11:38 AM AEST), with a market cap of $22.59 million.
Note: All currencies are in AUD.