Summary

Vanadium Resources entered into a Joint Development Agreement (JDA) with Senergy Africa to develop a PV (Photovoltaic) Solar energy supply solution for its flagship project.
The JDA is to develop a 5MW solar energy supply to sufficient engineering level for the DFS of the project.
Together with the integrated ESG technology, the PV solar energy will reduce the carbon footprint considerably for VR8 and will also provide low-cost green energy for the project.
To assure low-cost green energy supply for its flagship Steelpoortdrift Project, Vanadium Resources Limited (ASX:VR8) has entered into a Joint Development Agreement (JDA) through its associate Vanadium Resource (Pty) Ltd with Senergy Africa (Pty) Ltd. Synergy Africa is a subsidiary of DRA Global, a leading engineering and design company in power generation, transmission, and distribution.
Latest update: Stellar PFS projections lift Vanadium Resources' confidence in Steelpoortdrift Project
Joint Development Agreement (JDA)
The JDA will require Senergy to provide services in different phases with the main aim to secure low-cost green energy and reduce the overall carbon footprint of the project. The agreement envisages providing the Steelpoortdrift Vanadium Mine and its Concentrator with a 5MW integrated grid-tied photovoltaic solar-powered electricity supply solution.
Copyright © 2021 Kalkine Media
The agreement will enable VR8 to reduce operating costs and secure a sustainable energy supply for the project.
To achieve the objectives of the JDA, feasibility studies will be conducted. Senergy will develop the technical solution and undertake the feasibility studies at an internal cost of AU$93,000.
Eugene Nel, Chief Executive Officer of VR8 commented:-

Senergy to render services under a phased approach
Phase 1 - This phase includes conducting of Feasibility Study along with technical solution. This phase will see that permits and the licence application is also taken care of. Phase 1 will commence the execution of the JDA and will conclude on submission of the Feasibility Study report.
Phase 2 - Phase 2 will commence immediately after Phase 1 and will include finalisation of all licences and approvals, contractors, equipment, project agreements and funding.
There will be a Phase 3 stage depending on whether VanRes decides to go with the solutions provided by Senergy. VanRes will have the option to proceed as an Owner-operated power producer or as a power consumer.
If VanRes decides to move ahead with any other solution, then it has to make a payment of AU$93K with 12% additional margin to Senergy. Also, the study done by Senergy cannot be used in that case.
JDA to complement the Integrated ESG strategy
Integrated ESG strategy (Image source: Company update 6 July 2021)
VR8 has integrated ESG strategy in place with an objective to position the Company as a low-cost green vanadium and hydrogen producer while maintaining a minimal carbon footprint. VR8's ESG strategy includes the following initiatives:
Use of solar PV electricity supply to the mining and concentrator site to reduce reliance on fossil fuel-based energy sources.
Continuous backfilling rehabilitation of open pit mine with waste and concentrator tailings. This will help in minimising the requirement for a tailing storage facility.
Implementation of ESG TCM process to treat the Salt Roast circuit tailings materials resulting in:-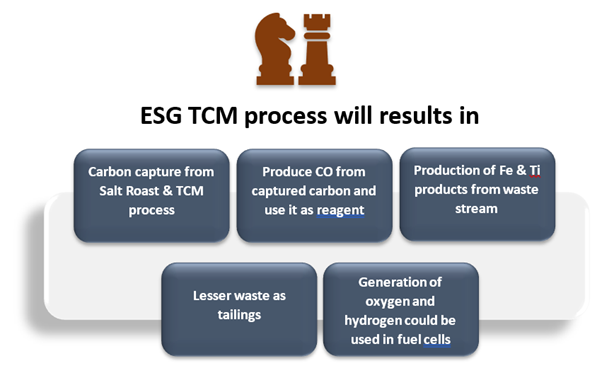 Copyright © 2021 Kalkine Media Data source: Company update, 6 July 2021
Share price
The shares of VR8 were trading at AU$0.062 with a market cap of AU$26.36 million as of 7 July 2021 (1:14 PM AEST).