Summary

Vanadium Resources has resolved to adopt the World Economic Forum's ESG framework.
Adapting to the challenges presented by climate change, the mining industry is implementing operational changes to reduce its share of emission levels.
VR8 has instructed the management to implement more sustainable and environment-friendly practices throughout the value chain.
The Company has already signed a Joint Development Agreement (JDA) with Senergy Africa to develop a PV Solar energy supply solution for its Steelpoortdrift Project.
Vanadium Resources Limited (ASX:VR8) has taken a crucial step towards becoming a more sustainable and green mining company. The Company has decided to adopt an Environmental, Social and Governance (ESG) framework created by the World Economic Forum (WEF). The framework will contain 21 core metrics and disclosures.
Latest update: Vanadium Resources (ASX:VR8) goes green with a new Joint Development agreement
WEF's ESG background
Earlier, there were multiple frameworks available for ESG reporting, which created a lack of consistency and comparability of metrics. As a result, companies could not report accurately about their progress on sustainability and their contribute, on towards it.
The International Business Council (IBC), working in collaboration with world-renowned consultants including Deloitte, EY, KPMG and PwC, has come up with a set of universal ESG matrices, which could reflect the efforts of the companies in their annual reports in a consistent way across all industry and countries.
The new ESG framework has 21 core and 34 expanded matrices, and disclosures which can be adopted by IBC and non-IBC companies.
VR8 to adopt ESG Framework
The Steelpoortdrift (SPD) Project is essentially a vanadium project, which is considered a green metal. Given the global green transition gaining traction, VR8 faces an increased onus to incorporate changes in its operations in order to transform Steelpoortdrift into a cleaner and greener project.
In line with that objective, VR8 is making serious strides on the ESG front through long-term commitments and the creation of sustainable value that can simultaneously cater to wider demands of the people and planet and result in shared prosperity. This will, in turn, enhance the social licence of the Company.
Going one step further, VR8 entered into a Joint Development Agreement (JDA) with Senergy Africa. Senergy will develop a PV solar energy solution for the SPD Project. Although the JDA is in its initial stage, it shows the commitment of the Company and its approach towards ESG.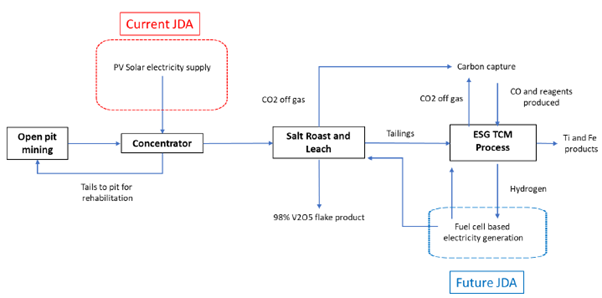 Integrated ESG strategy (Image source: Company update 6 July 2021)
According to the Company reports, the global sustainable investment has now reached US$30 trillion, having notched up a gain of 68% from its level in 2014 and a staggering increase of nearly 900% since 2004.
The Board has resolved to adopt the ESG framework of the WEF. The management of the Company is working towards setting up an impact measurement plan for each sustainability area. This will include not only corporate governance, but will also include ethical behavior, carbon emissions, land use, ecological sensitivity and water consumption.
VR8 has also engaged impact monitoring technology platform Socialsuite to measure, monitor and report ESG progress.
Good read: Stellar PFS projections lift Vanadium Resources' confidence in Steelpoortdrift Project
Dividends of adopting ESG framework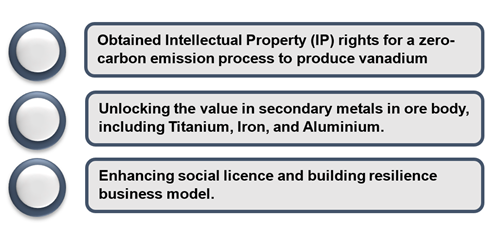 Copyright © 2021 Kalkine Media Data source: Company update, 23 July 2021
Baseline ESG dashboard
ESG reporting and disclosures are the steppingstones to building robust ESG credentials. VR8 will be required to demonstrate its progress through ESG disclosures. The Company will report its progress and disclosure on a quarterly basis using the Socialsuite platform.
ESG dashboard (Image source: Company update, 23 July 2021)
According to Mr Eugene Nel, CEO of Vanadium Resources, the future landscape of the mining industry is undergoing drastic changes. He believes that 'business as usual approach' will become redundant in an age of sustainable mining operations. He emphasised that the entire value chain, starting from the primary production up to the end-user must be sustainable and environmentally friendly.
Mr Nel added further.
(Source: Company update, 23 July 2021)
Share price momentum
As of 26 July 2021, shares of VR8 were trading at AU$0.053 at 11:21 AM AEST. The Company has a market cap of AU$22.17 million. In the last twelve months, shares of VR8 have given an impressive return of 140%.