Highlights

Vanadium Resources is advancing on the DFS of its flagship vanadium project.
The DFS will undertake potential capability to achieve 12,500 tpa initial production with a CAPEX of US$200 million.
The Company is incorporating several changes to make the project more ESG-compliant.
The DFS is scheduled to get completed by third quarter of 2022.
In its latest release, Vanadium Resources Limited (ASX:VR8) has updated the market about its ongoing Definitive Feasibility Study (DFS) on the Steelpoortdrift Project.
The construction of a concentrator, salt roast plant and mining operations will be the focus of the ongoing DFS. The study will focus on achieving an initial production of 12,500 tpa of V2O5 flake with an estimated CAPEX of US$200 million.
Related read: Vanadium Resources (ASX:VR8) cashes in on high-yield metallurgical test results
VR8 reported that the DFS was progressing well and remained on track to get completed by the third quarter of 2022. The Company has appointed a pool of highly qualified and experienced teams of engineering and consultant firms to carry out the final DFS design.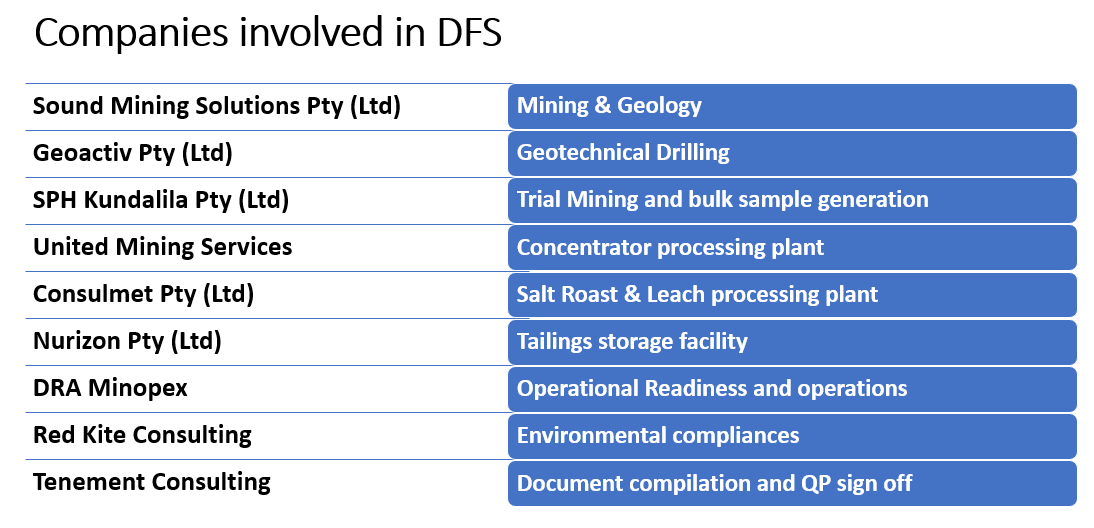 Data source: Company update, 1 December 2021
VR8 and consulting firms are currently engaged in various activities, including:
SPH Kundalila is conducting trial mining on the project. For this purpose, two box cut pits have been located and designed to collect 100 tonnes of bulk samples from two main mineralised zones.
Specialist studies for the purpose of securing final environmental permits and updating existing permits have commenced. The exercise will take around six months to complete.
Locations for plant, waste dump and pit have been finalised. Borehole locations for geotechnical holes and trench have been identified and drilling and sampling are scheduled to commence by the end of January 2022.
Engineering design and equipment sizing is advancing on time and within budget for the concentrator, salt roast and waste facilities.
Related read: Vanadium Resources fixes gaze at constructing one of world's largest vanadium mines
VR8 works to bring more harmony with the environment
Along with all these studies in progress, VR8 is emphasising especially on ESG aspects of the project. The Company is working on various design aspects of the project to incorporate a number of ESG initiatives during the DFS stage. VR8 is working to reduce risks associated with tailing storage facilities and also to minimise legacy impacts.
In addition, VR8 is working on a mine design that can keep the mine site safe and eradicate potential dangers associated with mining activities to minimise community impacts.
VR8 has already signed a Joint Development Agreement (JDA) with Senergy for studying possibilities of providing green energy for the project. The step will reduce the carbon footprint of the Company. Along with solar power, green hydrogen production capacity is also being considered for power generation.
Related read: Vanadium Resources (ASX:VR8) soars on securing AU$4.6M investment
VR8 has also engaged a major South African haulage and logistic company to develop a logistic plan for the potential use of hybrid trucks for haulage and a spoke and hub system to reduce the overall number of trucks required for the project.
Designs of processing equipment are also being reworked or modelled to make them energy efficient. Coal-based roasters are being converted to utilise LNG.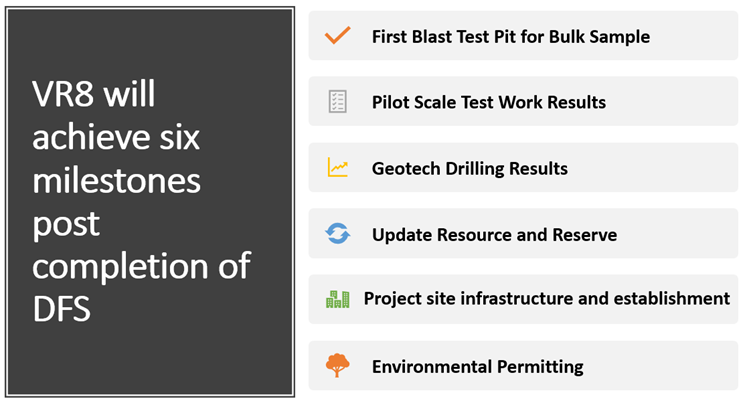 Data source: Company update, 1 December 2021
To know more, watch: Insights into the upcoming projects of Vanadium Resources
What's next?
VR8 to attain 73.8% holding in the project expected by Q1 of 2022.
Advancing on ESG Technology for the project.
Engaging University Research Groups to study technological improvements to process design.
Preparation of results for raising construction finance post completion of the DFS.
VR8 may move for the LSE listing after completion of the DFS.
The Company will secure long-term offtake agreements based on results of the DFS.
Share price of VR8 was recorded at AU$0.064 per share at 4:12 PM AEDT with a market cap of AU$30.75 million as of 2 December 2021.