Source: Billion Photos, Shutterstock
Summary

Theta Gold is set to wrap up the Pre-Feasibility Study (PFS) of Beta and Frankfort mines by the first quarter of 2021.
Mining-related activities including bulk metallurgical sampling, engineering drilling and mine planning & rescheduling are going in full swing at the underground mines.
The Company is planning to commence early production from its Beta mines to achieve its target of 160,000oz annually.
ASX-listed gold miner Theta Gold Mines Limited (ASX:TGM, OTCQB:TGMGF) has unravelled the first update on its Five Year Plan announced in April 2020 for its flagship project, Eastern Transvaal Gold Fields in South Africa.
The Company has more than 43 historical mines spread over 62,000 hectares of land, surrounding the historic gold mining town of Pilgrim's Rest.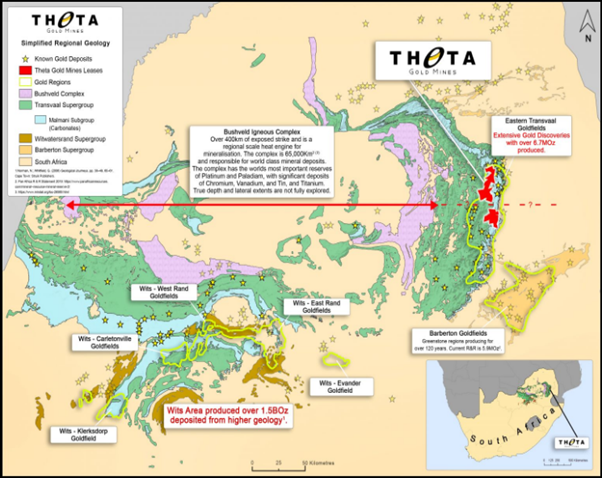 Project Location Map (Source: Company Website)
Theta Gold has estimated 6 Moz of gold resource in the region, and the resource base is expected to increase as the tenement contains many unexplored targets.
Previous Update: Theta Gold Mines eyes huge gold production from its South African mines
Extending Footprints with the inclusion of near-surface underground ore
A Pre-Feasibility Study (PFS) has been approved by the board of Theta Gold to convert more of Measured and Indicated (M&I) Mineral Resources of the company into a Mining Reserve.
Theta Gold is to finish the pre-feasibility study (PFS) for the underground mines- Beta and Frankfort by Q1 of 2021. The Company would declare the maiden mining reserve for the underground pits by the first quarter of 2021.
The ongoing PFS will focus on:
Kalkine Group Image, Source: ASX update, 14 December 2020
To achieve the Five-Year Plan target production of more than 160,000 ounces per annum, the Company is chalking out a development plan to bring Beta underground mines into early production.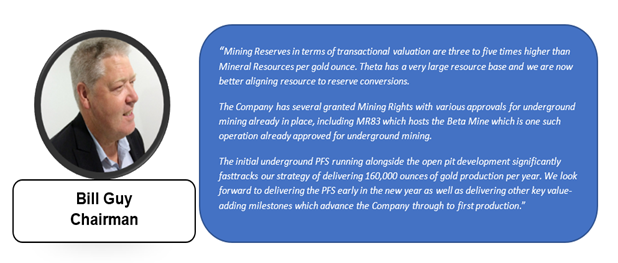 Source: ASX update, 14 December 2020
Read More: ASX200 Upbeat, Gold Stocks Continue to Dip
The PFS will lead to estimating Mining Reserves from the current Measured and Indicated (M&I) Mineral Resources. Theta Gold has an existing Mining Reserve of 205,000 ounces from its open-pit mine-MR83, for which approvals are in place to commence underground mining.
Source: ASX update, 27 October 2020
Theta Gold open-pit Starter Project includes MR83 and its Southern Extension MR341. They together hold 879.6Koz @ 2.7g/t gold resources.
Source: ASX update, 27 October 2020
Theta Gold has kept the cost of PFS in check by targeting only the existing Measured and Indicated Mineral Resources of Beta and Frankfort Mines.
Under the aegis of Mitford Mundell, the new CEO (Africa), an in-depth survey was carried out on historic workings where the unit had recognized easily available gold faces with sampling that can be easily accessed. The current PFS will also build upon the Scoping Study of Beta mines that was undertaken in 2017. Additionally, Theta Gold has access to 150 years of exploration and production data, that can help it expedite the PFS.
Operational Activities on Project
The Company had released the preliminary metallurgical result on 18 November 2020. The results were highly encouraging and provided up to 94% CIL recovery. The current ongoing operations on the project are as below:
Kalkine Group Image, Source: ASX update, 14 December 2020
Share Price Movement
The stocks of TGM closed at A$0.310 with a market cap of A$142.64 million as on 14 December 2020.