Source: optimarc, Shutterstock
Summary

Theta Gold is planning to move ahead on mine study and infrastructure development on its Eastern Transvaal Gold Field.
To undertake the development works, Theta will raise funds through Placements and the issuance of ordinary shares.
The gold project development is planned in four different stages involving open pit as well as underground mining operations.
South Africa-focused gold explorer Theta Gold Mines Limited (ASX:TGM|OTCQB:TGMGF) has planned to raise fund to support its development activities on its Eastern Transvaal Gold Fields. The plan includes the issuance of ordinary shares through Placement and Commitments.
Theta Gold would use the funds to cover the open-pit and underground mine study and infrastructure development associated with the project. The fund will be utilised for securing permits, undertaking a feasibility study of the underground mines and reserve conversion operations.
The business development and corporate expenses will be worked out from raised funds.
Fund raising plan (Data Source: ASX update 15 March 2021), Image © 2021 Kalkine Media Pty Ltd.
Theta Gold has devised a five-year development plan for four of its mines. MR83 and MR341 are the two open-pit mines, while the other two - Rietfontein and Beta are underground mines. The five-year plan involves the strategy of open pits as well as the underground resource development of over 2.75Moz.
Recent Update: Theta Gold Mines eyes huge gold production from its South African mines
A Carbon-in-Leach (CIL) plant with a capacity of 600,000 tonnes annually is also planned for the project.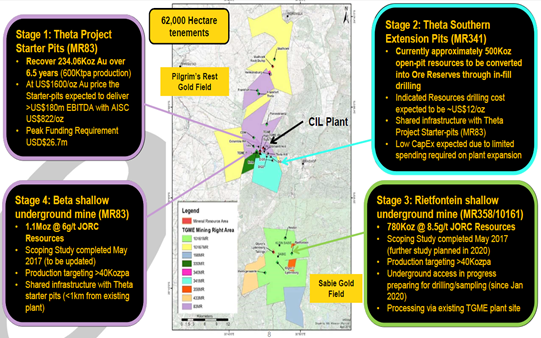 Five-Year Growth Strategy (Image Source: ASX Update: 29 January 2021)
TGM is issuing 3,636,364 ordinary shares at a price of $0.275 per shares to settle the advance short-term loan facility availed from a shareholder during December 2020 and January 2021.
What Management has to say?
Mr Bill Guy, Chairman of Theta Gold, shared his views on the matter and commented:-
Data Source: ASX update 15 March 2021
Informative Read: How is the Gold Market Unfolding for ASX-listed Gold Stocks in 2021?
Share Price: As of 15 March 2021, TGM closed the day trade at A$0.29 per share. The stocks of the Company have provided a handsome return of 45% in the last one year. The Company has a market cap of A$161.77 million as of 15 March 2021.