Highlights

The team at SMSF Loan Experts assesses your proposed investment and helps optimise your lending outcomes
Australia's property market has a proven track record of helping SMSFs accumulate an above-average retirement result
From finding the most suited lender to helping investors through the application and to settlement, SMSF Loan Experts is by your side every step of the way
Do you think that investing in a residential or commercial property is an indispensable part of any prudent investment strategy? If yes, it would behoove you to know about SMSF Loan Experts, which can play a crucial role in optimising your borrowing strategy.
If you are looking to boost the borrowing capacity of your self-managed super fund, SMSF Loan Experts is the go-to partner. SMSF Loan Experts can help you match your SMSF investment plans with the most suitable lender. From helping you avail a property loan at the most competitive interest rate to handling complex paperwork, SMSF Loan Experts offers everything under one roof.
Related Read: Investing in real estate? Here's how SMSF Loan Experts can help
Why is direct investment into real estate so popular with SMSF trustees?
Growth of Australia's property market
It was not long ago that newspapers were filled with reports of skyrocketing property prices even amid a pandemic that dealt a severe blow to most macro-economic indicators. Though prices seem to have now entered a phase where growth might not be as sharp, with even a correction being forecast by some analysts, property investment is here to stay considering the historical long-term outcomes
There was a whopping 23.7% hike in residential property prices between the December quarter of 2020 and the corresponding quarter of 2021, as per data from the Australian Bureau of Statistics (ABS).
On the commercial real estate front, the August 2021 Statement on Monetary Policy by the Reserve Bank of Australia highlighted how amid the pandemic demand for industrial property rose as businesses looked for logistics and warehouse spaces.
SMSF Loan Experts has been receiving a plethora of enquiries on property investment loans, thanks to this unprecedented growth in the property sector.
Also read: Impact of COVID-19 on Australian property market: Six points to note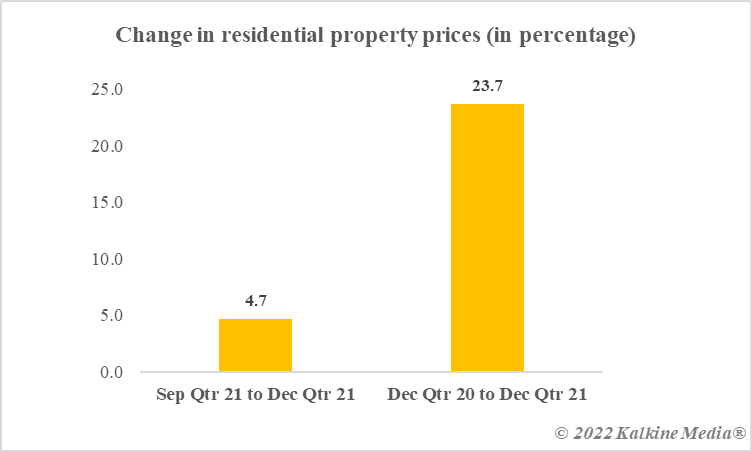 Source: Australian Bureau of Statistics
Tapping property market with SMSF Loan Experts
The team at SMSF Loan Experts understands what you expect out of your SMSF real estate investments. The Australian Taxation Office (ATO) estimated that SMSF asset allocation included around 15% share of residential and non-residential property as on 30 June 2020.
Many of these SMSF property investments were facilitated by the team at SMSF Loan Experts. It is no mean feat to obtain loan approvals in two weeks, which SMSF Loan Experts has successfully facilitated. They have an astute understanding of Limited Recourse Borrowing Arrangements (LRBAs), which form the backbone of SMSF lending.
Be it refinancing of an existing lending arrangement or a fresh loan at low costs (even for bad credit score SMSFs), the team has delivered on all counts. To tap the ongoing momentum in Australia's property market, SMSF Loan Experts makes for an indispensable partner.
You can read more about SMSF lending and SMSF Loan Experts here SMSF Loan Experts' website.