Summary

Imugene Limited's (ASX:IMU) market capitalisation has increased by over 1800 per cent over the last two years.
The Company's market value has surpassed AUD 1 billion mark in a record time.
Imugene is continuing to advance the development of its B-cell immunotherapies – PD1-Vaxx and HER-Vaxx – and oncolytic virotherapy CF33.
From a market capitalisation of just over AUD 60 million in May 2019 to over AUD 1.1 billion in May 2021, immuno-oncology player Imugene Limited (ASX:IMU) has surely come a long way. That reflects a spectacular gain of over 1800 per cent in market value over the last two years.
The Company's share price has also grown exponentially from a little under 2 cents two years back to over 24 cents at present. As of 2:20 PM AEST, the Company's market value stands at AUD 1.17 billion at a share price of AUD 0.245.
Must Read: Imugene Limited ends an action-packed Q1 2021 with robust cash balance
The remarkable growth in Imugene's market value and share price has been backed by its staggering progress in the product pipeline and its highly experienced management team that holds significant clinical development expertise. Meanwhile, the pace at which the Company has advanced the clinical trials of its B-cell immunotherapies – PD1-Vaxx and HER-Vaxx - is praiseworthy.
The Company is also progressing with the development of its oncolytic virotherapy CF33, which has been developed in two different constructs – CheckVacc and VAXinia.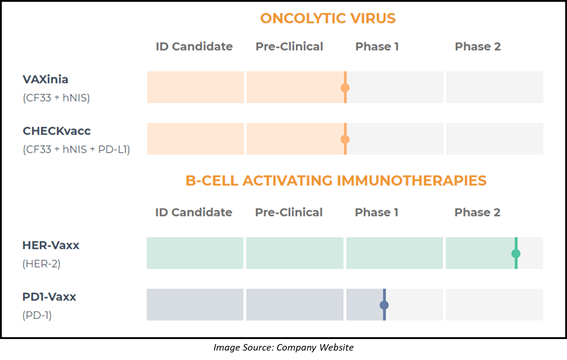 HER-Vaxx Delivering Promising Results
Imugene is continuing with the Phase 2 trial of HER-Vaxx to test the immune response, safety, and efficacy of this B-cell immunotherapy in patients suffering from gastric cancer that over-express the HER-2/neu receptor. Following the completion of recruitment of patients under the Phase 2 trial, the Company has recently achieved a clinical milestone for progression-free survival (PFS) in the study.
Related Read: Imugene Limited (ASX:IMU) Marks a Major Breakthrough in HER-Vaxx Phase 2 Trial
The Company has reached a statistically significant number of PFS events in patients receiving HER-Vaxx in combination with the standard of care treatment. The data from these 24 events will now be assessed, with the final PFS readout likely within months.
PFS represents the second clinical endpoint of the Phase 2 trial, with the primary endpoint being Overall Survival (OS). Last year, the interim analysis revealed positive OS with a Hazard Ratio of 0.418 from the Phase 2 trial of HER-Vaxx.
Read More at Imugene Limited's (ASX:IMU) HER-Vaxx Delivers Promising Results in Phase 2 Interim Analysis
With the development of HER-Vaxx, the Company intends to support medical professionals seeking treatments for advanced gastric cancer patients who have very few medical options.
PD1-Vaxx Progressing Well
Imugene is also continuing with the Phase 1 dose-escalation trial of PD1-Vaxx immunotherapy that has been designed to target lung cancer tumours. The Company has recently advanced to the third dose cohort (100µg) in the Phase 1 trial of PD1-Vaxx after clinicians reported no tolerability, safety or toxicity issues during the mid-dose cohort 2 of patients.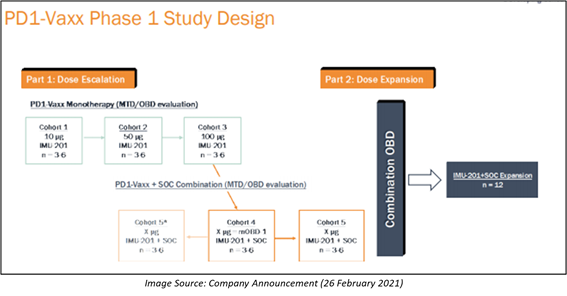 The renowned Mayo Clinic in Phoenix (Arizona) has also received the Institutional Review Board's approval recently to embark on and join PD1-Vaxx Phase 1 clinical study in the USA.
Good Read: Imugene Ticks Off a Key Milestone in PD1-Vaxx Phase 1 Trial, Shares Up
With PD1-Vaxx, the Company intends to bring new treatments and options for lung cancer, which accounts for a significant health burden in Australia. The Company is encouraged to notice positive signals at such an early stage of its PD1-Vaxx Phase 1 trial, even in the late-stage patients.
In addition, Imugene is also on track to commence Phase 1 clinical trials of both the CF33 constructs, with CHECKvacc study based on triple negative breast cancer and VAXinia on advanced solid tumours.
Imugene recently had an action-packed first quarter of 2021 with a strong cash balance of AUD 29.4 million. Developments made in this reporting period are likely to progress ahead, as the market awaits more progressive updates from this clinical-stage biotechnology player.