Summary

Renegade Exploration Limited has undertaken significant exploration work across its Yandal East Project during the March quarter.
The Company had also submitted all necessary documents required for approval of securing the interest in CJV.
RNX's cash expenditure during the quarter amounted to around AUD 192,000 on exploration activities.
Junior mineral explorer and developer Renegade Exploration Limited (ASX:RNX) has been consistently progressing through exploration as well as acquisition activities.
Lately, during the quarter ended 31 March 2021, the Company concluded geophysical and geological physical surveys at its flagship Yandal East Project and tendered all documentation needed to acquire the interest of Sovereign Metals Limited (ASX:SVM) in the Carpentaria Joint Venture located in Queensland.
PREVIOUS UPDATE: Renegade Exploration (ASX:RNX) looking to advance activities across projects in 2021
Substantial activities conducted across Yandal East Project
As part of the significant programs undertaken at the Yandal East Project, RNX concluded the following activities at the project:
Concluded ground geophysical surveys over Riches' and Baxters' Prospects.
Discovered strong conductor (600m in length, open to the south and dips at 500 to the east) at Baxters' Prospect related to outcropping Ferruginous zone.
Completed follow up field programs, comprising geological mapping, soil sampling, and rock chip sampling.
Conducted soil sampling program over 1200m x 300m grid, assays yet to be received.
Presently, RNX is engaged in securing rigs for the next phase of work on the new targets generated.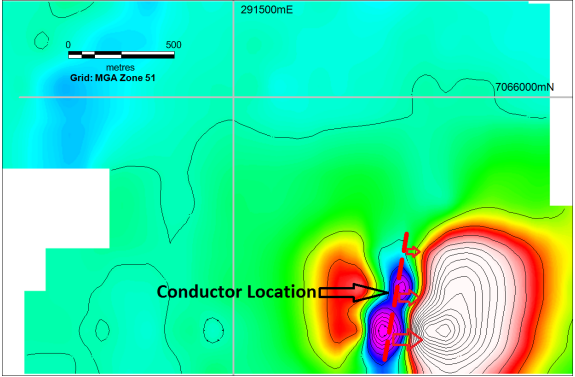 Baxter Conductor zone with interpreted fault structure (Source: RNX Announcement 29/04/21)
With outcrop at surface, Baxter's differs to the most of Yandal East Project while an outcropping gossan was discovered through the latest surveys. Samples of the same are yet to be dispatched for assay.
INTERESTING READ: Back to Back Acquisition Agreements Fuelling ASX:RNX's Evolution Into Mid-Tier Resource Company
RNX awaits approval to acquire an interest in CJV
In December 2020, RNX had shared its intentions to acquire the interest from Sovereign Metals Limited in the Carpentaria Joint Venture (CJV).
In early February, the Company had lodged all essential documentation with the Queensland Department of Natural Resources and Energy and approval for confirmation of the permit transfers is awaited.
Location of the Carpentaria JV Permits (Source: RNX Announcement 29/04/21)
DID YOU READ: ASX:RNX Executes Share Purchase Agreement For Sale of Yukon Project
It has been noted that substantial delays are occurring in all processes as the Department is presently operating remotely under Covid-19 protocols.
In the meantime, RNX has been engaged in the review of the CJV database and has been in discussions with MIM to advance some smaller projects within the CJV that are too small and do not interest to MIM, like Mongoose Prospect.
Moreover, RNX has made its initial contribution to the CJV to maintain its 23.03% interest.
Details of the acquisition at: ASX:RNX To Acquire ASX:SMV's Share in Attractive Carpentaria JVA
Overall, the Company's exploration activities during the quarter caused a cash expenditure of around AUD 192,000 while no expenditure was made on activities concerning mining production or development.
IMPORTANT UPDATE: Renegade Exploration (ASX:RNX) Delivers 250% Growth By Strategising Efforts
The RNX stock traded at AUD 0.006 on 30 April 2021.