Summary

Empire Resources Limited (ASX:ERL) encountered encouraging copper (Cu), gold (Au) and nickel (Ni) mineralisation from reconnaissance aircore (AC) drilling at the Yuinmery base metals project.
Step out reverse circulation (RC) drilling was completed at YT01 and Smith Well to follow up previous mineralised intercepts.
Follow up reverse circulation and diamond drilling is planned further to improve the geological confidence in the Yuinmery prospects.
Empire Resources Limited (ASX:ERL) has completed follow up RC drilling at several newly identified prospects. The Company is well funded and its significant investment portfolio is nearing maturity. Managing Director Sean Richardson says- "2021 will be an extremely active one on all exploration fronts."
GOOD READ: Empire Resources Ready to Go Hammer and Tongs for Continued Exploration Success
The Company's most recent milestone has been the strong anomalous results from reconnaissance AC drilling at the Yuinmery base metals project.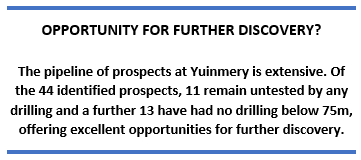 Significance of reconnaissance AC drilling at Yuinmery
The recent AC drilling at Yuinmery project has intersected encouraging zones of Cu, Au and Ni mineralization. It was successful in intersecting anomalous Cu-Au mineralisation within the oxide zone at prospects YT01, YT02 and YT05 and Cu-Au-Ni anomalism at YT12.
Besides, the strong results represent a significant opportunity for further multi-element mineral discoveries.
RELATED READ: Empire Resources poised for more glory after Busy December Quarter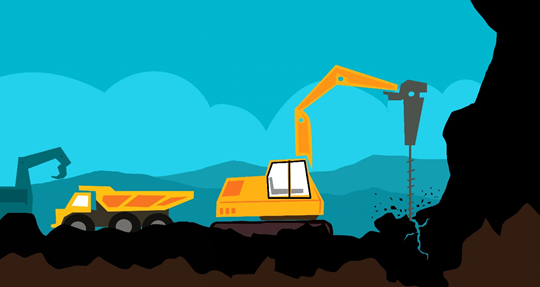 Copyright © 2021 Kalkine Media Pty Ltd
Decoding Results
YT05 Prospect
In this prospect, 13 AC holes for 555m were drilled across a single ~500m traverse. The drilling represented the first bedrock test of YT05 with anomalous results-
8m @ 1,024ppm Cu from 4m, and 8m @ 1,253ppm Cu from 24m (YAC20-38).
6m @ 2,182ppm Cu from 20m (EOH) (YAC20-40).
Observed geology comprises hanging-wall felsic to intermediate volcanics, notably sheared, and increasingly chlorite-carbonate-talc altered toward the contact with a medium to fine grained mafic volcanic.
Zones of interpreted interbedded or chloritic shales, graphitic shales and siliceous chert were observed proximal to the main geological contact.
YT01-NW Prospect
In this prospect, 10 AC holes for 303m were drilled-
Anomalous results included 2m @ 1,148ppm Cu from 36m (YAC20-10).
Two RC holes for 204m were drilled at YT01-NW in January wherein geology is consistent with the known Cu-PGM mineralization at YT01.
Minor disseminated and stringer sulphides were noticed proximal to the contact between a dolerite and fine-grained basaltic rocks in the footwall.
Siliceous chert was observed in the hanging wall- an encouraging indicator for VMS-style mineralization.
YT01 Prospect
An RC pre-collar was completed in January to prep-up for a diamond tail targeting the interpreted mineralised zone. The diamond hole may offer the below-
Structural and stratigraphic data to assess the nature and occurrence of sulphide mineralization.
An opportunity to undertake down hole geophysical surveys.
YT12 Prospect
36 AC holes for 929m were drilled at this prospect. Results are illustrated below-
Source: ERL's ASX update, 15 Feb 2021
Smith Well Prospect
One RC hole (YRC21-02) at Smiths Well was recently completed to the north. It intersected approximately 6m of sulphide mineralisation in the interpreted upper horizon position.
GOOD READ: Empire Resources (ASX:ERL) Looking To Strengthen Its Investment Portfolio
Way Forward
The Company plans to leverage from a continuous exploration approach to improve and complement its existing knowledge base.
Assays are pending for all RC drilling. Further RC and diamond drilling are further planned to advance the geological confidence in all Yuinmery prospects. Specifically, a detailed structural interpretation of the Yuinmery project alongside geophysical techniques (ground gravity and DHEM surveys) are planned.
Multiple drill-ready targets from greenfields-style conceptual targets through to more advanced prospects will be tested during future field programs.
Notably, Empire can now confidently drill target high grade repetitions and probable extensions adjacent to, and within known deposits.
RECAP READ: Empire Resource's (ASX:ERL) Progress at Yuinmery Project: 2020 in review
On the trading front, ERL traded at $0.015 on 15 February 2021.
*All financials are In AUD, unless specified.