Source: SPA Website
Summary

The wearables market is anticipated to grow at a CAGR of ~15%, and Spacetalk Ltd is seeking to grab a considerable share with its innovative smartwatches.
The Company aims to expand Spacetalk Life for seniors distribution to a B2B2C model, where there is strong interest from home care and aged care providers.
The technology player has been growing in ANZ and the UK regions through strategic partnerships with leading players.
The Company is on track to expand globally with new channel partners in the UK and the US's go-to-market strategy, slated for CY2021.
A market leader in connected kids and seniors wearables, Spacetalk Ltd (ASX:SPA) offers secure communication solutions for families to stay connected and protected. The Company has garnered significant market attention driven by the international Red Dot Award win for Product Design, resilient first-half FY21 performance, and Telstra's technical approval for Spacetalk Adventurer.
DO READ: Spacetalk Ltd. (ASX:SPA) awarded prestigious Red Dot Design Award for outstanding design quality of its Adventurer connected smartwatch for kids
Spacetalk caters to a market that is growing at a fast pace. According to market research studies, the smartwatch market is one of the fastest growing markets, which is expected to grow at a CAGR of ~15% over 2021-2026.
With the recent product launches, impressive uptake of new products, and continued focus on global expansion, the South Australia-based technology player looks set to make a mark in this fast-growing market.
Let us go through Spacetalk's key developments that support its objectives of global expansion, cost efficiency, and revenue growth through its expanded product portfolio.
Tremendous growth in the Spacetalk Wearables division
Spacetalk witnessed resilient top-line growth in H1 FY2021, led by strong wearables sales and App revenue. It is worth highlighting that the first half reflected tremendous growth in the Spacetalk Wearables division to more than three times the Schools business's size.
Source: SPA Announcement, 16 February 2021
New B2B2C model for seniors device
Spacetalk's new B2B2C model for seniors device represents a significant opportunity for Spacetalk Life. By expanding Spacetalk Life for seniors distribution to a B2B2C model, the Company anticipates strong interest from aged care and home care providers.
SPA is in advanced discussions with aged care as well as home care providers concerning Spacetalk Life.
Source: SPA Website
Schools business indicates stable and steady growth
The Company is confident that the schools business continues to deliver profitable performance, with multi-year State Government contracts offering stable recurring cash flows.
More than 1,200 schools trust Spacetalk's app, and over 100 million messages have been safely delivered to parents and teachers since the app's beginning in 2002.
The School Mode is a unique app feature, which allows to control functions of a child's SPACETALK smartwatch phone.
SPA continues to develop steadily and provides numerous substantial value-added opportunities with investments. Besides, the Company is also providing support to families and schools to communicate throughout the COVID-19 pandemic.
New partnerships and developments
In H1 FY21, the Company launched 1,120 stores worldwide with selected Tier-1 retailers ranging Spacetalk products across their national footprints.
Spacetalk started reaching through Harvey Norman Australia's 120 retail stores, adding to its presence in ANZ at Dick Smith, JB Hi-Fi, Officeworks, the Good Guys. Further, the Company commenced selling Spacetalk on monthly plans at Vodafone stores and online with the Company's e-commerce store and Kogan.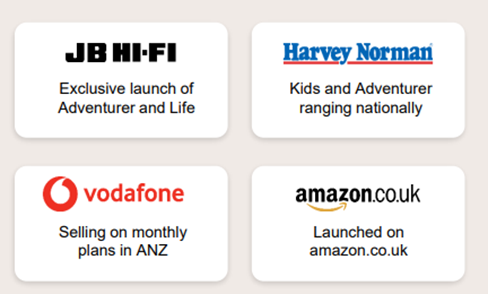 Source: SPA Presentation, 16 February 2021
New UK channel partners and imminent US market launch
In Australia, Spacetalk is a market leader in connected smartwatches for kids and seniors. The Company is now focusing on global market penetration.
In the UK, SPA is advancing the roll-out of bricks and mortar along with onboarding new mobile network operators (MNOs), spearheaded by the new UK Country Head.
In the US, SPA's launch plans are on track with ongoing partner discussions and go-to-market slated for CY2021.
Furthermore, the Company significantly strengthened the management team, with senior appointments in marketing and sales, in ANZ and the UK, and hires across sales, marketing and product development management.
Key objectives of Spacetalk
SPA is committed to the following objectives:
The Company aims to grow the top-line with its expanded product portfolio, including original Kids, Adventurer and Life; and channels- bricks and mortar retail, MNO, and new geographies.
SPA will focus on advancing its app and leveraging the ecosystem's network effect for enhancing the engagement of user and growing both device sales and annualised recurrent revenue (ARR).
As the Company develops, it will focus on improving operating cost efficiencies to acquire new customers at a lower cost and take a methodical approach to capital management with its international expansion.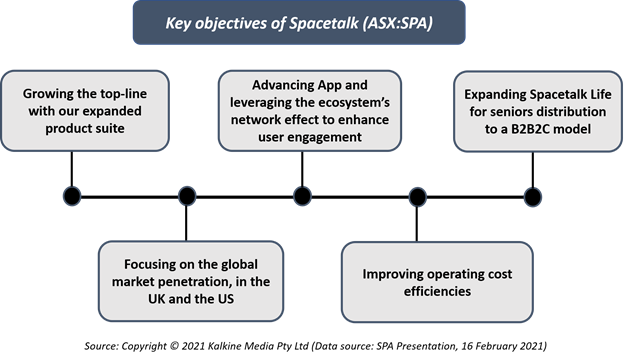 On 13 April 2021, SPA shares closed at A$0.145.
ALSO READ: Spacetalk Adventurer a step closer to launch with crucial Telstra approval