Summary

GO2's recent acquisition of Skill Hire proves to be a significant move to amp up its revenue and growth potential.
The acquisition synergy due to the similar business models of the merged companies adds to the resilience of the overall business operations.
The diversity of Skill Hire service offerings and revenue streams can prove significant when focusing on ensuring a healthy job scenario.
Australia's leading provider of staffing, training and employment services, The GO2 People Limited (ASX:GO2) has ascended to a fast-track growth path, on the back of its recent acquisition of Skill Hire Australia Pty Limited, one of Australia's leading employment services providers.
GO2 is a strategic collective of brands specialising in delivering tailored employment solutions through a full suite of specialist services to the different target markets.
In what seems to be a significant and strategic move, the Company's recent acquisition of Skill Hire can put GO2 on the gravy train while cementing its future growth potential.
ALSO READ: How Acquisition of Skill Hire Will Amp Up The GO2 People's Business
On that note, let us explore how GO2 stands to benefit from the recent acquisition.
Demand-supply dynamics boosting GO2 potential
The labour market continues to witness significant gaps due to evolving employment landscape, industry-specific growth, and skills shortages. In the current settings, the government, business, and individuals seek specialist service providers that could deliver sustainable workforce solutions, career pathways and positive social outcomes.
GO2 is well-positioned to capitalise on the demand-supply gap and offer its suite of tailored solutions to meet the specific needs of diverse target markets.
ALSO READ: Why GO2 People (ASX:GO2) surged over 9% in today's session?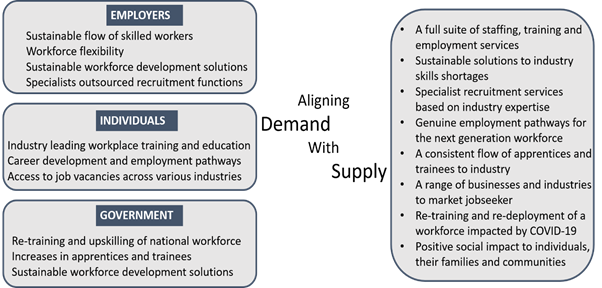 Source: Copyright © 2021 Kalkine Media, Data Source: GO2 update, dated 9 June 2021
GO2 capitalising on acquisition synergies
GO2 and Skill Hire have similar core business models geared towards training and employment, with the combined efforts expected to complement and boost their business operations. Significantly, Skill Hire operates as an Apprenticeship & Traineeship Recruitment/On Hire business, Registered Training Organisation, and an Employment Agency.
ALSO READ: Casting eye on The GO2 People as penny stocks gain momentum
Meanwhile, the combination of GO2 and Skill Hire would offer a range of critical benefits. The synergy is well poised to deliver a solution to the growing skills shortages in key economic sectors. It would provide an integrated end-to-end employment offering to individuals at all stages of their career.
The combined entity will be a specialist employment service provider, boasting industry expertise to support government, individuals, and business across diverse sectors.
The acquisition of Skill Hire positions GO2 strongly, with heavy investments in employment via funded training and infrastructure expenditure by the government and employers.
The combination would prove to be a financially sound business with strong positive earnings that would maximise the value of shareholders in FY22 and beyond.
Additionally, it would improve operational efficiencies to drive cost rationalisation within the first year while delivering a robust organic growth platform through mergers & acquisitions.
Broad spectrum of revenue and business opportunities
Skill Hire's service offerings comprise JobReady, training, apprenticeships and recruitments, catering to various industries while its revenue streams include government, business, and consumers.
The multiple sources of revenue and operational areas stand GO2 in good stead in the current scenario when ensuring a healthy job scenario has become pivotal to shake off the COVID-19 blues.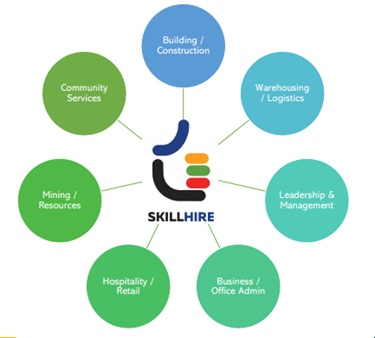 Source: GO2 Update, dated 9 June 2021
GO2 poised to benefit from the acquisition
The merged entity would provide a full suite of employment, training, and staffing services, which would offer GO2 significant benefits.
Accelerated Strategic Growth - Skill Hire gives a boost to the strategic plan of GO2 to deliver immediate financial and operational enhancement to maximise shareholder value. Apart from the expected positive impact on market capitalisation, the acquisition would enhance the Company's ability to fund future organic growth.
Enhanced Group Capability - The acquisition creates a full suite of staffing, training, and employment services to assist individuals through their career journey. Meanwhile, the widened key client spread, incorporating government to its major clients' portfolio, increases the Company's footprint in various geographical areas.
Adaptive Business Model – Skill Hire's revenue depends on a fee-for-service offering and government-funded services. The robust revenue model focuses on employment during buoyant job settings while gearing towards training and upskilling during the crisis.
Positive Financial Impact - The acquisition has substantially improved revenue of the GO2 group in the wake of ongoing government contracts and recurring revenues boosting the cashflow. Furthermore, less reliance on low-margin labour hire also enhances the overall margin for the group.
Synergies – The operational and industry alignment of the two companies encourages scalability along with cross-selling and new sales potential, further enhancing their growth potential in the respective business units.
Source: GO2 Update, dated 9 June 2021
GO2 shares traded at AU$0.038 on 22 June 2021.