Highlights

In the international market, gold has crossed the US$1,800/oz mark this week amidst rising cases of COVID-19 in Europe and the USA.
Typically, a higher gold price attracts more investment in exploration projects and improves a project's viability.
Sihayo operates a gold project in Sumatra, Indonesia, with a huge potential of resource upgrade from further exploration success.
The Company is progressing a three-tier exploration strategy to unlock the values of the project.
The DFS study on a small portion of the tenure indicates a total gold production of 635koz, generating a revenue of over US$1 [email protected]$1,700/oz.
In the international market, gold prices are hovering above the US$1,800/oz mark. A sense of uncertainty is creeping back into the minds of investors as the delta variant of COVID-19 is spreading at a fast pace even in the developed countries that have seen good vaccine rollout.
Pandemic-induced lockdowns have resulted in disrupting the global supply chain, further major economies across the world continue to see higher liquidity. All these macro factors are triggering fears of inflation, and in this backdrop, gold prices have once again bounced back above the US1,800/oz level.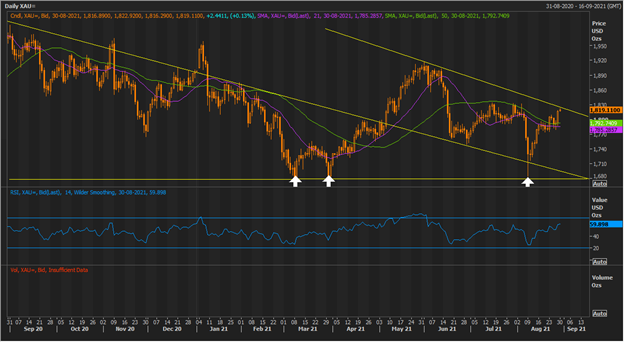 Image source: Refinitiv (Analysis: Kalkine Media)
Higher gold prices play a crucial role for the companies involved in the gold market. A company with vast reserves of ore is profitable only when it can extract the metal economically with a considerable margin. Big reserves are important, however, at the same time, investors need to look at the Company's plan of action of bringing the commodity to the market.
Mining companies conduct several studies, including a Pre-Feasibility Study, followed by a Definitive Feasibility Study, Ore study, engineering and mine design optimisation study, and a Final Investment Decision (FID) before taking a call on commencing a mining operation. Investors closely track these data to analyse a company before making any decisions.
Sihayo Gold Limited (ASX:SIH), an ASX-listed gold explorer with operations in Indonesia, is making serious strides on the exploration and development front. The junior mining company has a market cap of AU$36.85 million while it holds a significant gold reserve on its flagship Sihayo Gold Project.
The Company has revealed that the project could produce gold at an average All-in Sustaining Cost (AISC) of US$709/oz. The data from the Definitive Feasibility Study (DFS) also indicates a mine life of 8 years, and the project could generate an Internal Rate of Return (IRR) of 28% when the gold price is assumed at US$1,700/oz.
https://www.sihayogold.com/site/PDF/d971d076-d62f-42f8-9b5b-e7d5f7eefe04/ResultsofFeasibilityStudy
Key findings of DFS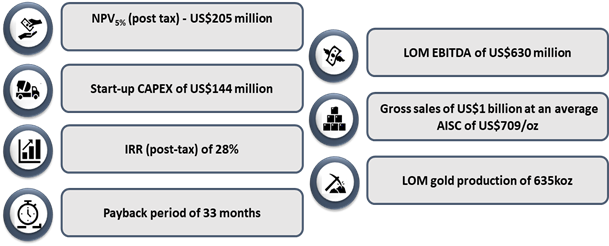 Copyright © 2021 Kalkine Media Pty; Data Source: Company reports, 23 June 2020
Sihayo Project: Major upside in mineral resource eyed
The Sihayo Gold Project is spread across 66,000 hectares in one of the most prospective grounds in Indonesia. The tenement area is under explored and hosts major porphyry-related gold, silver and base metal deposits.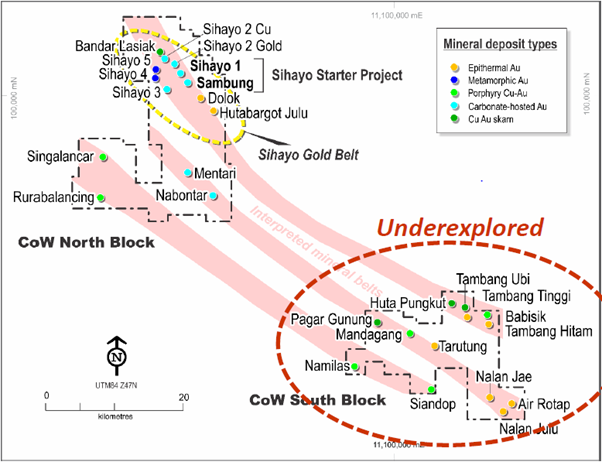 Overview of Sihayo CoW (Image source: Company update, 19 April 2021)
The DFS put out a Mineral Resource Estimate of 24 Mt @ 2.0g/t Au for 1.5Moz of gold. The Ore Reserve is estimated at 12 Mt @ 2.1g/t Au for 840koz of in-situ gold. Now, this data is from the Sihayo Starter Project only, which represents a small part of the entire tenure.
The DFS report also points at a life of mine (LOM) of 8 years, and estimated gold production of 635koz with an EBIDTA of US$630 million, considering gold prices to trade at US$1,700/oz. The project IRR is projected to be at 28%.
Three-tier exploration strategy
Sihayo backed by a strong and capable management is working towards increasing the mineral resource of the project. To achieve this target, the Company has devised a three-tier exploration strategy.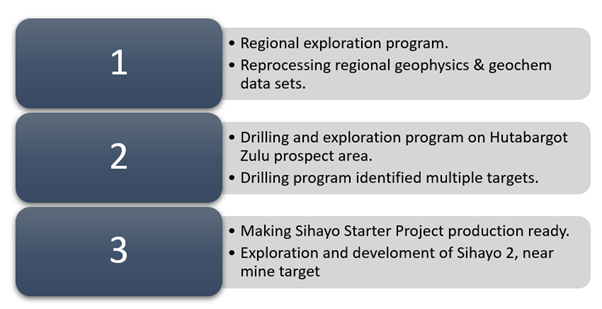 Copyright © 2021 Kalkine Media Pty Data Source: Company reports, 19 April 2021