Highlights

Given the stellar performance in FY21, Saunders International is paying a final and special dividend of 1.75 cents per share to its shareholders.
In FY21, the Company registered record revenue and a healthy order book.
FY21 performance demonstrates the resilience and dependability of the Company's operating model.
The acquisition of PlantWeave Technologies enables Saunders to tap cybersecurity, process optimisation, and other tech-based infra opportunities.
Saunders International Limited (ASX:SND) continues to build a stronger profile as a multi-disciplined engineering and construction company, delivering project excellence to leading organisations across Australia, and the Pacific Region.
Despite the changing operating landscape due to the COVID-19 pandemic, the business remained resilient with record revenue, strong order book, strengthened balance sheet and extensive business expansion during FY21.
As a result, the Company also announced a dividend of 1.75 cents per share (cps), bringing the full-year dividend to 2.5 cps for FY21. The dividend is due for payment on 11 October 2021 and the record date is 15 September 2021.
Related read: Saunders International (ASX:SND) races past revenue milestone, triples net profit in FY21
Saunders aiding Australian industries since 1951
The year 2021 marks 70 years of Saunders' existence. The Company delivers innovative, cost-effective solutions to sectors, including oil & gas, infrastructure, defence, water, energy, mining, and minerals. While delivering high-quality engineered solutions across the complete asset life cycle, it remains focused on its commitment to excellence, innovation, growth, and safety.
The Company has played an instrumental role in supporting the Australian industrial set-up by providing specialised and innovative services. This is one of the reasons why some of its clients are associated with the Company for the last four to five decades.
Clientele of Saunders (Image source: Company update, 27 August 2021)
Related read: What are the pockets of opportunities for Saunders International (ASX:SND) in the mining industry?
Stellar FY21 figures set the tone for excellent year ahead
Saunders is riding high on the success of FY21, as the Company successfully delivered revenue and earnings guidance for the 12-month period ended 30 June 2021.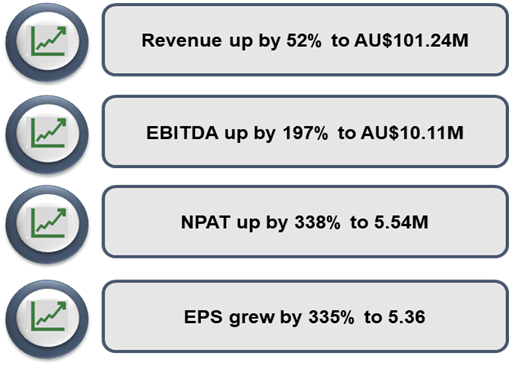 Copyright © 2021 Kalkine Media Pty. Ltd. Data source: Company update, 27 September 2021
Growth opportunities across the Company's core business sectors, including oil & gas, infrastructure, defence, and industrial maintenance, are increasing, as Australia is recovering from a slowdown induced by the pandemic. The government's focus on delivering new infrastructure projects and boosting defense capabilities is working in favour of the Company.
To know more, watch: How is Saunders International Tapping the Defence Sector ? || Expert Talk with Mr Mark Benson
The leadership team expects the business outlook to remain positive. As of 30 June 2021, Saunders has an order book of AU$83 million. The tendering activity involves live tenders worth AU$490 million, while tenders valued at AU$313 million are in the pipeline. This data indicates that the Company has plenty of room to expand its core business in FY22.
Saunders forays into new business segment
To further diversify its service portfolio, Saunders has acquired PlantWeave Technologies, an industrial process automation and electrical solutions provider. Through its latest acquisition, the Company will mark its entry into the technology-based infrastructure sector. The transaction will also help the Company to diversify its service offerings to new and existing clients.
Founded in 2006, PlanetWeave Technologies provides complex industrial automation system solutions to oil & gas, energy, water, building infrastructure and resources sector companies. In the last 15 years of its operations, the firm has managed to establish long-standing relationships with Tier 1 companies.
Good read: What soaring crude oil prices mean for Saunders International (ASX:SND)
All in all, Saunders remains well positioned to tap growth opportunities, backed by robust FY21 figures, business expansion, and increased government spending across the majority of sectors in which the Company operate.
Stock performance - Shares of SND closed the day's trade at AU$0.076 on 7 September 2021. In the last one year, SND shares have delivered a handsome return of 38%. The Company has a market capitalisation of AU$80.03 million.