Summary

Musgrave Minerals has kicked off pre-feasibility level studies at Break of Day and Lena deposits.
Exploration joint venture with Evolution is advancing on Lake Austin, with diamond drilling underway.
An extensive regional aircore drilling program has defined over 7 kilometres long corridor, west of Lena.
The sustained progress of Musgrave Minerals Limited (ASX:MGV) at the Cue Gold Project continues to beef up resource inventory while the Company systematically tests targets to deliver new discoveries. Over the past few months, the high-grade Cue project has witnessed high-octane activities and success, including explosive growth in Break of Day's mineral resource and solid drilling results from the regional aircore program.
ALSO READ: Musgrave Minerals' (ASX: MGV) March Quarter report strewn with High Grade Gold Hits
Advancing its exploration initiatives at a robust pace, Musgrave also kicked off the pre-feasibility (PFS) level studies at Break of Day and Lena deposits, with proven high-grade extensive gold mineralisation. Furthermore, basement drill testing of gold targets at Lake Austin (Evolution Joint Venture) was undertaken to define an extensive gold system.
READ MORE: Fresh gold targets at Evolution JV put spring in Musgrave's steps
Let us look at some of the strong elements of the Company's solid gold portfolio, catalysing its progress towards the production getting off the ground.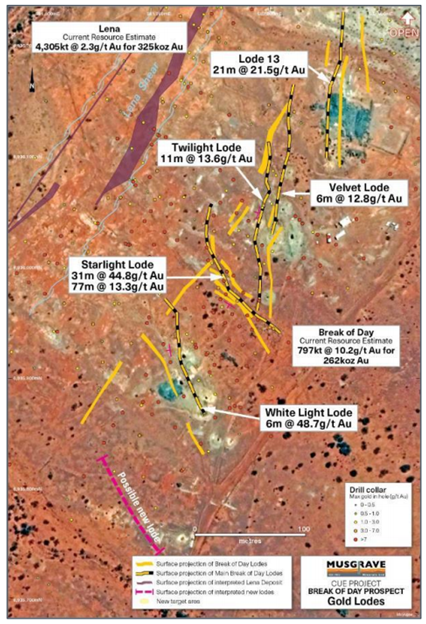 Source: MGV ASX Update, dated 5 May 2021
Break of Day Deposit loaded with a high-grade resource
The mineral resource at Break of Day deposit stands at 797kt @ 10.2g/t Au for 262koz Au. The deposit boasts a high-grade and potential high-margin open cut. It consists of White and Starlight, where drilling proved extremely successful returning high-grade intersections.
Notably, the Starlight deposit holds 240kt @ 17.0g/t Au for 131koz Au from 3 metres below the surface, and 85% of the Break of Day resource is hosted by five lodes. The potential for repetitions is demonstrated through re-interpretation of the geological model.
ALSO READ: Musgrave Minerals Limited (ASX: MGV) buoyed up on extension of high-grade gold anomaly
The Company's ongoing focus at the Break of Day is on near-surface high-grade ounces, and PFS level studies have commenced.
New White Heat Discovery South of Break of Day
New discoveries on the highly prospective Cue project have increased the search space, thereby changing the paradigm of exploration. Significantly, the first pass aircore drilling tested more than 20 regional targets, out of which six intersected high-grade assays.
READ MORE: Musgrave Minerals scores another set of great results at White Heat
New White Heat, also known as Target 2, is one such discovery that improves resource growth potential for the Company. The target, which has no historical drilling, returned new high-grade intercepts, including:
4m @ 43.2g/t Au from 98m
11m @ 19.6g/t Au from 48m
Target 2 is open down plunge, and the drilling ongoing, with assays, pending.
7-km Long New Gold Corridor
An extensive regional aircore drilling program, focused on testing new gold targets, identified anomalous gold in the regolith, thereby defining a new gold corridor west of and parallel to Lena. Aircore drilling has extended the Target 14 gold anomalism to a strike length of more than 3 kilometres.
DETAILED DISCUSSION AT: Musgrave Minerals (ASX:MGV) maps out new gold corridor at Cue
Target 14 forms part of a new, long gold corridor, which is 7 kilometres long. The target remains open to the south and down dip, and there remains 2.5km of strike between Target 14 and Big Sky, with drilling results pending for over 110 aircore drill holes.
ALSO READ: Musgrave Minerals (ASX:MGV) Continues Winning Streak At Target 14 With High-Grade Gold Results
Musgrave Minerals is inching towards the strategic objective, basking in the presence of extensive resources, superior gold grade, high recovery, robust infrastructure and significant exploration upside. Meanwhile, its exploration joint venture with Evolution is also making headway, with diamond drilling in the works.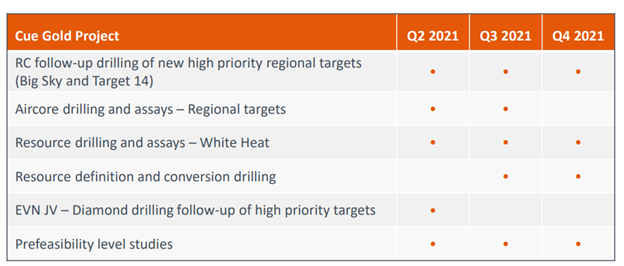 Source: MGV ASX Update, dated 5 May 2021
MGV shares traded at A$0.385 on 5 May 2021.