Highlights

Renegade Resources recently entered into an agreement with Burke Copper for the North Isa Project.
The acquisition of the North Isa Project aligns well with the Company's strategy of increasing its footprint in Queensland.
Renegade has established itself as a lean and flexible company that can respond quickly to new opportunities.
Australian mineral explorer Renegade Exploration Limited (ASX:RNX) continues its exploration campaign at the North Isa Project after entering a joint venture agreement with Burke Copper Pty Ltd. The Company strives to deliver value to long-term shareholders by becoming a medium-tier resource company.
Recent update: Renegade Exploration (ASX:RNX) soars 7% on appointment of new non-executive director
To meet its objective, Renegade is moving ahead with the acquisition, discovery and development of mineral resources in prolific mining districts of Australia. RNX is channelling its efforts to develop economic mineral deposits by utilising modern and innovative thinking to identify opportunities within the resource sector.
Also, Renegade conducts sound technical and economic scrutiny to ensure that all opportunities are protected on commercial terms, which increase the long-term value of the Company and its shareholders.
Renegade has its short-term goals and objectives sorted, which are:
The exploration of highly prospective targets to delineate additional resources.
Identify and secure new opportunities to create values.
Renegade can run exploration operations in a cost-effective manner and is flexible enough to respond quickly to new opportunities.
Recent update: Renegade Resources (ASX:RNX) receives final payment for the Yandal Project
The Board and the management teams of RNX have extensive knowledge of the global resource industry. Its knowledge of technology, trade and business should help Renegade to achieve its goals.
In line with its objective to secure new opportunities, Renegade recently entered into a joint venture with Burke Copper to acquire up to 75% in Burke's North Isa Project located in Queensland.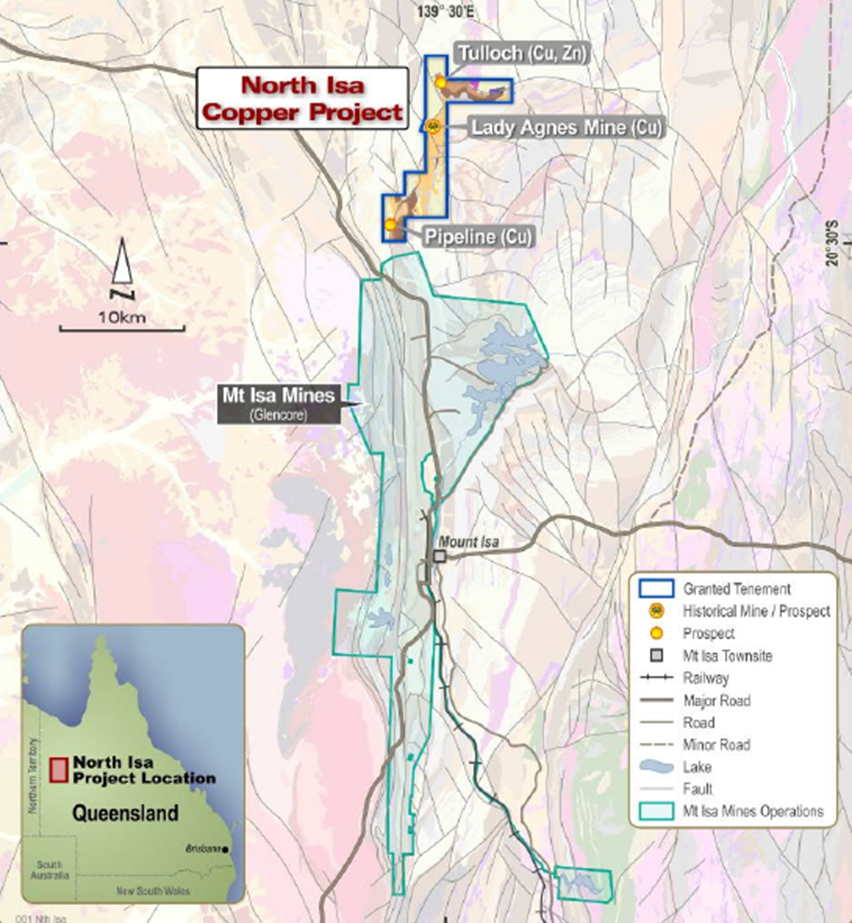 Location map of North Isa Project (Image source: Company update, 21 December 2021)
The agreement came into force after a payment of AU$ 20,000 to Burke Copper. As per the terms of the agreement, Renegade must spend AU$ 100,000 within the first 12 months from the day of signing of the agreement.
Related read: Renegade Exploration (ASX:RNX) wraps up December quarter on a high note, enters agreement to acquire North Isa Project
In addition, Renegade has agreed to issue Burke Copper 10 million shares in the Company's capital, as well as 25 million performance rights, subject to performance conditions. Within 36 months of the signing of the agreement, Renegade will have to spend AU$400,000 to earn a 75% interest.
Soon after entering into the JV agreement, Renegade commenced a series of soil and rock chip sampling programs over the project area. The Company is also conducting a review of historical exploration data with an intention to combine it with the finding of the ground fieldwork to generate targets for the drilling campaign.
RNX is also moving ahead with the permitting work for the upcoming drilling program on the project.
Related read: JVs & cash deals: Inside Renegade Resources' action-packed 2021
The North Isa Project is an exciting acquisition for Renegade as the Company tries to grow its footprint in Queensland. The Queensland Government recently released its draft of the Queensland Resources Industry Development Plan (QRIDP), incorporating strategies for next 30 years for ensuring continued sustainable growth in the resources sector. RNX believes that the QRIDP along with recent State and Federal initiatives will provide additional support to its plans in the Queensland region.
Related read: Renegade Exploration (ASX:RNX) kicks off field programs at North Isa