Summary

Renegade Exploration Limited aims to deliver shareholders value by strategising to engage in the acquisition and development of mineral projects.
RNX had inked a deal to acquire the interest held by SVM in the Carpentaria Joint Venture.
The Company has also wrapped the exploration program at the Yandal East project and is looking to explore further.
Minerals explorer and developer Renegade Exploration Limited (ASX:RNX) strategises to emerge into a mid-tier resource company by discovering, acquiring and developing economic mineral deposits.
RNX also looks to generate long-term value for its shareholders while focusing on the short-term goal of discovering further resources by exploring highly prospective targets and identifying and securing new value accretive opportunities.
The Company's current engagements are evidence of its strategy of acquiring and developing mineral deposits.
DID YOU READ: Back to Back Acquisition Agreements Fuelling ASX:RNX's Evolution Into Mid-Tier Resource Company
Acquisition of the CJV Interest
Lately, RNX has inked a deal to acquire an interest in the Carpentaria Joint Venture (CJV) Agreement held by Sovereign Metals Limited (ASX:SVM). SVM acquired its share in the JV in 2007, while the other party to the JV is Mount Isa Mines Limited.
The CJV was formed in 2001, and since then the total expenditure of around AU$14.5 million has been made on the Carpentaria JVA, MIM's share being around AU$11.6 million while the remaining AU$2.9 million was SVM's share.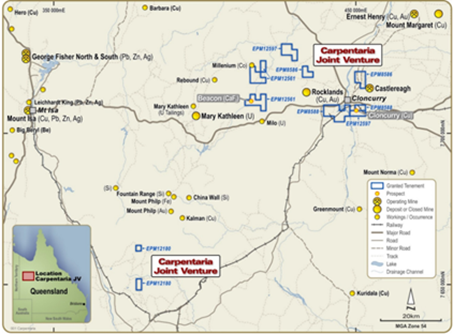 Location of the Carpentaria JV Permits (Source: RNX Announcement 29/04/21)
Subsequently, SVM elected to stop contributing the joint venture expenditure over the tenements, due to which its interest decreased to around 23%, which is its current interest held in CJV.
Off late, RNX has received indicative authorisation concerning the transfer of the interest of SVM in the CJV.
ACQUISITION UPDATE: Renegade Exploration (ASX:RNX) gets green signal for CJV interest acquisition
Developments at Yandal East Project
Lately, RNX has identified anomalous copper, zinc, and barium in the rock chip samples from the results for its sampling program at its Yandal East Project.
Assays from rock chip sampling at Yandal East Project (Source: RNX Announcement 26/05/2021)
Previously, RNX undertook a drill hole cuttings survey of historical holes in the area. Through this, RNX successfully sampled for nickel and numerous adjoining historical holes to the prospect are believed to contain nickel assays less than 1000 ppm.
The recent rock chip sampling program has produced encouraging results for the Company as the results shall help in generating another exciting target for the future drill program.
DID YOU READ: Promising rock chip sampling results boost Renegade Exploration's hopes at Yandal East
Over the years, RNX has emerged into a lean and flexible organisation that effectively manages exploration costs while being highly responsive to key opportunities. RNX continues to focus on the exploration work at the Yandal East project while looking to conclude the acquisition of an interest in CJV.
MARCH QUARTER UPDATE: Substantial exploration and acquisition fuel growth of Renegade Exploration (ASX:RNX)
The RNX stock ended the week trading at AU$0.007 on 4 June 2021.