Summary

Renegade Exploration Limited has reported key developments across its project portfolio during the year 2020.
Exploration activities at its Yandal East project are expected to identify major prospective areas in the project area.
These key developments include acquiring an interest in CJV and the sale of its Yukon Project.
The year 2020 marks a year of consolidation and development for mineral explorer Renegade Exploration Limited (ASX:RNX). The Company has witnessed significant exploration progress during the year across its project portfolio, especially the Yandal East Project. RNX emphasises on gold exploration at the Yandal East Project along with significant Nickel opportunity.
The Yandal is considered one of the most highly Nickel mineralised Ultramafic belts in the world and is an extension of the Leinster/Wiluna greenstone. Limited historical work has been undertaken at the tenements by previous explorers and companies, and no recent modern geophysics has been applied to the tenements of RNX.
IMPORTANT UPDATE: ASX:RNX On The Hunt For Drilling Targets At Yandal East, Begins A Drone Survey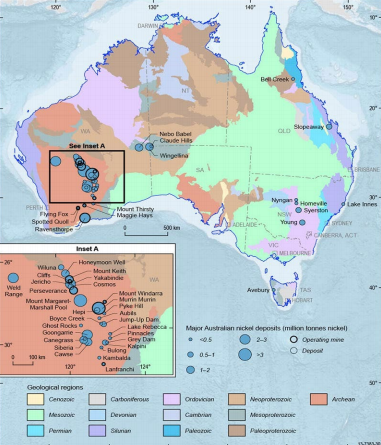 Nickel Sulphide Deposits (Source: ASX Announcement 12 January 2020)
Airborne Magnetic Survey Commenced at Yandal East
At its Yandal East Project, RNX had initiated an airborne magnetic survey over gold and nickel prospects in early December 2020 using drone technology. The survey aimed at identifying gold targets in the current year. The data obtained from the survey is anticipated to be interpreted along with the gravity survey information in January or February 2021.
Important discovery regarding the presence of oxidised Nickel Sulphides to some extent was made in the weathered zone while intersecting anomalous Nickel at the Riches Prospect. Riches Prospect is located immediately south of RNX's Ward Prospect and indicates as best target to date at the area.
DID YOU READ: ASX:RNX Unlocking Potential in Major Gold Province While Seeking Fresh Opportunities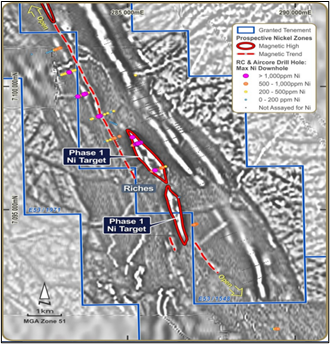 Riches Prospect (Source: ASX Announcement 12 January 2020)
RNX is optimistic that this area can be interpreted as a thickening of the host Ultramafic unit. Moreover, the area is expected to act as a vehicle or feeder zone with prospectivity for replenishing of Nickel in times of sulphur saturation in the original Ultramafic Magma.
Another prospect, Baxter/Andrews Prospects, which are believed to be prospective for gold and nickel have some significant magnetic features that may indicate similar targets as the Riches Prospect.
Baxter/Andrews Prospects (Source: ASX Announcement 12 January 2020)
Agreement to Acquire Interest in A Joint Venture
RNX had also inked an agreement to secure interest in Carpentaria Joint Venture (CJV) Agreement. The Company looks to conclude the acquisition process and accordingly hold a meeting with the Mount Isa Mines Limited to discuss the terms of the Joint Venture as well as the forward plans. Moreover, RNX looks forward to obtaining access to complete CJV data base in order to conduct a complete review.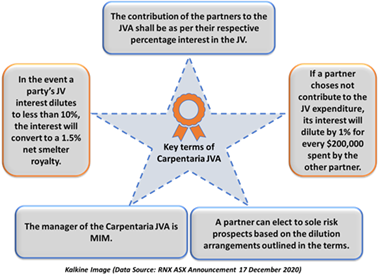 DETAILED DISCUSSION AT: ASX:RNX To Acquire ASX:SMV's Share in Attractive Carpentaria JVA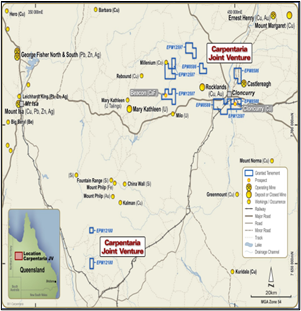 Location Carpentaria JVA (Source: ASX Announcement 12 January 2020)
Sale of Yukon Project
In another key development, RNX had inked a Letter of Intent connected with the sale of its Yukon Project. The total consideration project's sale includes A$1,650,000 in cash payments and commitment to spend C$500,000 in exploration and development before 31 December 2021.
This payment regarding the consideration is scheduled to be made in four different tranches. In the event of failure to meet any payment by the relevant date, ownership of the Yukon Project shall be retained by RNX.
DETAILED DISCUSSION AT: ASX:RNX Executes Share Purchase Agreement For Sale of Yukon Project
In Conclusion
For the current year 2021, RNX has planned numerous activities like intensive geophysical work and modelling at the Yandal East Project and field programs, drilling of old as well as new Yandal gold and nickel targets. Moreover, the Company looks to continuously engage in the review of new advanced projects and emerge as a mid-tier resource company.
On 14 January 2021, RNX stock is trading at $0.008 with a market capitalisation of $6.90 million (AEDT: 12:36 pm).