Highlights

Renegade Exploration has been engaged in the acquisition and divestment of interest in various projects throughout FY21.
RNX had inked a deal with Scharfe Holdings Inc. for the sale of its Yukon Base Metal Project.
RNX has acquired the interest of Sovereign Metals in the CJV and now holds around 23% interest in the JV.
Renegade Exploration Limited (ASX:RNX) has turned the corner around a challenging year with its focus on managing its interests in a cost-effectively related to its current assets and pursuing new advanced projects.
During the financial year ended 30 June 2021 (FY21), RNX witnessed various significant developments, including agreements to sell its Yukon base metal project in Canada and acquisition of an interest in the Carpentaria Joint Venture (CJV) in Australia.
RELATED ARTICLE: Renegade Exploration (ASX:RNX) is on the lookout for further developmental opportunities
Sale of Yukon Project
RNX had inked a deal with Scharfe Holdings Inc for the sale of its Yukon Project via the acquisition of Overland Resources Yukon Limited, a subsidiary of RNX. The Share Purchase Agreement (SPA) was finalised towards the end of November 2020 with Scharfe's subsidiary, Actium Resources Inc, and the operatorship was assumed by Scharfe.
Source: Copyright © 2021 Kalkine Media
RELATED READ: Renegade Exploration (ASX:RNX) ends June quarter with significant strategic progress
RNX and Scharfe had agreed to amend the terms of the SPA, which comprised an immediate payment of AU$500,000 to RNX on 4 August 2021.
Acquisition of CJV interest
In another key development, RNX had agreed for the acquisition of the Joint Venture Interest that Sovereign Metals Limited (ASX:SVM) held in the CJV with Mount Isa Mines Limited (MIM), which is a subsidiary of Glencore plc.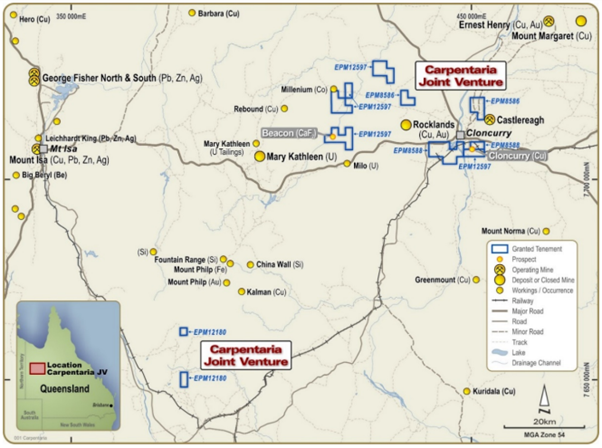 Source: RNX Annual Report FY21
RELATED ARTICLE: Renegade Exploration Limited's (ASX:RNX) strategy in focus amid recent developments
The CJV was initially formed in 2001, wherein SVM acquired its interest in 2007 and has incurred an expenditure of AU$2.9 million. SVM has chosen to discontinue its contribution to the JV expenditure, resulting in the reduction of its JV interest to around 23%.
Sale of Yandal Project
Subsequent to FY21, RNX completed the sale of its Yandal East Project to Strickland Metals Limited (ASX:STK) with a view of both companies' tenement positions, which had immediate and apparent synergies.
Source: RNX Announcement 09/06/2021
RELATED ARTICLE: Renegade (ASX:RNX) retains indirect interest despite divestment of Yandal East Project
RNX believes that this to be a key opportunity to recover a part of the earlier incurred expenditure on the project tenements while enhancing leverage to the Yandal belt.
Besides this, RNX also incorporated a fully owned subsidiary, Renegade Exploration (Qld) Pty Ltd with two, AU$1 shares towards the end of October 2020.
Bottom Line
RNX continues to assess new opportunities with a focus on gold and base metal projects. Moreover, RNX plans to continuously execute its business plan by contributing to the CJV and improving the potential value. RNX also looks forward to acquiring further projects with synergies while undertaking additional exploration and development.
RELATED ARTICLE: Renegade Exploration (ASX:RNX) gets green signal for CJV interest acquisition
RNX stock was noted at AU$0.007 on 07 October 2021.