Highlighys

Renegade Exploration has been thoroughly engaged in the acquisition and divestment of interest in different projects.
RNX has acquired the interest of Sovereign Metals in the CJV and now holds around 23% interest in the JV.
RNX had concluded the divestment of its interest in the Yandal East project JV to Strickland and now retains an indirect interest in any future exploration success.
Renegade Exploration Limited (ASX:RNX) has been progressing well with its ongoing transactions of acquisition and divestment of interest in various projects. RNX aims to generate value for its shareholder by attaining a production profile and emerging as a mid-tier resource company.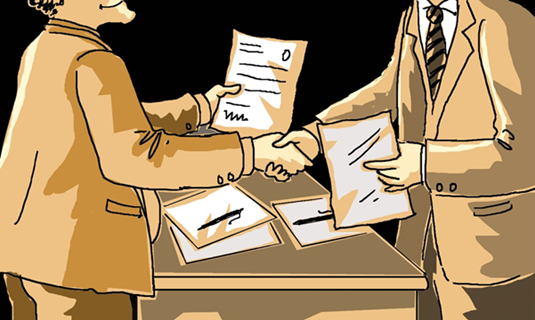 Source: Copyright © 2021 Kalkine Media
RELATED READ: Renegade Exploration (ASX:RNX) ends June quarter with significant strategic progress
Acquisition of CJV interest
In December 2020, RNX had inked an agreement to acquire the interest from Sovereign Metals Limited (ASX:SVM) held in the Carpentaria Joint Venture (CJV). The other partner in the JV is Mount Isa Mines Limited (MIM), a subsidiary of Glencore plc.
Location of the Carpentaria JV Permits (Source: RNX Announcement 29/04/21)
RELATED ARTICLE: Renegade Exploration Limited's (ASX:RNX) strategy in focus amid recent developments
The CJV was formed almost 20 years ago in 2001, and the overall expenditure on the CJV has been around AU$14.5 million since 2001. SVM had acquired its interest in the JV in 2007 and has contributed AU$2.9 million towards the expenditure on CJV and the remaining has been the contribution of MIM.
However, SVM stopped its contribution towards JV expenditure across tenements, and its JV interest was reduced to the existing interest of ~23%.
Currently, the acquisition remains subject to securing all mandatory regulatory approvals to hand over SVM's interest in CJV to RNX.
RELATED ARTICLE: Renegade (ASX:RNX) retains indirect interest despite divestment of Yandal East Project
Divestment of the Yandal East Project
Another key development for RNX has been the deal with Strickland Metals Limited (ASX:STK) to divest its Yandal East Project, which was finalised in mid-July 2021.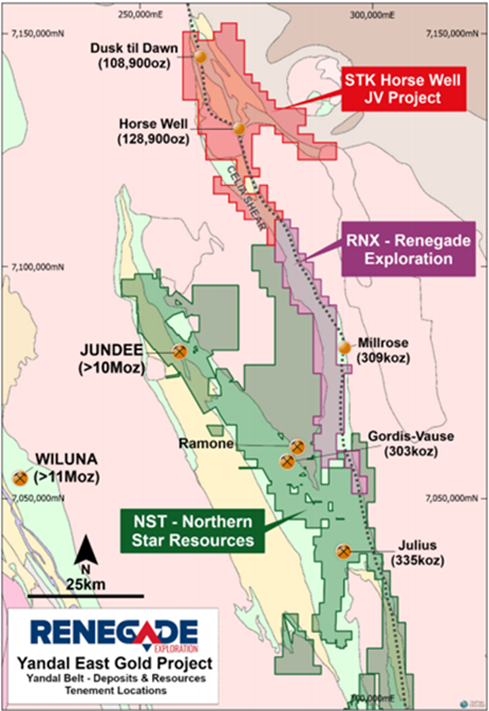 Strickland and Renegade Tenement Location Map (Source: RNX Announcement 09/06/2021)
RNX secured an initial payment of AU$400,000 and concluded the issue of 40 million shares in STK.
The divestment from RNX comes in light of the significant opportunity to reclaim a part of the expenditure incurred previously on the JV tenements and improve the leverage to the Yandal belt.
RELATED ARTICLE: Renegade Exploration (ASX:RNX) gets green signal for CJV interest acquisition
The ownership of the JV now rests with STK along with Zebina Minerals Pty Ltd.
Going forward, STK has planned to undertake exploration with substantial campaigns across the combined tenement package beginning in the present quarter.
As per the terms of the agreement, RNX is entitled to an indirect interest in any upcoming exploration success by STK since STK shares have been issued as part of the purchase consideration.
RELATED ARTICLE: Back to Back Acquisition Agreements Fuelling ASX:RNX's Evolution Into Mid-Tier Resource Company
Bottomline
The recent acquisition of CJV interest and the divestment of its Yandal East Project indicate notable developments for the Company. RNX is looking for further such opportunities and believes that sourcing brownfield projects, discovering new projects or acquiring and advancing economic mineral deposits may help the Company achieve its objective.
The RNX stock was noted at AU$0.006 on 3 September 2021.