Summary

Raiden identifies the significant potential for gold and silver mineralisation from the rock-channel sampling program on its Vuzel Project in Bulgaria.
The Company has delineated two gold and one silver zone for further field evaluation and drill testing.
Regulatory approvals for 1000-2000m diamond drilling in advanced stages and planned to commence in the near term.
ASX-listed mineral explorer Raiden Resources Limited (ASX:RDN / DAX:YM4), in an upbeat market update, has announced the outcomes of rock-channel sampling program, bolstering the potential for a significant gold and silver mineralisation at its Vuzel Project in Bulgaria. The Company undertook a rock-channel sampling program on the tenure, which revealed the zone of interest and paved the way for further development.
Vuzel Project overview geology (Image source: Company update, 10 May 2021)
Gold and Silver targets
Raiden had undertaken historical drill and sampling data analysis and delineated zones of high grade mineralisation and confirmed the same with the recent rock-sampling program. The sampling program confirmed several gold zones and one silver zone on the tenure.
Gold-1 target on Vuzel is outlined along the west-northeast elongated structural zone over a 300m long strike and width of 100m. The prospect is hosted within a Breccia-Conglomerate unit and is associated by a geophysical anomaly of chargeability and resistivity.
Historical sampling interval data has confirm gold mineralisation and significant intercepts, which are:-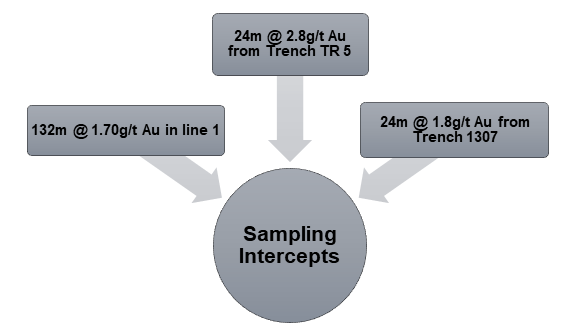 Copyright © 2021 Kalkine Media Pty Ltd. (Data source: Company update, 10 May 2021)
Two historical drill holes drilled on the periphery of Target 1 returned gold intercept of-
58m @ 0.72g/t Au, from surface - Hole DH4
36m @ 0.71g/t Au from 22m – Hole DH3
The rock samples collected from Target 1have returned gold value of 5.93g/t Au. The sample was prepared by compositing a series of rock chip samples collected periodically over a 6-m interval.
Raiden is planning to drill test the immediate vicinity of the mineralised outcrop in the near future. If encouraging results are achieved in the initial program, the Company will likely plan a second phase of follow-up drilling during the second half of the year over the entire strike.
Good read: Raiden (ASX:RDN / DAX:YM4) exhibits its resource potential in the Pilbara region of WA
Vuzel main gold zone and defined gold targets (Image source: Company update, 10 May 2021)
Gold-2 target is defined over a 300m strike and a width of 100-200m. The prospect hosts intensive gold anomaly overlapping the alteration zone. Some of the historical trench intervals also exists over the target zone and are:-
TR 13 - 140m @ 1.9g/t Au
TR 16 - 98m @ 0.98g/t Au
TR 1352 - 46m @ 1.22g/t Au
The prospect has never been drill tested to date. Raiden is planning on drilling several diamond drill holes to test this prospect in the upcoming drilling campaign. If the results are encouraging, an extensive drilling campaign will be planned further during the second half of 2021.
Rock-chip samples collected during fieldwork have returned significant gold values.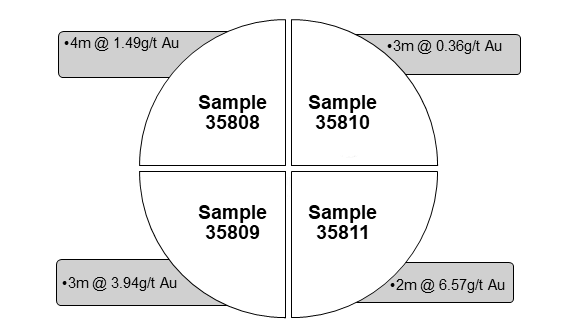 Copyright © 2021 Kalkine Media Pty Ltd. (Data source: Company update, 10 May 2021)
The Silver target on the project tenure is outcropped over 200m X 100m area and is defined by pervasive silicification along a shallow dipping limestone/tuff contact. Historical rock–channel sample returned silver values of 83m @ 43.8g/t Ag. A single hole was drilled on the target area by the past explorers and returned an intercept result of 9m @ 63.7g/t Ag.
The 2021 rock-channel assay results yielded significant silver results.
Raiden is planning to drill test the silver target with several diamond drill holes as well. As with gold targets, if encouraging results are returned, further drilling campaign will be planned for the second half of 2021.
Mr Dusko Ljubojevik, Managing Director of Raiden Resources, shares his views on the outcome of the rock-channel sampling program and commented:-
Future exploration activities plan
Raiden will carry on detailed geological mapping of the south part of Vuzel tenement and will also focus on less understood silver anomalies. The company will also undertake a channel sampling program for the key silver anomalous outcrops and soil sampling over the arsenic-antimony-barium anomalies in a grid of 100mX50m.
Raiden is already working on regulatory approvals for the drilling campaign. The Company will start discussions with drilling contractors to finalise the initial drilling program of 1,000-2,000m.
Share Price
RDN closed at $0.026 a share on 11 May 2021 with a market capitalisation of $31.51 million.