Highlights

Raiden Resources holds a diversified project portfolio of gold, silver, nickel, PGE and base metals.
Raiden holds strategic tenement packages in Australia's Pilbara and Europe's Tethyan Belt region.
The Company is striding forward at its Pilbara-based Arrow and Mt Sholl projects.
A drilling program is underway at the Arrow Project, which lies along strike of ASX: DEG Hemi gold deposit.
Mt Sholl is a significant Ni-Cu-Co-PGE district with +-80,000m of historical drilling and defined deposits
Dual-listed mineral explorer Raiden Resources Limited (ASX:RDN|DAX:YM4) owns a large portfolio of mineral assets sprawled over Australia and Europe. Currently, Arrow gold project and Mt Sholl Nickel projects are the focus for the Company, with an ongoing drilling campaign at Arrow and further drilling planned throughout the year on its Nickel project where it hopes to convert its 20-40Mt Ni exploration target into a JORC resource.
Latest update: Drilling resumes at Raiden's (ASX:RDN) Arrow Project along strike from Hemi deposit
Premium mineral assets in Pilbara region: Arrow and Mt Sholl projects
The Pilbara region in WA is gaining a reputation as a Tier 1 mining jurisdiction globally. Raiden has acquired several projects over the year in the region and currently sits on 840km2 of landholding in the region.
In its recent update, RDN announced that the drilling team is back on site after the year-end break on its Arrow Project. RDN has drilled 23 holes so far and is planning to complete the second phase of the drilling program throughout January. Initial assay results from the ongoing drilling operations at Arrow are expected around the end of January.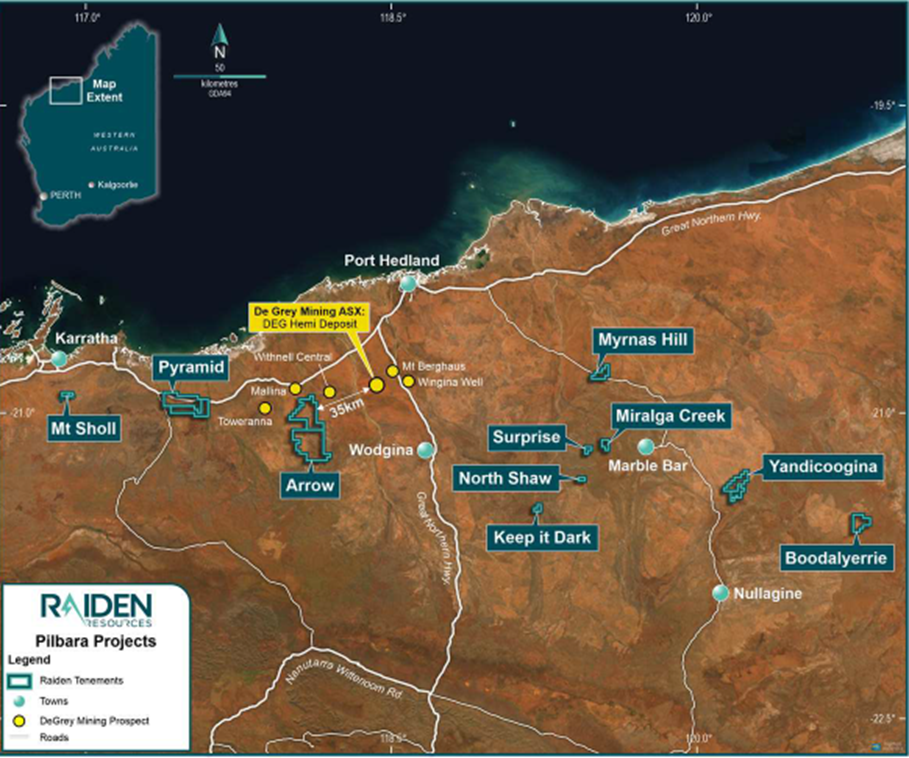 Raiden's project portfolio in Pilbara region (Image source: Company update, 20 December 2021)
Mt Sholl – an advanced magmatic Ni-Cu-Co-PGE project
The Mt Sholl Project hosts an exploration target in accordance with JORC 2012 reporting code of 20-40Mt grading between 0.55% to 0.75% nickel equivalent (NiEq) between the three deposits defined to date (A1, B1 and B2). All three deposits remain open to depth and along strike.
Historically, a total of 677 holes with a total meterage of 79,637m have been drilled so far at the entire project area, significantly de-risking the planned drilling program over Mt Sholl.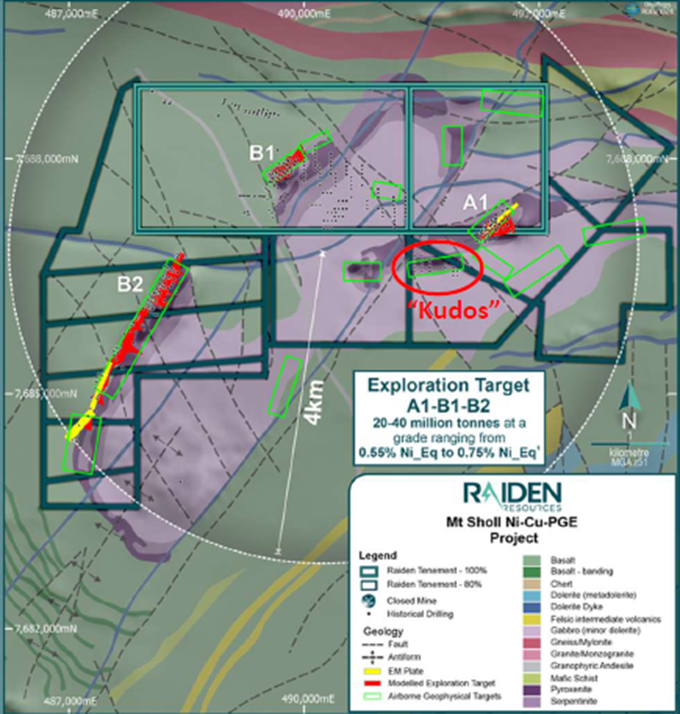 Map of Mt Sholl Project (Image source: Company update, 20 December 2021)
In what adds further significance to the existing deposits is the fact that a systematic assay analysis of cobalt and PGE has never been conducted on the project. The Company may have an opportunity to increase the overall grade of the project by simply analyzing samples for a full suite of economic elements.
Also, the potential for defining further targets and drill success outside the existing exploration target remains high, with several target areas already defined and considered drill ready.
Related read: Why Raiden Resources (ASX:RDN) is increasing footprint in Pilbara region
Significant drill intercepts from A1, B1 and B2 deposits Data source: Company update, 20 December 2021)
Raiden positioned to leverage from burgeoning nickel market
Raiden has acquired an additional tenement adjacent to Mt Sholl to increase its Ni-Cu-PGE footprint at the project. The acquisition deal grants Raiden an 80% interest in the Welcome Exploration Pty Ltd's tenement. Now the combined tenement has a total of 677 drill holes for 79,637m of historical drilling. Mt Sholl modelling seems to indicate potential for open-pit mining scenario at Mt Sholl, with near-surface mineralisation across all 3 deposits.
Also read: Raiden Resources' (ASX:RDN) share soars as Welcome tenement acquisition deal concludes
The presence of high-grade mineralisation at depth presents an additional opportunity for add-on underground resources.
(Image source: Company update, 20 December 2021)
Good read: A roundup of Raiden Resources' prospective project portfolio sprawled over Australia and Europe
Next steps at Mt Sholl
Raiden has planned a series of exploration programs for 2022 including -
Extensive drilling program to convert Exploration target to JORC Resources.
Drill testing of mineralisation extensions on existing deposits and prospects.
Metallurgical studies.
Target definition and testing over the entire project area.
To know more, watch: Insights on Raiden Resources' exploration plans with Dusko Ljubojevic
Recent news from Raiden is evident that the Company is going to invest heavily on evaluating and defining nickel resources at Mt Sholl. The management and Board of the Company are aware of the fact that market of nickel is currently booming, and the demand is set to grow even faster in the future, sothe acquisition of an advanced, high grade, near surface Nickel deposit at Mt Sholl was timed perfectly.
So let us take a quick look at some facts about what's fueling nickel's rise recently and why RDN is banking on a return from Mt Sholl.
Why is Nickel gaining so much ground in resource industry?
Tesla Inc's (NASDAQ:TSLA) CEO Elon Musk had announced during its 2020 Battery Day event that Tesla would be manufacturing cobalt-free batteries. Cobalt is the costliest ingredient of lithium-ion batteries and often faces severe supply shortages. Tesla's move is intended to improve the economics of electric vehicles. Last year, Elon Musk had urged the mining companies to produce more nickel to assist with the transition to cobalt-free battery packs.
Benefits of adding more nickel in Li-ion battery (Image source: Copyright © 2022 Kalkine Media ®)
Many research studies on rechargeable batteries have confirmed that nickel aids in delivering a higher energy density and greater storage capacity battery. This can improve the performance of the vehicles and also enhance their range.
Related read: Raiden Resources (ASX:RDN) appoints new COO to rev up Australian operations
Nickel's outlook
The price of nickel appreciated more than 34% in 2021. As per the Resources and Energy Quarterly December 2021 edition, nickel traded at an average price of US$18,388 for the year 2021. Strong demand from the stainless-steel industry and battery manufacturing sector contributed to the price rise. Furthermore, lower output from Indonesia and other supply disruptions from the global market also inflated the demand-supply gap.
The demand from the battery industry is slated to rise significantly in the coming years. The US has already included nickel into its critical minerals list of 2021. Nickel is anticipated to play a more influential role in the global battery metals supply chain in future.
Related read: Raiden Resources (ASX:RDN) gears up for next leg of growth as it bags exploration licence for Bulgarian project
Major global producers of nickel
As per the Resources and Energy Quarterly December edition, Indonesia and Philippines are the global leaders in nickel production, accounting for nearly 74% of all production (37% each). Australia ranks third with 13%, while New Caledonia, Russia and Canada are some of the other prominent suppliers.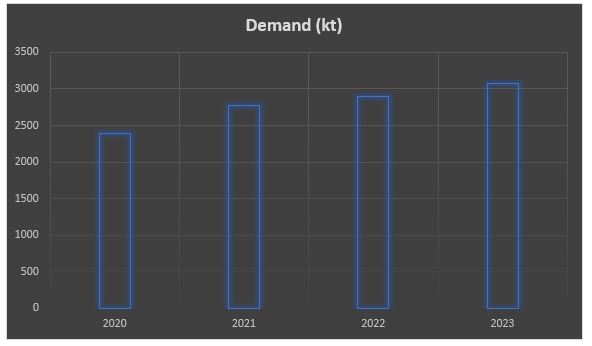 Data source: Resources and Energy Quarterly December 2021 Edition
On the consumption side, China accounts for nearly 73% of all nickel produced globally. Majority of nickel is used in the stainless-steel production, which is anticipated to grow moderately in 2022 and 2023.
The burgeoning EV sector is also estimated to drive the demand for nickel further. As work is going on to increase the content of nickel in li-ion batteries, the usage of nickel per battery will also increase.